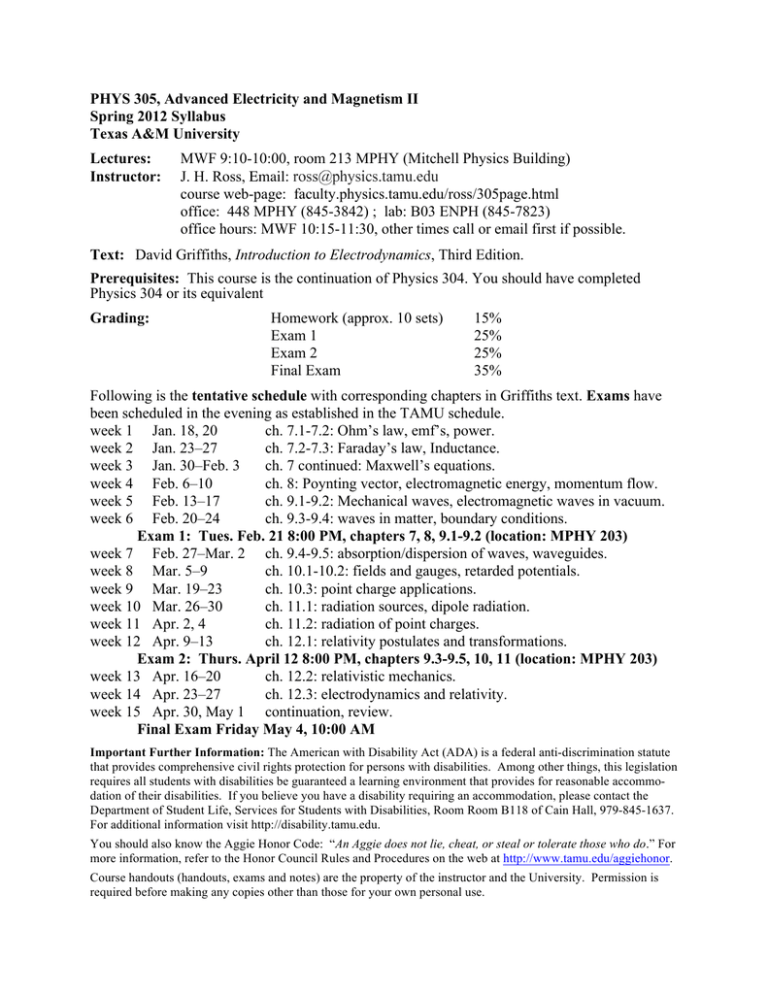 PHYS 305, Advanced Electricity and Magnetism II
Spring 2012 Syllabus
Texas A&M University
Lectures:
Instructor:
MWF 9:10-10:00, room 213 MPHY (Mitchell Physics Building)
J. H. Ross, Email:
course web-page: faculty.physics.tamu.edu/ross/305page.html
office: 448 MPHY (845-3842) ; lab: B03 ENPH (845-7823)
office hours: MWF 10:15-11:30, other times call or email first if possible.
Text: David Griffiths, Introduction to Electrodynamics, Third Edition.
Prerequisites: This course is the continuation of Physics 304. You should have completed
Physics 304 or its equivalent
Grading:
Homework (approx. 10 sets)
Exam 1
Exam 2
Final Exam
15%
25%
25%
35%
Following is the tentative schedule with corresponding chapters in Griffiths text. Exams have
been scheduled in the evening as established in the TAMU schedule.
week 1 Jan. 18, 20
ch. 7.1-7.2: Ohm's law, emf's, power.
week 2 Jan. 23–27
ch. 7.2-7.3: Faraday's law, Inductance.
week 3 Jan. 30–Feb. 3
ch. 7 continued: Maxwell's equations.
week 4 Feb. 6–10
ch. 8: Poynting vector, electromagnetic energy, momentum flow.
week 5 Feb. 13–17
ch. 9.1-9.2: Mechanical waves, electromagnetic waves in vacuum.
week 6 Feb. 20–24
ch. 9.3-9.4: waves in matter, boundary conditions.
Exam 1: Tues. Feb. 21 8:00 PM, chapters 7, 8, 9.1-9.2 (location: MPHY 203)
week 7 Feb. 27–Mar. 2 ch. 9.4-9.5: absorption/dispersion of waves, waveguides.
week 8 Mar. 5–9
ch. 10.1-10.2: fields and gauges, retarded potentials.
week 9 Mar. 19–23
ch. 10.3: point charge applications.
week 10 Mar. 26–30
ch. 11.1: radiation sources, dipole radiation.
week 11 Apr. 2, 4
ch. 11.2: radiation of point charges.
week 12 Apr. 9–13
ch. 12.1: relativity postulates and transformations.
Exam 2: Thurs. April 12 8:00 PM, chapters 9.3-9.5, 10, 11 (location: MPHY 203)
week 13 Apr. 16–20
ch. 12.2: relativistic mechanics.
week 14 Apr. 23–27
ch. 12.3: electrodynamics and relativity.
week 15 Apr. 30, May 1 continuation, review.
Final Exam Friday May 4, 10:00 AM
Important Further Information: The American with Disability Act (ADA) is a federal anti-discrimination statute
that provides comprehensive civil rights protection for persons with disabilities. Among other things, this legislation
requires all students with disabilities be guaranteed a learning environment that provides for reasonable accommodation of their disabilities. If you believe you have a disability requiring an accommodation, please contact the
Department of Student Life, Services for Students with Disabilities, Room Room B118 of Cain Hall, 979-845-1637.
For additional information visit http://disability.tamu.edu.
You should also know the Aggie Honor Code: "An Aggie does not lie, cheat, or steal or tolerate those who do." For
more information, refer to the Honor Council Rules and Procedures on the web at http://www.tamu.edu/aggiehonor.
Course handouts (handouts, exams and notes) are the property of the instructor and the University. Permission is
required before making any copies other than those for your own personal use.