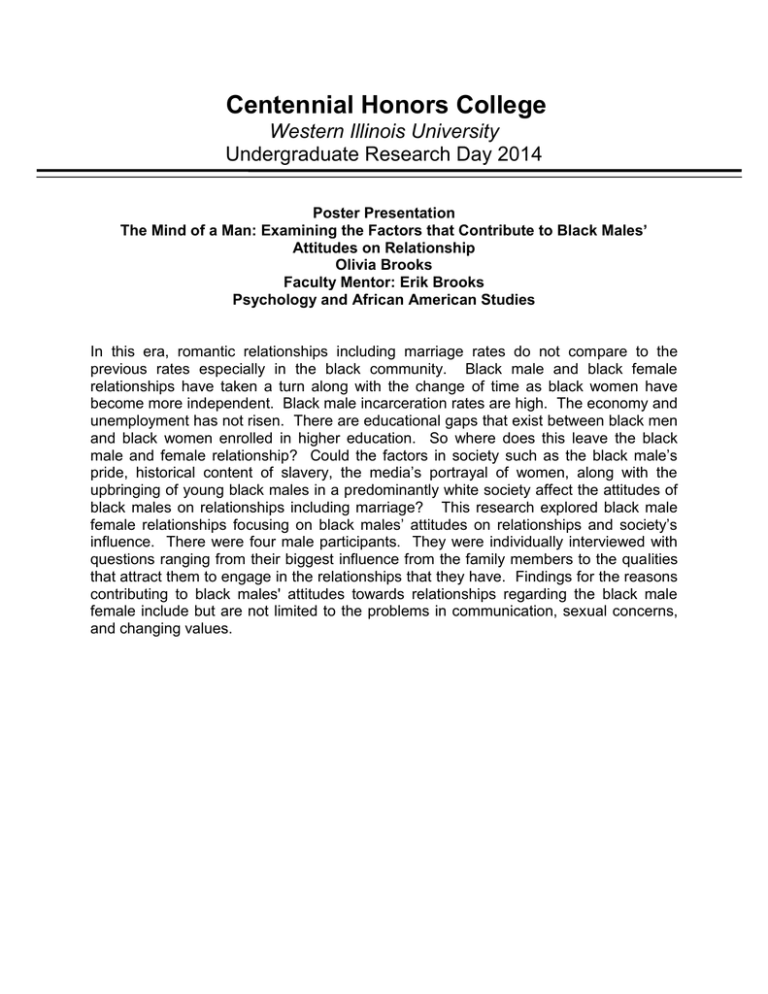 Centennial Honors College
Western Illinois University
Undergraduate Research Day 2014
Poster Presentation
The Mind of a Man: Examining the Factors that Contribute to Black Males'
Attitudes on Relationship
Olivia Brooks
Faculty Mentor: Erik Brooks
Psychology and African American Studies
In this era, romantic relationships including marriage rates do not compare to the
previous rates especially in the black community. Black male and black female
relationships have taken a turn along with the change of time as black women have
become more independent. Black male incarceration rates are high. The economy and
unemployment has not risen. There are educational gaps that exist between black men
and black women enrolled in higher education. So where does this leave the black
male and female relationship? Could the factors in society such as the black male's
pride, historical content of slavery, the media's portrayal of women, along with the
upbringing of young black males in a predominantly white society affect the attitudes of
black males on relationships including marriage? This research explored black male
female relationships focusing on black males' attitudes on relationships and society's
influence. There were four male participants. They were individually interviewed with
questions ranging from their biggest influence from the family members to the qualities
that attract them to engage in the relationships that they have. Findings for the reasons
contributing to black males' attitudes towards relationships regarding the black male
female include but are not limited to the problems in communication, sexual concerns,
and changing values.