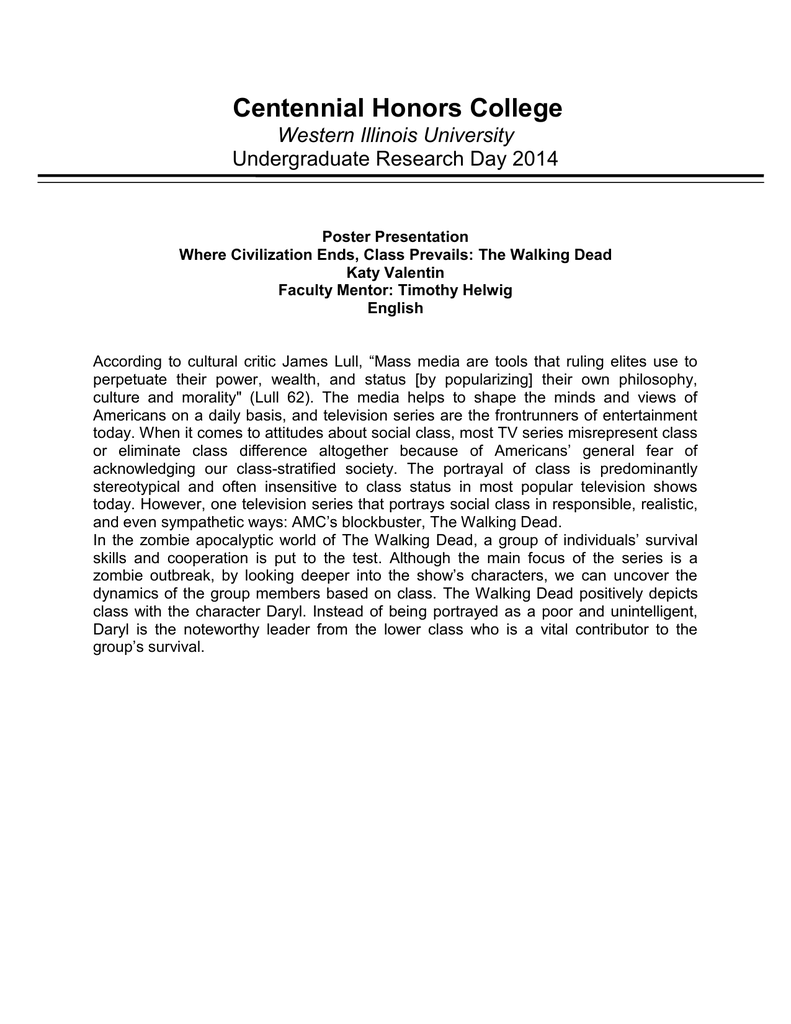 Centennial Honors College
Western Illinois University
Undergraduate Research Day 2014
Poster Presentation
Where Civilization Ends, Class Prevails: The Walking Dead
Katy Valentin
Faculty Mentor: Timothy Helwig
English
According to cultural critic James Lull, "Mass media are tools that ruling elites use to
perpetuate their power, wealth, and status [by popularizing] their own philosophy,
culture and morality" (Lull 62). The media helps to shape the minds and views of
Americans on a daily basis, and television series are the frontrunners of entertainment
today. When it comes to attitudes about social class, most TV series misrepresent class
or eliminate class difference altogether because of Americans' general fear of
acknowledging our class-stratified society. The portrayal of class is predominantly
stereotypical and often insensitive to class status in most popular television shows
today. However, one television series that portrays social class in responsible, realistic,
and even sympathetic ways: AMC's blockbuster, The Walking Dead.
In the zombie apocalyptic world of The Walking Dead, a group of individuals' survival
skills and cooperation is put to the test. Although the main focus of the series is a
zombie outbreak, by looking deeper into the show's characters, we can uncover the
dynamics of the group members based on class. The Walking Dead positively depicts
class with the character Daryl. Instead of being portrayed as a poor and unintelligent,
Daryl is the noteworthy leader from the lower class who is a vital contributor to the
group's survival.