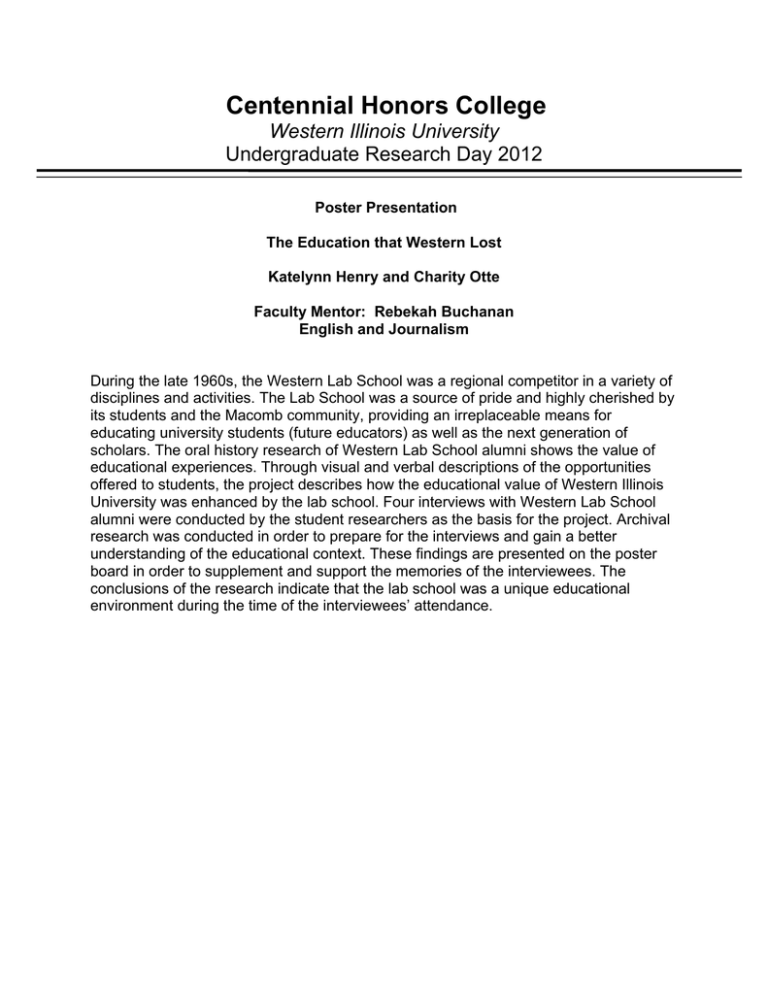 Centennial Honors College
Western Illinois University
Undergraduate Research Day 2012
Poster Presentation
The Education that Western Lost
Katelynn Henry and Charity Otte
Faculty Mentor: Rebekah Buchanan
English and Journalism
During the late 1960s, the Western Lab School was a regional competitor in a variety of
disciplines and activities. The Lab School was a source of pride and highly cherished by
its students and the Macomb community, providing an irreplaceable means for
educating university students (future educators) as well as the next generation of
scholars. The oral history research of Western Lab School alumni shows the value of
educational experiences. Through visual and verbal descriptions of the opportunities
offered to students, the project describes how the educational value of Western Illinois
University was enhanced by the lab school. Four interviews with Western Lab School
alumni were conducted by the student researchers as the basis for the project. Archival
research was conducted in order to prepare for the interviews and gain a better
understanding of the educational context. These findings are presented on the poster
board in order to supplement and support the memories of the interviewees. The
conclusions of the research indicate that the lab school was a unique educational
environment during the time of the interviewees' attendance.