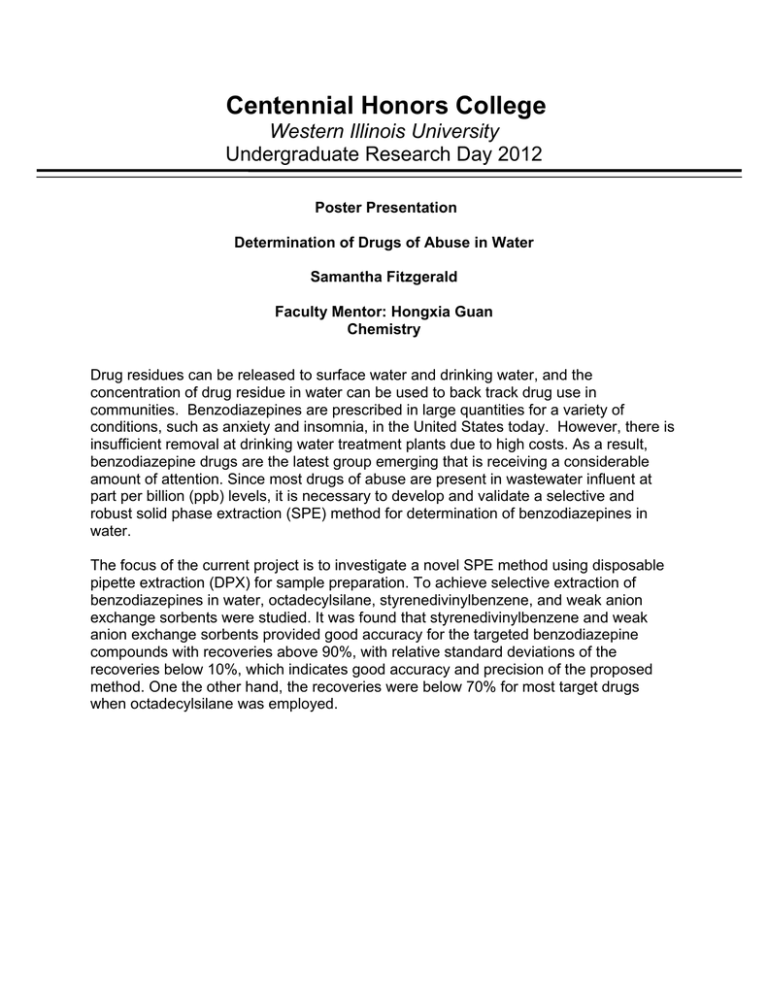 Centennial Honors College
Western Illinois University
Undergraduate Research Day 2012
Poster Presentation
Determination of Drugs of Abuse in Water
Samantha Fitzgerald
Faculty Mentor: Hongxia Guan
Chemistry
Drug residues can be released to surface water and drinking water, and the
concentration of drug residue in water can be used to back track drug use in
communities. Benzodiazepines are prescribed in large quantities for a variety of
conditions, such as anxiety and insomnia, in the United States today. However, there is
insufficient removal at drinking water treatment plants due to high costs. As a result,
benzodiazepine drugs are the latest group emerging that is receiving a considerable
amount of attention. Since most drugs of abuse are present in wastewater influent at
part per billion (ppb) levels, it is necessary to develop and validate a selective and
robust solid phase extraction (SPE) method for determination of benzodiazepines in
water.
The focus of the current project is to investigate a novel SPE method using disposable
pipette extraction (DPX) for sample preparation. To achieve selective extraction of
benzodiazepines in water, octadecylsilane, styrenedivinylbenzene, and weak anion
exchange sorbents were studied. It was found that styrenedivinylbenzene and weak
anion exchange sorbents provided good accuracy for the targeted benzodiazepine
compounds with recoveries above 90%, with relative standard deviations of the
recoveries below 10%, which indicates good accuracy and precision of the proposed
method. One the other hand, the recoveries were below 70% for most target drugs
when octadecylsilane was employed.