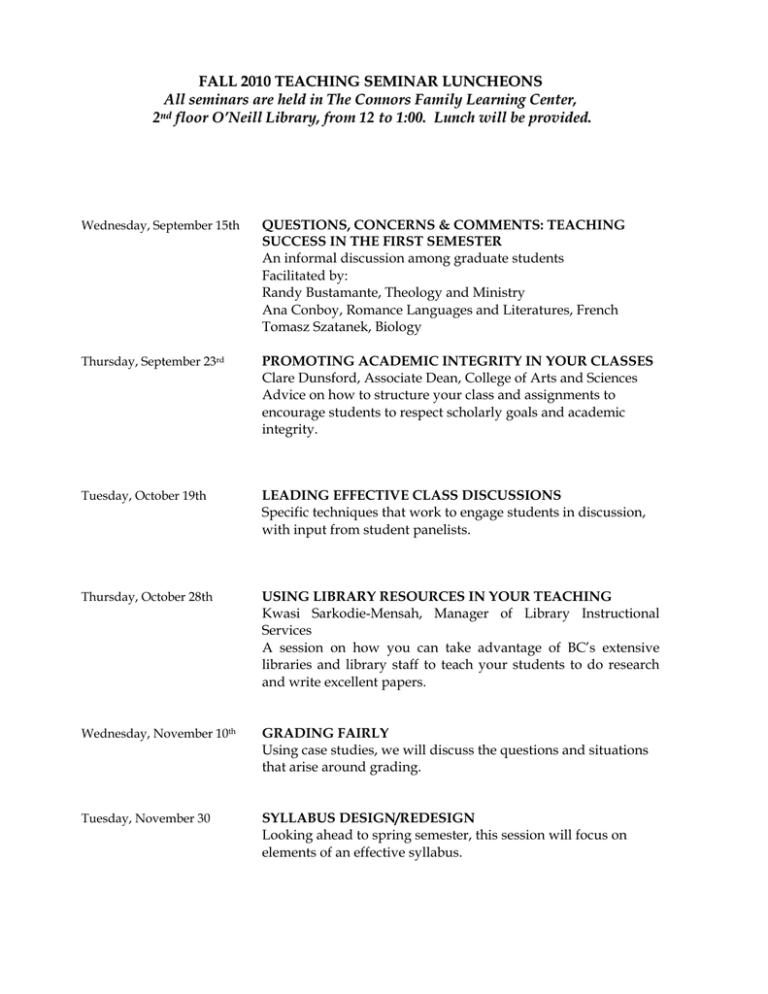 FALL 2010 TEACHING SEMINAR LUNCHEONS
All seminars are held in The Connors Family Learning Center,
2nd floor O'Neill Library, from 12 to 1:00. Lunch will be provided.
Wednesday, September 15th
QUESTIONS, CONCERNS & COMMENTS: TEACHING
SUCCESS IN THE FIRST SEMESTER
An informal discussion among graduate students
Facilitated by:
Randy Bustamante, Theology and Ministry
Ana Conboy, Romance Languages and Literatures, French
Tomasz Szatanek, Biology
Thursday, September 23rd
PROMOTING ACADEMIC INTEGRITY IN YOUR CLASSES
Clare Dunsford, Associate Dean, College of Arts and Sciences
Advice on how to structure your class and assignments to
encourage students to respect scholarly goals and academic
integrity.
Tuesday, October 19th
LEADING EFFECTIVE CLASS DISCUSSIONS
Specific techniques that work to engage students in discussion,
with input from student panelists.
Thursday, October 28th
USING LIBRARY RESOURCES IN YOUR TEACHING
Kwasi Sarkodie-Mensah, Manager of Library Instructional
Services
A session on how you can take advantage of BC's extensive
libraries and library staff to teach your students to do research
and write excellent papers.
Wednesday, November 10th
GRADING FAIRLY
Using case studies, we will discuss the questions and situations
that arise around grading.
Tuesday, November 30
SYLLABUS DESIGN/REDESIGN
Looking ahead to spring semester, this session will focus on
elements of an effective syllabus.