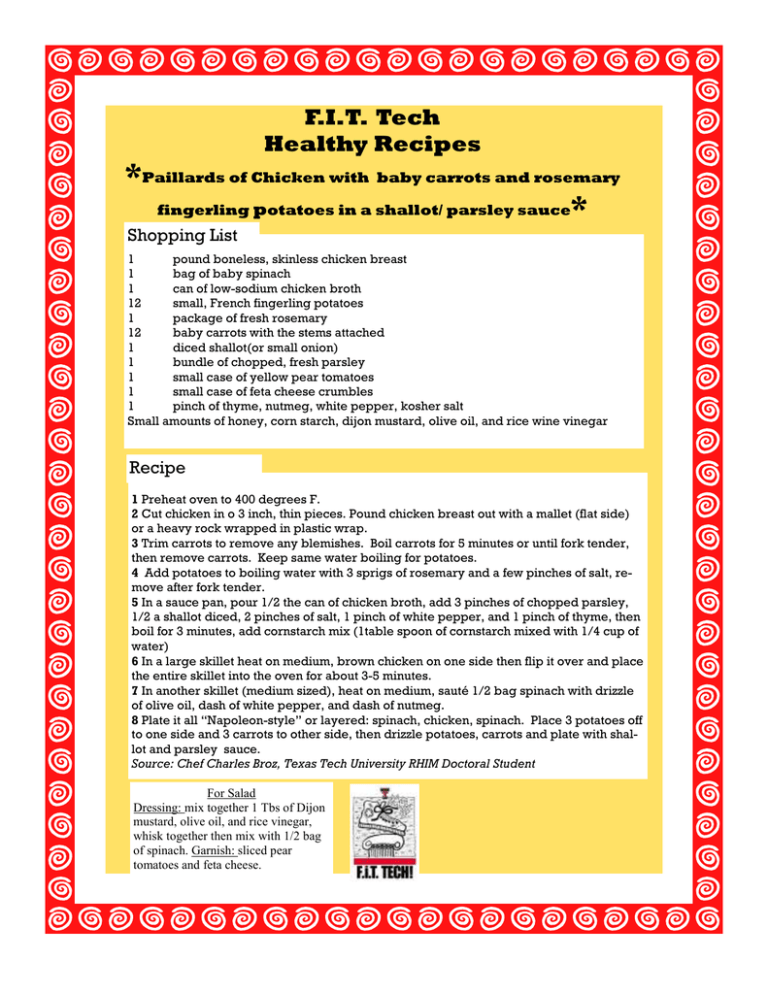 F.I.T. Tech
Healthy Recipes
*Paillards of Chicken with baby carrots and rosemary
fingerling potatoes in a shallot/ parsley sauce*
Shopping List
1
pound boneless, skinless chicken breast
1
bag of baby spinach
1
can of low-sodium chicken broth
12
small, French fingerling potatoes
1
package of fresh rosemary
12
baby carrots with the stems attached
1
diced shallot(or small onion)
1
bundle of chopped, fresh parsley
1
small case of yellow pear tomatoes
1
small case of feta cheese crumbles
1
pinch of thyme, nutmeg, white pepper, kosher salt
Small amounts of honey, corn starch, dijon mustard, olive oil, and rice wine vinegar
Recipe
1 Preheat oven to 400 degrees F.
2 Cut chicken in o 3 inch, thin pieces. Pound chicken breast out with a mallet (flat side)
or a heavy rock wrapped in plastic wrap.
3 Trim carrots to remove any blemishes. Boil carrots for 5 minutes or until fork tender,
then remove carrots. Keep same water boiling for potatoes.
4 Add potatoes to boiling water with 3 sprigs of rosemary and a few pinches of salt, remove after fork tender.
5 In a sauce pan, pour 1/2 the can of chicken broth, add 3 pinches of chopped parsley,
1/2 a shallot diced, 2 pinches of salt, 1 pinch of white pepper, and 1 pinch of thyme, then
boil for 3 minutes, add cornstarch mix (1table spoon of cornstarch mixed with 1/4 cup of
water)
6 In a large skillet heat on medium, brown chicken on one side then flip it over and place
the entire skillet into the oven for about 3-5 minutes.
7 In another skillet (medium sized), heat on medium, sauté 1/2 bag spinach with drizzle
of olive oil, dash of white pepper, and dash of nutmeg.
8 Plate it all "Napoleon-style" or layered: spinach, chicken, spinach. Place 3 potatoes off
to one side and 3 carrots to other side, then drizzle potatoes, carrots and plate with shallot and parsley sauce.
Source: Chef Charles Broz, Texas Tech University RHIM Doctoral Student
For Salad
Dressing: mix together 1 Tbs of Dijon
mustard, olive oil, and rice vinegar,
whisk together then mix with 1/2 bag
of spinach. Garnish: sliced pear
tomatoes and feta cheese.