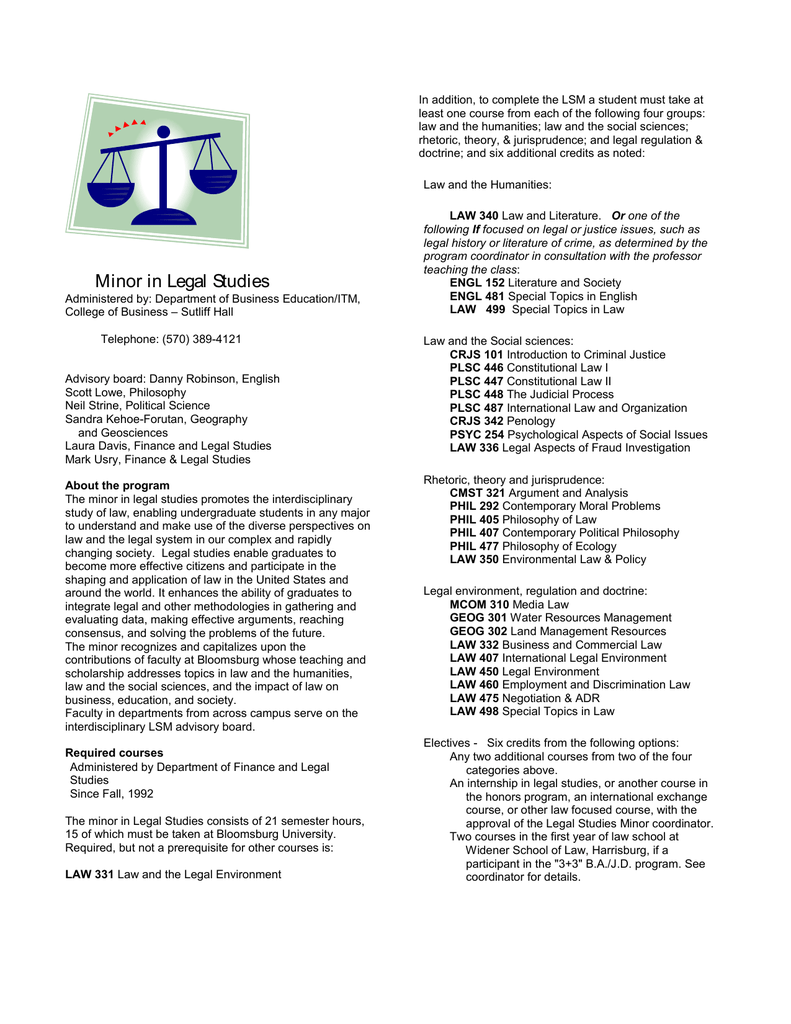 In addition, to complete the LSM a student must take at
least one course from each of the following four groups:
law and the humanities; law and the social sciences;
rhetoric, theory, & jurisprudence; and legal regulation &
doctrine; and six additional credits as noted:
Law and the Humanities:
Minor in Legal Studies
Administered by: Department of Business Education/ITM,
College of Business – Sutliff Hall
Telephone: (570) 389-4121
Advisory board: Danny Robinson, English
Scott Lowe, Philosophy
Neil Strine, Political Science
Sandra Kehoe-Forutan, Geography
and Geosciences
Laura Davis, Finance and Legal Studies
Mark Usry, Finance & Legal Studies
About the program
The minor in legal studies promotes the interdisciplinary
study of law, enabling undergraduate students in any major
to understand and make use of the diverse perspectives on
law and the legal system in our complex and rapidly
changing society. Legal studies enable graduates to
become more effective citizens and participate in the
shaping and application of law in the United States and
around the world. It enhances the ability of graduates to
integrate legal and other methodologies in gathering and
evaluating data, making effective arguments, reaching
consensus, and solving the problems of the future.
The minor recognizes and capitalizes upon the
contributions of faculty at Bloomsburg whose teaching and
scholarship addresses topics in law and the humanities,
law and the social sciences, and the impact of law on
business, education, and society.
Faculty in departments from across campus serve on the
interdisciplinary LSM advisory board.
Required courses
Administered by Department of Finance and Legal
Studies
Since Fall, 1992
The minor in Legal Studies consists of 21 semester hours,
15 of which must be taken at Bloomsburg University.
Required, but not a prerequisite for other courses is:
LAW 331 Law and the Legal Environment
LAW 340 Law and Literature. Or one of the
following If focused on legal or justice issues, such as
legal history or literature of crime, as determined by the
program coordinator in consultation with the professor
teaching the class:
ENGL 152 Literature and Society
ENGL 481 Special Topics in English
LAW 499 Special Topics in Law
Law and the Social sciences:
CRJS 101 Introduction to Criminal Justice
PLSC 446 Constitutional Law I
PLSC 447 Constitutional Law II
PLSC 448 The Judicial Process
PLSC 487 International Law and Organization
CRJS 342 Penology
PSYC 254 Psychological Aspects of Social Issues
LAW 336 Legal Aspects of Fraud Investigation
Rhetoric, theory and jurisprudence:
CMST 321 Argument and Analysis
PHIL 292 Contemporary Moral Problems
PHIL 405 Philosophy of Law
PHIL 407 Contemporary Political Philosophy
PHIL 477 Philosophy of Ecology
LAW 350 Environmental Law & Policy
Legal environment, regulation and doctrine:
MCOM 310 Media Law
GEOG 301 Water Resources Management
GEOG 302 Land Management Resources
LAW 332 Business and Commercial Law
LAW 407 International Legal Environment
LAW 450 Legal Environment
LAW 460 Employment and Discrimination Law
LAW 475 Negotiation & ADR
LAW 498 Special Topics in Law
Electives - Six credits from the following options:
Any two additional courses from two of the four
categories above.
An internship in legal studies, or another course in
the honors program, an international exchange
course, or other law focused course, with the
approval of the Legal Studies Minor coordinator.
Two courses in the first year of law school at
Widener School of Law, Harrisburg, if a
participant in the "3+3" B.A./J.D. program. See
coordinator for details.