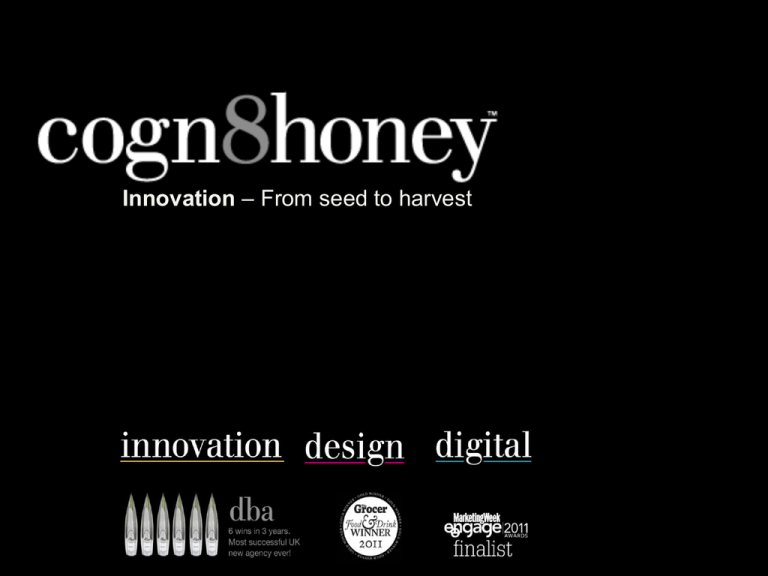 Innovation – From seed to harvest
From Transaction
To Nurture
A way to build profit through partnership
Doug James
Managing Director
cogn8honey
It's all about innovation
• Retailers are starting to use innovation to define their offer
• They have very little in-house resource
• This presents opportunities
3 Legged Stool
Distributor/
Major
multiples
Customer/
Consumer
Manufacturer/
owner
Central Innovation Team
'Our approach to Innovation'
David Hamilton
Innovation Director
Central Innovation Team
Core
Transactional
Day to day volume.
Deal done no follow
through, limited
relationships.
Ground Hog
Day.
Partnerships
Driving wins
together.
Nurture
Cultivate, develop
and look after.
Changing
consumers
perceptions
by answering
their
negative
views.
Case study.
It's not that easy….
… but it is possible
• Structured innovation programme
– Define your area of expertise
– Develop a cohesive innovation strategy
– Give it focus and priority (and funding),
without which it will not work
– Make the retailers your partners
– Stick with it
Processes
Internal process
Opportunity
Mapping
Product
Proposition
Brand
Proposition
Branding
Market Entry
Maintenance
External process
Trade Insight
Trade Story
Trade Market
Entry planning
Retailer
Engagement
Launch
Nurture or Partner
Relationship
Thank you
Any questions?