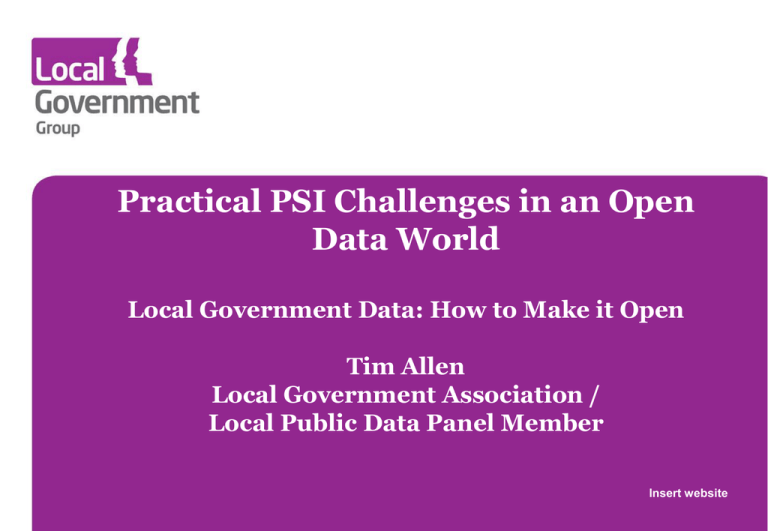 Practical PSI Challenges in an Open
Data World
Local Government Data: How to Make it Open
Tim Allen
Local Government Association /
Local Public Data Panel Member
Insert website
1. One Immediate Task For Local Government
Meet commitment to:
• January publication of:
– £500+ spend data
– Senior salaries
– Contracts over £500
• Initially, injunction don't let best be enemy of the
good but with a shift in emphasis to machine
readable format (ref. Government Transparency
guidelines / Local Public Data guidelines)
• Underscored by Government Public Data Principles
2. One Immediate Task For Local Government
Is this difficult:
•
Practicalities vary depending on systems, but achievable
•
Issues around:
–
–
–
–
•
•
Secure personal data and certain types of confidential data;
Fraud protection: conflicting views and still to be resolved
Pragmatic details sorted re salaries and related data
Beginning to help others make sense of the information e.g. potential for
using CIPFA categories for spend data.
Open Government Licence or similar adopted, but need to make clear
any copyright concerns.
Practitioner help available from Local Government Group:
http://lgtransparency.readandcomment.com
•
Also a Local Open Data community of practice
3. So is this the end of that story?
Expect:
•
'Code of Recommended Practice' under Section 2(11) of the
Local Government, Land and Planning Act 1980 ref
publication of information by local authorities about the
discharge of their functions and other matters.
•
A legislative basis to the local transparency agenda
supplement Freedom of Information and Environmental
Information Regulations.
4. Where is this headed?
Underlying this:
• A different form of accountability: less top
down and target driven
• More about direct accountability to citizens;
• Arm chair auditors as catalysts;
• Driven initially by concern to reduce spend
and encourage challenge through scrutiny and
question, but there is more
5. Is this the end of the story?
• Scope for developing the accountability agenda:
opening up performance;
• Big Society: changing balance between state / citizen;
• Creating affordable services – starts with transaction
costs but moves to radical change in the way (and
what) public services deliver;
• Unlocking creativity: people doing it for themselves;
• Sweating the asset that is public sector data;
• Towards participatory as well as elective democracy;
• Behind this: a changing approach to data including
the linked data concept which we are exploring.
6. But some challenges in doing
this…
• Shifting mindsets and culture away from accepted
notions of statistics, whilst recognising the role of,
for example, both
– Data standards, e.g. for comparability purposes; yet
– Creating space for 'mashups' and experimentation
• Generating the market for 'apps' – but not just an
developer activity: this should inform public service
behaviour, e.g. in real time provision for service
information and citizen engagement / feedback;
• Signs of this, not least in the light of the financial
situation, for example:
7. Conclusions
• An unfolding story – where next – linked data?
• Must make this work for citizens: a role for 'laissez
faire', but a role too for the public sector;
• A driver for innovation in public services:
accountability of course, but potential for more
besides.
• The Martha Lane-Fox point about digital being a 21st
century element to literacy: we mustn't forget the
10% but find ways to draw them in.