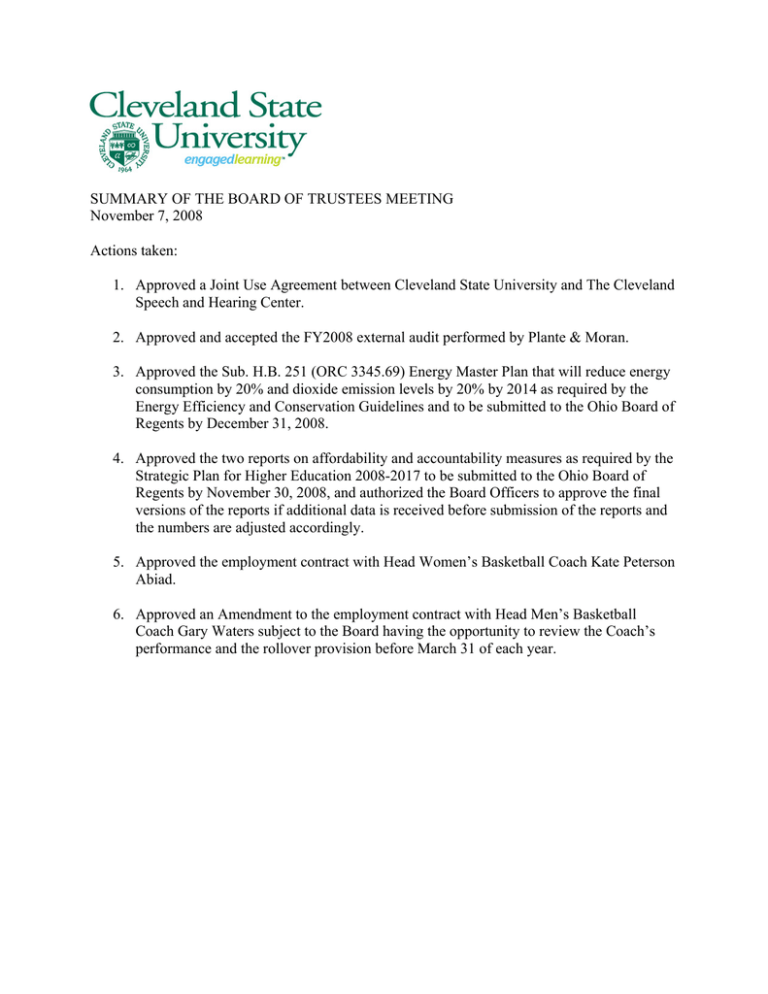 SUMMARY OF THE BOARD OF TRUSTEES MEETING
November 7, 2008
Actions taken:
1. Approved a Joint Use Agreement between Cleveland State University and The Cleveland
Speech and Hearing Center.
2. Approved and accepted the FY2008 external audit performed by Plante & Moran.
3. Approved the Sub. H.B. 251 (ORC 3345.69) Energy Master Plan that will reduce energy
consumption by 20% and dioxide emission levels by 20% by 2014 as required by the
Energy Efficiency and Conservation Guidelines and to be submitted to the Ohio Board of
Regents by December 31, 2008.
4. Approved the two reports on affordability and accountability measures as required by the
Strategic Plan for Higher Education 2008-2017 to be submitted to the Ohio Board of
Regents by November 30, 2008, and authorized the Board Officers to approve the final
versions of the reports if additional data is received before submission of the reports and
the numbers are adjusted accordingly.
5. Approved the employment contract with Head Women's Basketball Coach Kate Peterson
Abiad.
6. Approved an Amendment to the employment contract with Head Men's Basketball
Coach Gary Waters subject to the Board having the opportunity to review the Coach's
performance and the rollover provision before March 31 of each year.