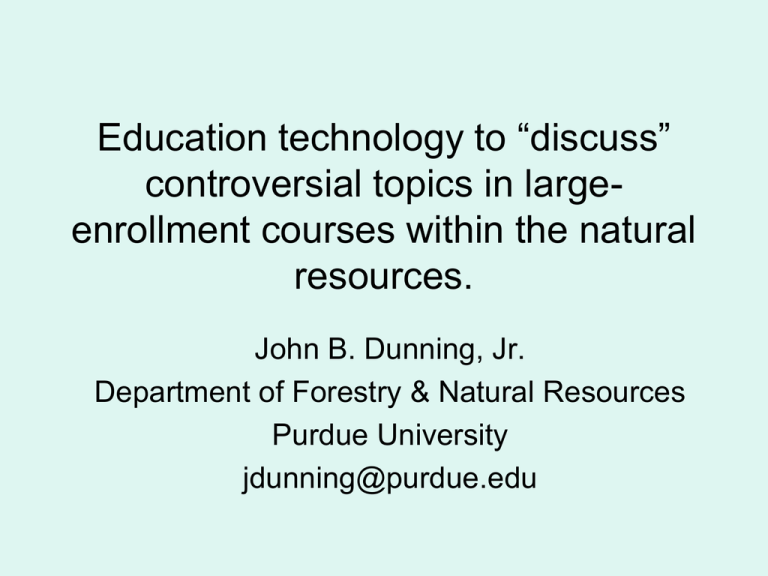 Education technology to "discuss"
controversial topics in largeenrollment courses within the natural
resources.
John B. Dunning, Jr.
Department of Forestry & Natural Resources
Purdue University
jdunning@purdue.edu
THE CHALLENGE
• FNR 103 (INTRODUCTION
TO ENVIRONMENTAL
CONSERVATION) IS OFTEN
TAKEN BY STUDENTS TO
MEET A GENERAL SCIENCE
REQUIREMENT.
• RESULT: 450+ STUDENTS
PER SEMESTER, AND MOST
STUDENTS HAVE LITTLE
EXPERIENCE WITH THE
SUBJECT.
• STUDENTS MAY
FEEL ANONYMOUS
& DISCONNECTED
FROM THE
PROFESSOR.
• LEADS TO POOR
ATTENDENCE,
LITTLE REASON
FOR STUDENT TO
FEEL ENGAGED.
• NATURAL RESOURCE
CLASSES DEAL WITH
CONTROVERSIAL
TOPICS & OFFER
INSIGHTS INTO
CURRENT NEWS.
• HOW DO YOU GET
STUDENTS TO
DISCUSS and
UNDERSTAND THESE
ISSUES?
FIRES AT YELLOWSTONE
NATIONAL PARK, AUGUST 2007
CLASSROOM PERFORMANCE
SYSTEM (CPS)
• SINCE 2004, I HAVE
BEEN USING
EDUCATION
TECHNOLOGY CALLED
CPS, BY
eINSTRUCTION.
• CPS MAKES LARGE
LECTURE CLASSES
MORE INTERACTIVE &
ALLOWS ME TO
"DISCUSS" TOPICS
WITH THE STUDENTS
COMPONENTS OF CPS
• HARDWARE: RECEIVER THAT ATTACHES TO
CLASSROOM COMPUTER. USES RADIO
FREQUENCIES.
• SOFTWARE: eINSTRUCTION PROGRAM THAT
TAKES SIGNALS RECEIVED FROM STUDENTS,
TOTALS RESPONSES & SENDS REPORT TO
INSTRUCTOR'S OFFICE COMPUTER.
• STUDENTS: PURCHASE A "RESPONSE PAD,"
("CLICKER") SIMILAR TO A TELEVISION REMOTE.
RESPONSE PADS
• STUDENTS GO ONLINE
TO REGISTER USE OF
THEIR CLICKER IN FNR
103. SAME REMOTE
CAN BE USED IN
OTHER CLASSES,
OTHER SEMESTERS.
• PURDUE PURCHASED
BLANKET LICENSE, SO
NO COURSE FEE.
USE IN CLASS
• WHEN CPS SYSTEM IS
TURNED ON, I CAN ASK
QUESTIONS.
• STUDENTS USE
REMOTES TO
ANSWER.
• ANSWERS ARE
INSTANTLY
TABULATED AND
RESULTS SHOWN TO
STUDENT FOR
IMMEDIATE FEEDBACK.
QUESTION TYPES
• REVIEW OF PREVIOUSLY TAUGHT
CONCEPTS, ESP. BEFORE TESTS.
• AFTER TEST, GO OVER QUESTIONS
THAT STUDENTS FOUND DIFFICULT.
• USEFUL, BUT BORING!
QUESTION TYPES
• MORE INNOVATIVE:
• QUESTIONS THAT CHALLENGE STUDENT'S
"COMMON SENSE"
• CREATE "TEACHABLE MOMENTS" BY USING
CPS TO MAKE STUDENTS COME TO
SURPRISING REALIZATIONS.
• ASK STUDENTS TO OFFER OPINIONS ON
CONTROVERSIAL TOPICS.
RESULTS FROM PREVIOUS
SEMESTERS
• FIRES STARTED BY PEOPLE SHOULD
BE ALWAYS PUT OUT AS QUICKLY AS
POSSIBLE.
YES
NO
• 2005
61%
34%
• 2006
45%
48%
RESULTS FROM PREVIOUS
SEMESTERS
• A FARM CHEMICAL COULD GREATLY INCREASE
FOOD PRODUCTION, BUT TINY AMOUNTS CAUSE
GENETIC DAMAGE IN FROGS.
2006 2005
• We should use the chemical to
reduce world hunger
10% 12%
• We should not use it, to keep our
drinking water safe
53% 51%
• I don't care about frogs, but if it harms
humans we shouldn't use it 26% 29%
RESULTS FROM PREVIOUS
SEMESTERS
• WHAT PRICES SHOULD THE FS
CHARGE FOR TIMBER HARVEST?
• MAKE A PROFIT
• BELOW-COST IS OK
• KEEP THE TIMBER
COMPANIES PROFITABLE
• NONE – USE LAND FOR
RECREATION
21%
19%
18%
34%
'CLEAR SKIES INITIATIVE'
• DO YOU SUPPORT GOALS OF 80% REDUCTION
BY 2018?
2005
2006
YES
85%
79%
NO
9%
11%
• CURRENT GOALS REQUIRE 90% REDUCTION
BY 2010, DO YOU STILL SUPPORT?
YES
46%
36%
NO
52%
58%
BENEFITS OF TECHNOLOGY
• MOST STUDENTS
SEEM TO ENJOY
THE BREAKS IN
THE LECTURE.
• SHOULD INCREASE
UNDERSTANDING.
• INCREASES
ATTENDANCE.