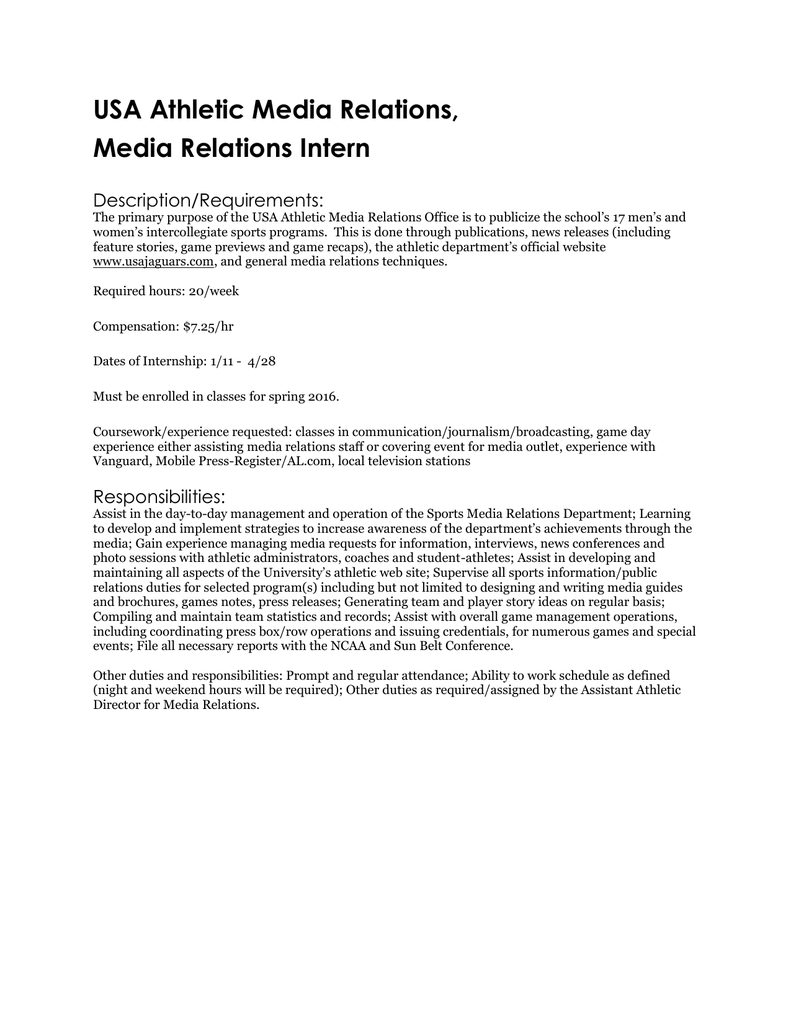 USA Athletic Media Relations,
Media Relations Intern
Description/Requirements:
The primary purpose of the USA Athletic Media Relations Office is to publicize the school's 17 men's and
women's intercollegiate sports programs. This is done through publications, news releases (including
feature stories, game previews and game recaps), the athletic department's official website
www.usajaguars.com, and general media relations techniques.
Required hours: 20/week
Compensation: $7.25/hr
Dates of Internship: 1/11 - 4/28
Must be enrolled in classes for spring 2016.
Coursework/experience requested: classes in communication/journalism/broadcasting, game day
experience either assisting media relations staff or covering event for media outlet, experience with
Vanguard, Mobile Press-Register/AL.com, local television stations
Responsibilities:
Assist in the day-to-day management and operation of the Sports Media Relations Department; Learning
to develop and implement strategies to increase awareness of the department's achievements through the
media; Gain experience managing media requests for information, interviews, news conferences and
photo sessions with athletic administrators, coaches and student-athletes; Assist in developing and
maintaining all aspects of the University's athletic web site; Supervise all sports information/public
relations duties for selected program(s) including but not limited to designing and writing media guides
and brochures, games notes, press releases; Generating team and player story ideas on regular basis;
Compiling and maintain team statistics and records; Assist with overall game management operations,
including coordinating press box/row operations and issuing credentials, for numerous games and special
events; File all necessary reports with the NCAA and Sun Belt Conference.
Other duties and responsibilities: Prompt and regular attendance; Ability to work schedule as defined
(night and weekend hours will be required); Other duties as required/assigned by the Assistant Athletic
Director for Media Relations.