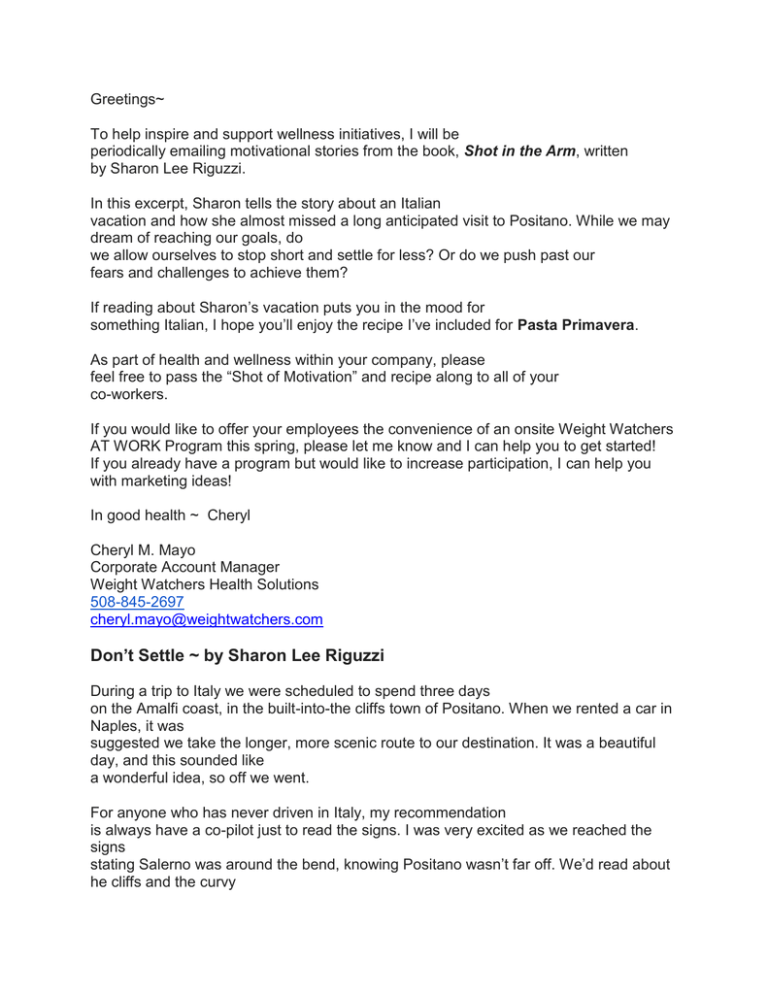 Greetings~
To help inspire and support wellness initiatives, I will be
periodically emailing motivational stories from the book, Shot in the Arm, written
by Sharon Lee Riguzzi.
In this excerpt, Sharon tells the story about an Italian
vacation and how she almost missed a long anticipated visit to Positano. While we may
dream of reaching our goals, do
we allow ourselves to stop short and settle for less? Or do we push past our
fears and challenges to achieve them?
If reading about Sharon's vacation puts you in the mood for
something Italian, I hope you'll enjoy the recipe I've included for Pasta Primavera.
As part of health and wellness within your company, please
feel free to pass the "Shot of Motivation" and recipe along to all of your
co-workers.
If you would like to offer your employees the convenience of an onsite Weight Watchers
AT WORK Program this spring, please let me know and I can help you to get started!
If you already have a program but would like to increase participation, I can help you
with marketing ideas!
In good health ~ Cheryl
Cheryl M. Mayo
Corporate Account Manager
Weight Watchers Health Solutions
508-845-2697
[email protected]
Don't Settle ~ by Sharon Lee Riguzzi
During a trip to Italy we were scheduled to spend three days
on the Amalfi coast, in the built-into-the cliffs town of Positano. When we rented a car in
Naples, it was
suggested we take the longer, more scenic route to our destination. It was a beautiful
day, and this sounded like
a wonderful idea, so off we went.
For anyone who has never driven in Italy, my recommendation
is always have a co-pilot just to read the signs. I was very excited as we reached the
signs
stating Salerno was around the bend, knowing Positano wasn't far off. We'd read about
he cliffs and the curvy
roads, so we were ready for them. Since
my husband had lived in Italy for two years, and was a skilled driver, I knew I
was in safe hands.
Obviously we didn't have a clue.
If we had one ninety-degree turn to conquer, we had a
hundred. Out of the corner of our eyes, we
would catch a glance of a glistening body of water, but neither of us wanted to
take our eyes of the road for a fraction of a second.
Maneuvering the curves wasn't the only problem. Try maneuvering a curve with an
eighty-passenger bus coming from the other direction as a motorcyclist chatting
on a cell phone passes the bus! This
wasn't an isolated occurrence. It
happened continually along this nightmarish drive.
Neither my husband nor I is a wimp when it comes to tackling
the road, but with forty-one kilometers left to our destination I was ready to
call a halt to the drive. If I opened my
eyes, Amalfi looked okay. We could
cancel our reservations in Positano.
What was the sense in putting ourselves through this stress when we were
supposed to be having a relaxing vacation?
Why not cut our losses and settle in here?
Of course for the last ten months I had been visualizing
myself sitting on our terrace in Positano, calmly taking in the serenity and
beauty. If we stopped now, wouldn't I
always wonder if Positano was all that I had dreamed about for so long?
In how many other areas of our lives do we stop our dream
journey just short of reaping the rewards or our achievement because the going
got tough? We settle, and our settling
might not even be such a bad thing, but we'll always wonder if only and what
if.
Slowly we made our way, and as Positano came into our sight,
we both agreed it had been worth the trip.
Many times during our stay there, I found myself smiling as I sat in my
chair on our terrace, calmly taking in the serenity and beauty. And to think I almost
missed out on this!
Ask yourself, "What am I missing out on?" Then dig in, and go for it! Life is too short to
settle.
Pasta
Primavera with Side Salad
PointsPlusValue ~ 6
Ingredients
1 cup(s) cooked whole wheat pasta penne, kept hot*
1 cup(s) fresh tomato(es) peppers and/or onions, seasoned,
roasted, chopped
2 Tbsp basil oregano and/or parsley, chopped
2 Tbsp shredded fat free mozzarella cheese *
1 1/2 cup(s) arugula
1/2 cup(s) fresh mushroom(s) and shallots, sliced
6 medium grape tomatoes halved
2 Tbsp fat-free Italian salad dressing *
PointsPlus Value
5
0
0
0
0
0
0
1
Instructions
Combine pasta with roasted tomatoes (and
other roasted vegetables such as peppers and onions); sprinkle with basil (or
other herbs including oregano or parsley) and cheese. Enjoy with arugula,
mushrooms, shallots and grape tomatoes tossed with dressing.
Swaps
Try olive oil and vinegar instead of bottled
dressing, and fat-free soy cheese instead of mozzarella. (These swaps may
affect PointsPlus® values.) *To make this meal gluten
free, use gluten–free pasta, cheese and dressing.
Flavor Boosts
Crushed red pepper flakes, Italian seasoning
and/or minced garlic
Restaurant Tip
Ask if whole-wheat pasta is available.