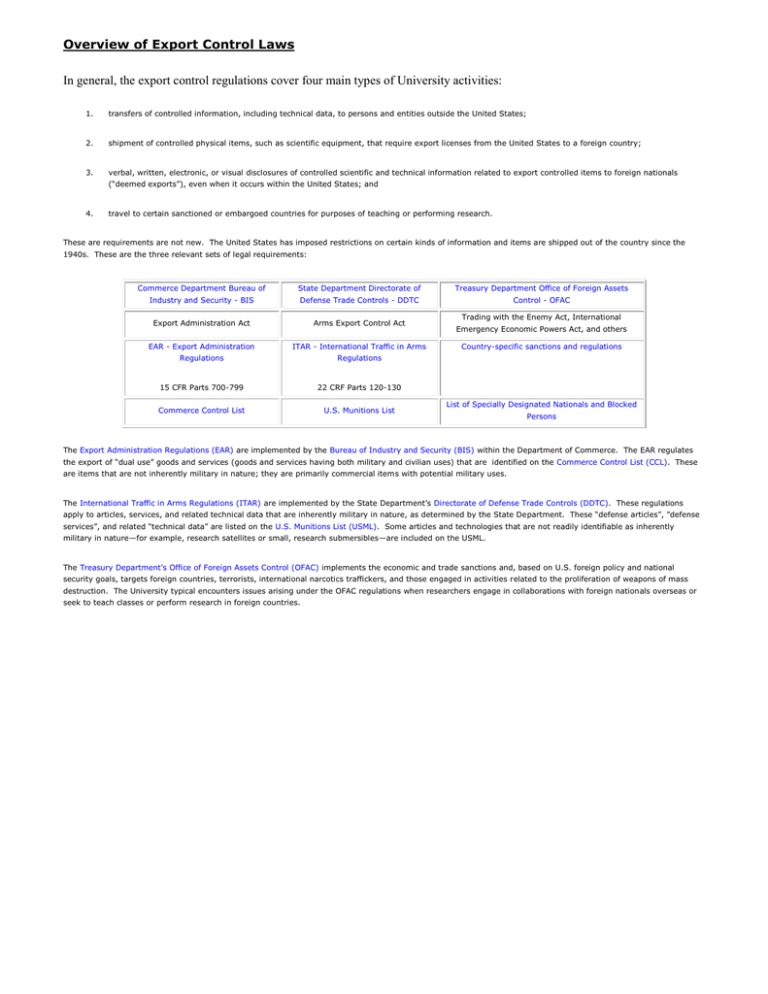 Overview of Export Control Laws
In general, the export control regulations cover four main types of University activities:
1.
transfers of controlled information, including technical data, to persons and entities outside the United States;
2.
shipment of controlled physical items, such as scientific equipment, that require export licenses from the United States to a foreign country;
3.
verbal, written, electronic, or visual disclosures of controlled scientific and technical information related to export controlled items to foreign nationals
("deemed exports"), even when it occurs within the United States; and
4.
travel to certain sanctioned or embargoed countries for purposes of teaching or performing research.
These are requirements are not new. The United States has imposed restrictions on certain kinds of information and items are shipped out of the country since the
1940s. These are the three relevant sets of legal requirements:
Commerce Department Bureau of
State Department Directorate of
Industry and Security - BIS
Defense Trade Controls - DDTC
Export Administration Act
Arms Export Control Act
EAR - Export Administration
ITAR - International Traffic in Arms
Regulations
Regulations
15 CFR Parts 700-799
22 CRF Parts 120-130
Commerce Control List
U.S. Munitions List
Treasury Department Office of Foreign Assets
Control - OFAC
Trading with the Enemy Act, International
Emergency Economic Powers Act, and others
Country-specific sanctions and regulations
List of Specially Designated Nationals and Blocked
Persons
The Export Administration Regulations (EAR) are implemented by the Bureau of Industry and Security (BIS) within the Department of Commerce. The EAR regulates
the export of "dual use" goods and services (goods and services having both military and civilian uses) that are identified on the Commerce Control List (CCL). These
are items that are not inherently military in nature; they are primarily commercial items with potential military uses.
The International Traffic in Arms Regulations (ITAR) are implemented by the State Department's Directorate of Defense Trade Controls (DDTC). These regulations
apply to articles, services, and related technical data that are inherently military in nature, as determined by the State Department. These "defense articles", "defense
services", and related "technical data" are listed on the U.S. Munitions List (USML). Some articles and technologies that are not readily identifiable as inherently
military in nature—for example, research satellites or small, research submersibles—are included on the USML.
The Treasury Department's Office of Foreign Assets Control (OFAC) implements the economic and trade sanctions and, based on U.S. foreign policy and national
security goals, targets foreign countries, terrorists, international narcotics traffickers, and those engaged in activities related to the proliferation of weapons of mass
destruction. The University typical encounters issues arising under the OFAC regulations when researchers engage in collaborations with foreign nationals overseas or
seek to teach classes or perform research in foreign countries.