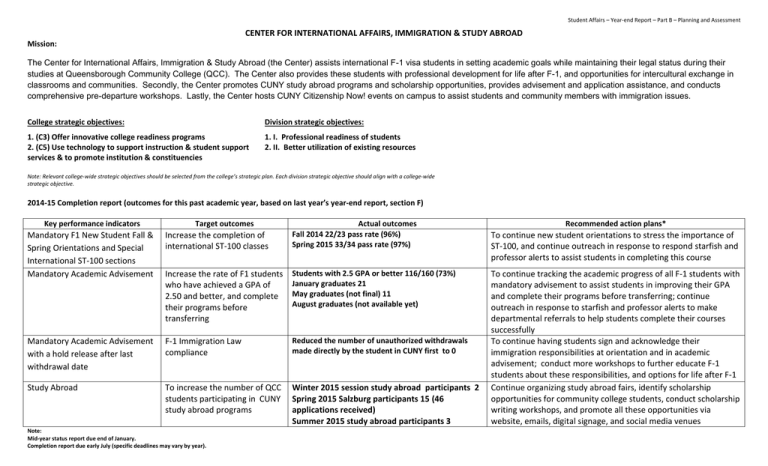 Student Affairs – Year-end Report – Part B – Planning and Assessment
CENTER FOR INTERNATIONAL AFFAIRS, IMMIGRATION & STUDY ABROAD
Mission:
The Center for International Affairs, Immigration & Study Abroad (the Center) assists international F-1 visa students in setting academic goals while maintaining their legal status during their
studies at Queensborough Community College (QCC). The Center also provides these students with professional development for life after F-1, and opportunities for intercultural exchange in
classrooms and communities. Secondly, the Center promotes CUNY study abroad programs and scholarship opportunities, provides advisement and application assistance, and conducts
comprehensive pre-departure workshops. Lastly, the Center hosts CUNY Citizenship Now! events on campus to assist students and community members with immigration issues.
College strategic objectives:
Division strategic objectives:
1. (C3) Offer innovative college readiness programs
2. (C5) Use technology to support instruction & student support
services & to promote institution & constituencies
1. I. Professional readiness of students
2. II. Better utilization of existing resources
Note: Relevant college-wide strategic objectives should be selected from the college's strategic plan. Each division strategic objective should align with a college-wide
strategic objective.
2014-15 Completion report (outcomes for this past academic year, based on last year's year-end report, section F)
Key performance indicators
Target outcomes
Actual outcomes
Fall 2014 22/23 pass rate (96%)
Spring 2015 33/34 pass rate (97%)
Mandatory F1 New Student Fall &
Spring Orientations and Special
International ST-100 sections
Mandatory Academic Advisement
Increase the completion of
international ST-100 classes
Increase the rate of F1 students
who have achieved a GPA of
2.50 and better, and complete
their programs before
transferring
Students with 2.5 GPA or better 116/160 (73%)
January graduates 21
May graduates (not final) 11
August graduates (not available yet)
Mandatory Academic Advisement
with a hold release after last
withdrawal date
F-1 Immigration Law
compliance
Reduced the number of unauthorized withdrawals
made directly by the student in CUNY first to 0
Study Abroad
To increase the number of QCC
students participating in CUNY
study abroad programs
Winter 2015 session study abroad participants 2
Spring 2015 Salzburg participants 15 (46
applications received)
Summer 2015 study abroad participants 3
Note:
Mid-year status report due end of January.
Completion report due early July (specific deadlines may vary by year).
Recommended action plans*
To continue new student orientations to stress the importance of
ST-100, and continue outreach in response to respond starfish and
professor alerts to assist students in completing this course
To continue tracking the academic progress of all F-1 students with
mandatory advisement to assist students in improving their GPA
and complete their programs before transferring; continue
outreach in response to starfish and professor alerts to make
departmental referrals to help students complete their courses
successfully
To continue having students sign and acknowledge their
immigration responsibilities at orientation and in academic
advisement; conduct more workshops to further educate F-1
students about these responsibilities, and options for life after F-1
Continue organizing study abroad fairs, identify scholarship
opportunities for community college students, conduct scholarship
writing workshops, and promote all these opportunities via
website, emails, digital signage, and social media venues
Student Affairs – Year-end Report – Part B – Planning and Assessment
The number of study abroad inquiries received
and departmental approval requests for courses
abroad
*Column contents should be used to indicate which strategic objectives below address the follow-up necessary.
2015-16 Department strategic plan (arranged by each division strategic objective that the department supports)
Division strategic objectives:
1. Professional readiness of students
Department strategic objectives
Improve professional readiness of
students in Salzburg Study Abroad
Program
Indicator(s)
Use Speech 211 rubric in predeparture sessions to improve
students' public speaking abilities
Expected outcomes
Each Student will score better in
Session 3 after public speaking
workshop in Session 2
Action plan/timeline
Speech professor will grade each student's oral
presentation in Session 2 prior to public speaking
workshop and again in Session 3 after the public
speaking workshop in spring semester
Who
Speech professor
will grade 15
selected Salzburg
students
Actual outcomes
Who
ISA advisors will
place holds on all
F1 students
Manager will give
and grade exit
exam for all new
student orientation
attendees
Actual outcomes
2. Better utilization of existing resources
Department strategic objectives
Utilize Registrar's negative service
indicator to reduce unauthorized
withdrawals for F1 students
Improve F1 students' awareness of
their academic and F1
requirements through a mandatory
new F1 student orientation
Notes




Indicator(s)
ISA negative service indicator
placed until the end of withdrawal
period
Give F1 student new orientation
pre & post exit exam consisting of
10 questions
Expected outcomes
For F1 students to not have any
unauthorized withdrawals
Action plan/timeline
Advisor will place ISA hold after Fall and Spring
registrations have been made until the end of the
withdrawal periods
Students should be able to
New student orientation exit exam will be given at
answer more questions correctly the beginning and end of the new student
after the new student
orientations for Fall & Spring semesters to see if the
orientations to show better
students are grasping the orientation information to
understanding of materials
answer the exam questions correctly.
presented
Add tables for additional division strategic objectives and corresponding department strategic objectives, as needed.
For each division strategic objective, the department should have one or more strategic objectives intended to support that department in the achievement of the division objective. Each department strategic objective should have at least one indicator (key performance
indicator) and one expected outcome, with an action plan and timeline to achieve that outcome.
At the mid-year point, the department reports partial or preliminary outcomes. At the end of the year, the department reports actual outcomes.
An indicator is the measurement by which the objective will be assessed. The outcome is the product of the work in support of achieving the objective. For example, if the strategic objective for Admissions is "to expand feeder high schools," the indicator might be "applications
received from new feeder high schools," and the expected outcome might be "at least one application from five new feeder high schools."
Note:
Mid-year status report due end of January.
Completion report due early July (specific deadlines may vary by year).