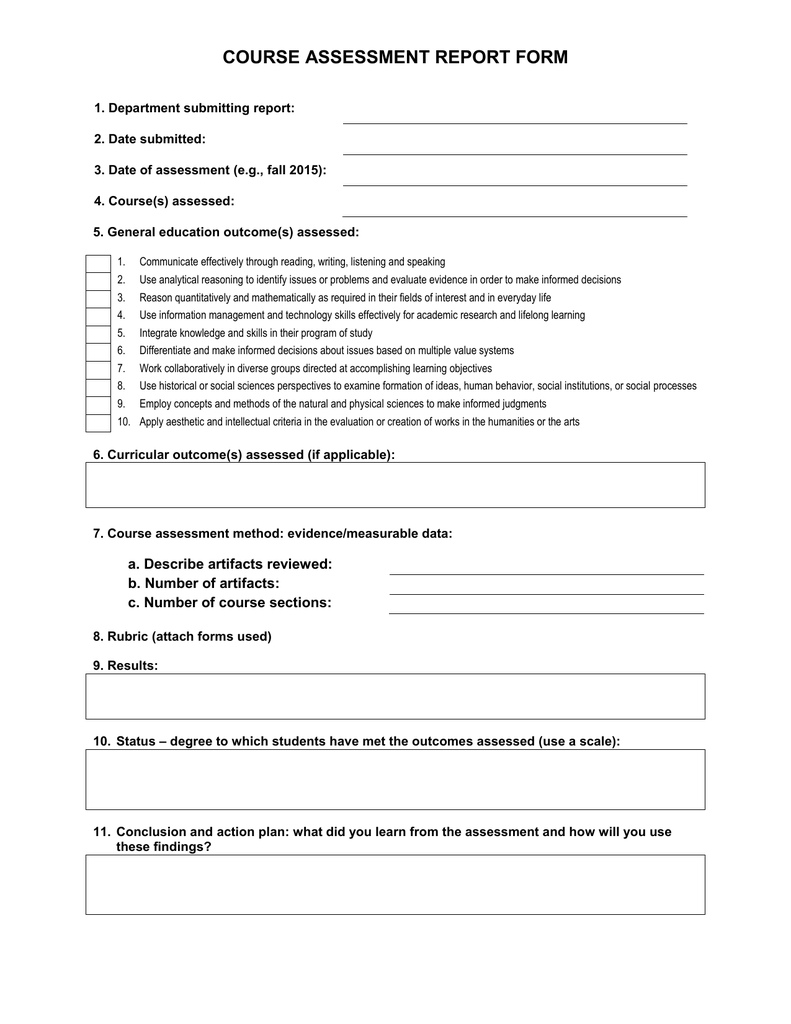 COURSE ASSESSMENT REPORT FORM
1. Department submitting report:
2. Date submitted:
3. Date of assessment (e.g., fall 2015):
4. Course(s) assessed:
5. General education outcome(s) assessed:
1.
Communicate effectively through reading, writing, listening and speaking
2.
Use analytical reasoning to identify issues or problems and evaluate evidence in order to make informed decisions
3.
Reason quantitatively and mathematically as required in their fields of interest and in everyday life
4.
Use information management and technology skills effectively for academic research and lifelong learning
5.
Integrate knowledge and skills in their program of study
6.
Differentiate and make informed decisions about issues based on multiple value systems
7.
Work collaboratively in diverse groups directed at accomplishing learning objectives
8.
Use historical or social sciences perspectives to examine formation of ideas, human behavior, social institutions, or social processes
9.
Employ concepts and methods of the natural and physical sciences to make informed judgments
10. Apply aesthetic and intellectual criteria in the evaluation or creation of works in the humanities or the arts
6. Curricular outcome(s) assessed (if applicable):
7. Course assessment method: evidence/measurable data:
a. Describe artifacts reviewed:
b. Number of artifacts:
c. Number of course sections:
8. Rubric (attach forms used)
9. Results:
10. Status – degree to which students have met the outcomes assessed (use a scale):
11. Conclusion and action plan: what did you learn from the assessment and how will you use
these findings?