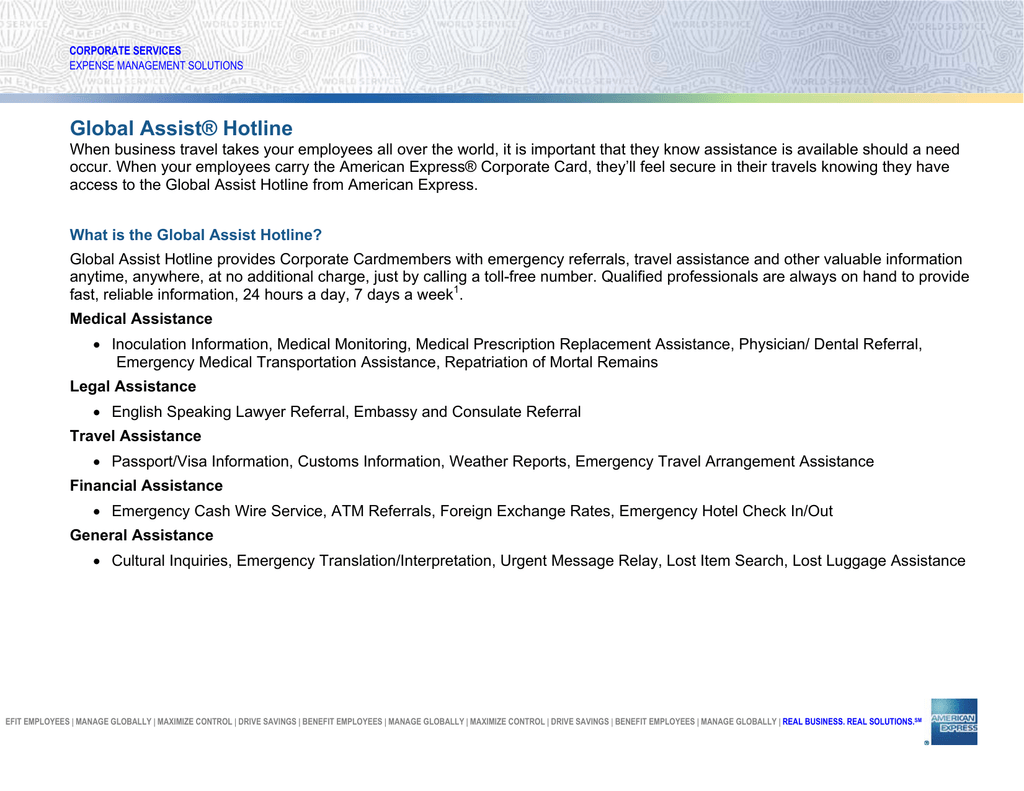 CORPORATE SERVICES
EXPENSE MANAGEMENT SOLUTIONS
Global Assist® Hotline
When business travel takes your employees all over the world, it is important that they know assistance is available should a need
occur. When your employees carry the American Express® Corporate Card, they'll feel secure in their travels knowing they have
access to the Global Assist Hotline from American Express.
What is the Global Assist Hotline?
Global Assist Hotline provides Corporate Cardmembers with emergency referrals, travel assistance and other valuable information
anytime, anywhere, at no additional charge, just by calling a toll-free number. Qualified professionals are always on hand to provide
fast, reliable information, 24 hours a day, 7 days a week1.
Medical Assistance
• Inoculation Information, Medical Monitoring, Medical Prescription Replacement Assistance, Physician/ Dental Referral,
Emergency Medical Transportation Assistance, Repatriation of Mortal Remains
Legal Assistance
• English Speaking Lawyer Referral, Embassy and Consulate Referral
Travel Assistance
• Passport/Visa Information, Customs Information, Weather Reports, Emergency Travel Arrangement Assistance
Financial Assistance
• Emergency Cash Wire Service, ATM Referrals, Foreign Exchange Rates, Emergency Hotel Check In/Out
General Assistance
• Cultural Inquiries, Emergency Translation/Interpretation, Urgent Message Relay, Lost Item Search, Lost Luggage Assistance
EFIT EMPLOYEES | MANAGE GLOBALLY | MAXIMIZE CONTROL | DRIVE SAVINGS | BENEFIT EMPLOYEES | MANAGE GLOBALLY | MAXIMIZE CONTROL | DRIVE SAVINGS | BENEFIT EMPLOYEES | MANAGE GLOBALLY | REAL BUSINESS. REAL SOLUTIONS.SM
How does the Global Assist Hotline work?
Corporate Cardmembers may take advantage of the Global Assist Hotline, 24 hours a day, at no additional charge, simply by calling
a toll free number.
The Global Assist Hotline program's coordination and assistance services are one of the many free benefits of being an American
Express Cardmember. Cardmembers are responsible for the costs charged by medical and legal services, transportation charges,
and any other fees charged by third party service providers.
How does your Company benefit?
Your company has the added peace of mind knowing that your travelers can call Global Assist Hotline at any time, day or night,
when assistance is needed.
How do your employees benefit?
Your employees can call Global Assist for assistance with any of their travel issues from anywhere in the world.
1.
To be eligible for benefits from the Global Assist Hotline, Cardmember must be more than 100 miles away from home.