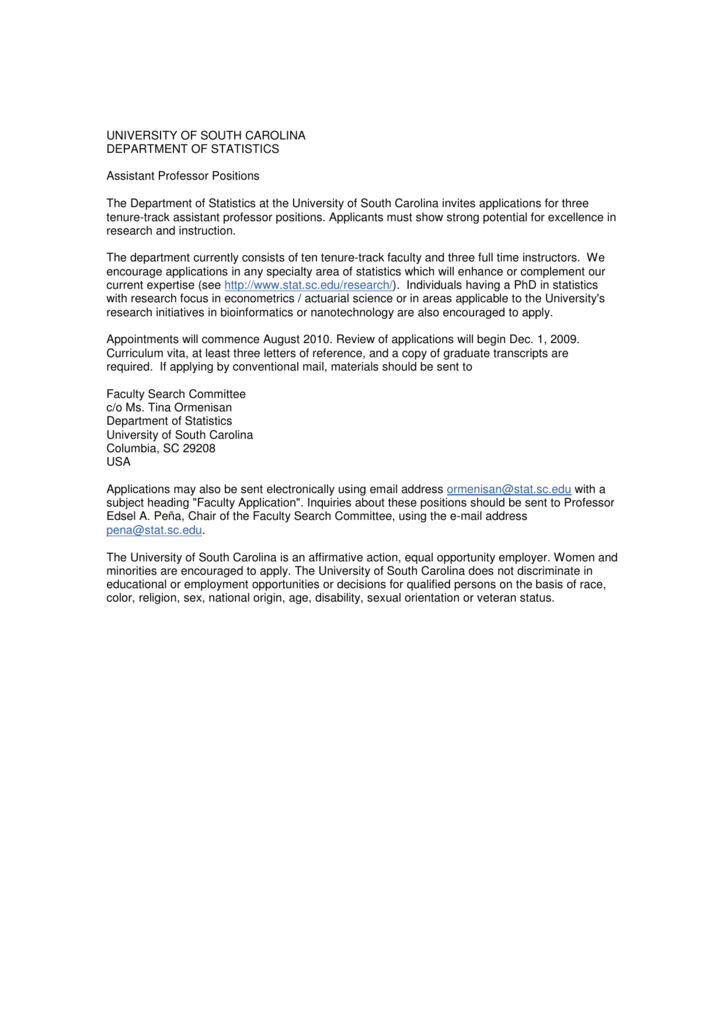 UNIVERSITY OF SOUTH CAROLINA
DEPARTMENT OF STATISTICS
Assistant Professor Positions
The Department of Statistics at the University of South Carolina invites applications for three
tenure-track assistant professor positions. Applicants must show strong potential for excellence in
research and instruction.
The department currently consists of ten tenure-track faculty and three full time instructors. We
encourage applications in any specialty area of statistics which will enhance or complement our
current expertise (see http://www.stat.sc.edu/research/). Individuals having a PhD in statistics
with research focus in econometrics / actuarial science or in areas applicable to the University's
research initiatives in bioinformatics or nanotechnology are also encouraged to apply.
Appointments will commence August 2010. Review of applications will begin Dec. 1, 2009.
Curriculum vita, at least three letters of reference, and a copy of graduate transcripts are
required. If applying by conventional mail, materials should be sent to
Faculty Search Committee
c/o Ms. Tina Ormenisan
Department of Statistics
University of South Carolina
Columbia, SC 29208
USA
Applications may also be sent electronically using email address [email protected] with a
subject heading "Faculty Application". Inquiries about these positions should be sent to Professor
Edsel A. Peña, Chair of the Faculty Search Committee, using the e-mail address
[email protected]
The University of South Carolina is an affirmative action, equal opportunity employer. Women and
minorities are encouraged to apply. The University of South Carolina does not discriminate in
educational or employment opportunities or decisions for qualified persons on the basis of race,
color, religion, sex, national origin, age, disability, sexual orientation or veteran status.