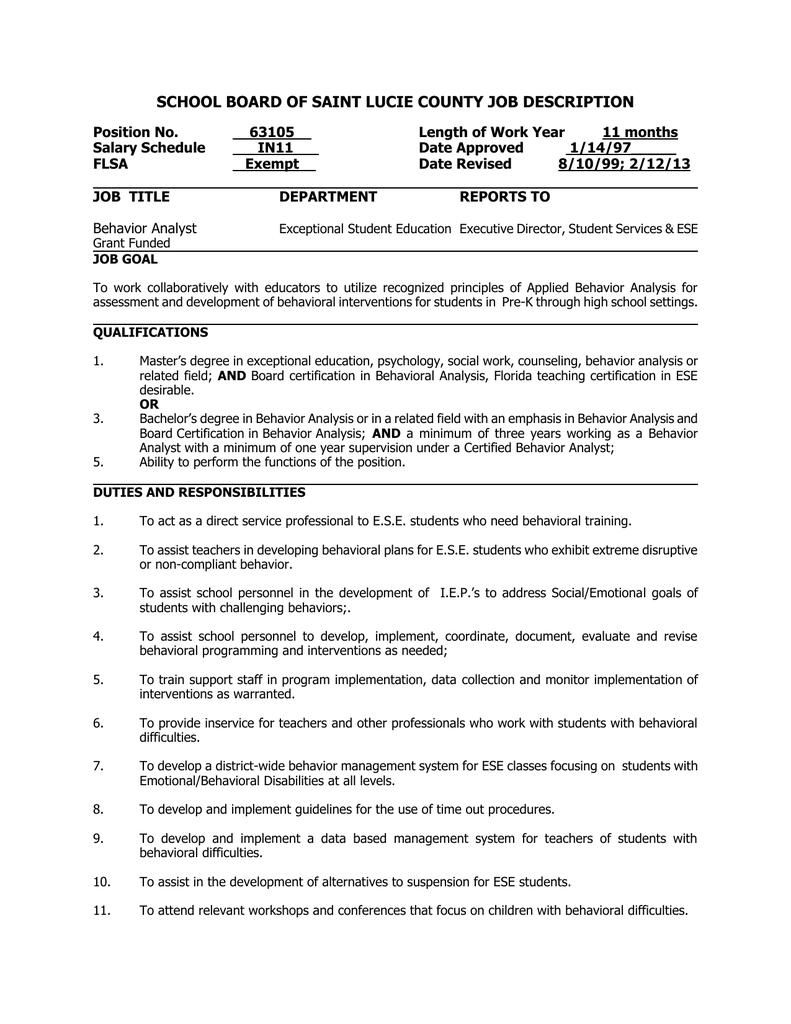 SCHOOL BOARD OF SAINT LUCIE COUNTY JOB DESCRIPTION
Position No.
Salary Schedule
FLSA
63105
IN11
Exempt
Length of Work Year
11 months
Date Approved
1/14/97_____
Date Revised
8/10/99; 2/12/13
JOB TITLE
DEPARTMENT
Behavior Analyst
Exceptional Student Education Executive Director, Student Services & ESE
Grant Funded
JOB GOAL
REPORTS TO
To work collaboratively with educators to utilize recognized principles of Applied Behavior Analysis for
assessment and development of behavioral interventions for students in Pre-K through high school settings.
QUALIFICATIONS
1.
3.
5.
Master's degree in exceptional education, psychology, social work, counseling, behavior analysis or
related field; AND Board certification in Behavioral Analysis, Florida teaching certification in ESE
desirable.
OR
Bachelor's degree in Behavior Analysis or in a related field with an emphasis in Behavior Analysis and
Board Certification in Behavior Analysis; AND a minimum of three years working as a Behavior
Analyst with a minimum of one year supervision under a Certified Behavior Analyst;
Ability to perform the functions of the position.
DUTIES AND RESPONSIBILITIES
1.
To act as a direct service professional to E.S.E. students who need behavioral training.
2.
To assist teachers in developing behavioral plans for E.S.E. students who exhibit extreme disruptive
or non-compliant behavior.
3.
To assist school personnel in the development of I.E.P.'s to address Social/Emotional goals of
students with challenging behaviors;.
4.
To assist school personnel to develop, implement, coordinate, document, evaluate and revise
behavioral programming and interventions as needed;
5.
To train support staff in program implementation, data collection and monitor implementation of
interventions as warranted.
6.
To provide inservice for teachers and other professionals who work with students with behavioral
difficulties.
7.
To develop a district-wide behavior management system for ESE classes focusing on students with
Emotional/Behavioral Disabilities at all levels.
8.
To develop and implement guidelines for the use of time out procedures.
9.
To develop and implement a data based management system for teachers of students with
behavioral difficulties.
10.
To assist in the development of alternatives to suspension for ESE students.
11.
To attend relevant workshops and conferences that focus on children with behavioral difficulties.
Page Two
Behavior Analyst – Grant Funded
12.
To perform assigned tasks in a timely and efficient manner.
13.
To perform assigned tasks with a high standard of quality.
14.
To perform other duties as required by the Supervisor.
Physical Demand Class - Light (L): Frequent lifting and carrying of objects weighing 10 pounds or
less; Infrequent lifting and carrying of objects weighing 11-35 pounds; Frequent walking and/or
standing is required to carry out duties.