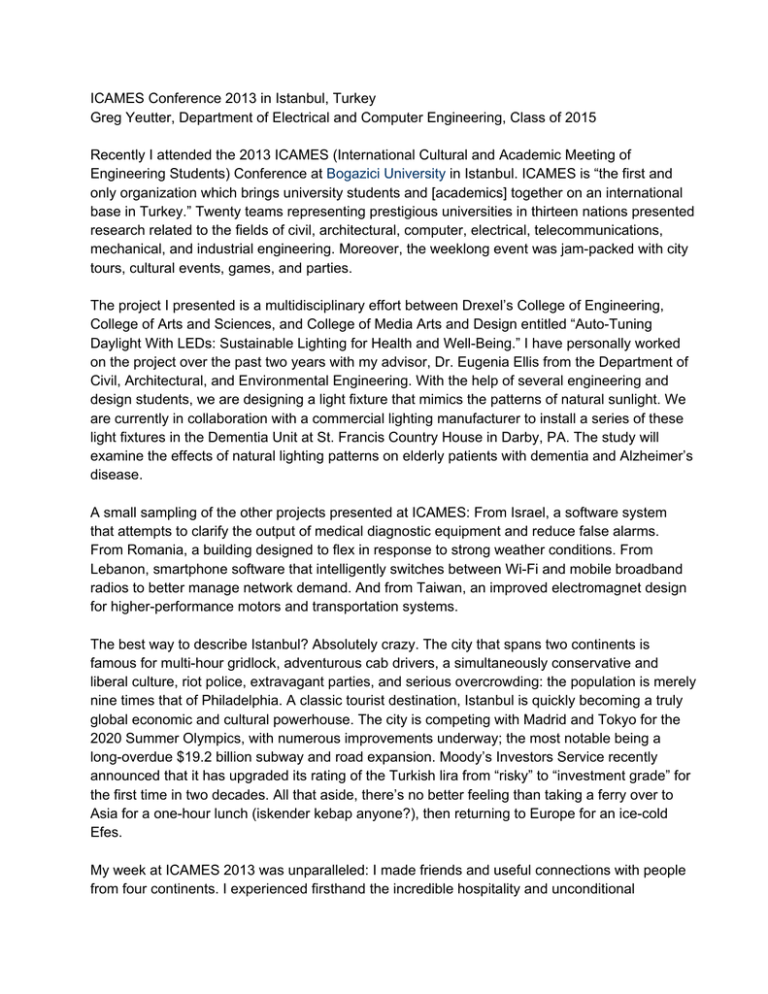 ICAMES Conference 2013 in Istanbul, Turkey
Greg Yeutter, Department of Electrical and Computer Engineering, Class of 2015
Recently I attended the 2013 ICAMES (International Cultural and Academic Meeting of
Engineering Students) Conference at Bogazici University in Istanbul. ICAMES is "the first and
only organization which brings university students and [academics] together on an international
base in Turkey." Twenty teams representing prestigious universities in thirteen nations presented
research related to the fields of civil, architectural, computer, electrical, telecommunications,
mechanical, and industrial engineering. Moreover, the weeklong event was jam­packed with city
tours, cultural events, games, and parties.
The project I presented is a multidisciplinary effort between Drexel's College of Engineering,
College of Arts and Sciences, and College of Media Arts and Design entitled "Auto­Tuning
Daylight With LEDs: Sustainable Lighting for Health and Well­Being." I have personally worked
on the project over the past two years with my advisor, Dr. Eugenia Ellis from the Department of
Civil, Architectural, and Environmental Engineering. With the help of several engineering and
design students, we are designing a light fixture that mimics the patterns of natural sunlight. We
are currently in collaboration with a commercial lighting manufacturer to install a series of these
light fixtures in the Dementia Unit at St. Francis Country House in Darby, PA. The study will
examine the effects of natural lighting patterns on elderly patients with dementia and Alzheimer's
disease.
A small sampling of the other projects presented at ICAMES: From Israel, a software system
that attempts to clarify the output of medical diagnostic equipment and reduce false alarms.
From Romania, a building designed to flex in response to strong weather conditions. From
Lebanon, smartphone software that intelligently switches between Wi­Fi and mobile broadband
radios to better manage network demand. And from Taiwan, an improved electromagnet design
for higher­performance motors and transportation systems.
The best way to describe Istanbul? Absolutely crazy. The city that spans two continents is
famous for multi­hour gridlock, adventurous cab drivers, a simultaneously conservative and
liberal culture, riot police, extravagant parties, and serious overcrowding: the population is merely
nine times that of Philadelphia. A classic tourist destination, Istanbul is quickly becoming a truly
global economic and cultural powerhouse. The city is competing with Madrid and Tokyo for the
2020 Summer Olympics, with numerous improvements underway; the most notable being a
long­overdue $19.2 billion subway and road expansion. Moody's Investors Service recently
announced that it has upgraded its rating of the Turkish lira from "risky" to "investment grade" for
the first time in two decades. All that aside, there's no better feeling than taking a ferry over to
Asia for a one­hour lunch (iskender kebap anyone?), then returning to Europe for an ice­cold
Efes.
My week at ICAMES 2013 was unparalleled: I made friends and useful connections with people
from four continents. I experienced firsthand the incredible hospitality and unconditional
helpfulness of the Turkish people. I tasted some delicious, yet affordable food and spent time in a
city whose ancient infrastructure barely keeps up with rapid change and expansion. If nothing
else, ICAMES exposed me to new ideas and different ways of thinking. I hope Drexel engineers
will participate in future ICAMES events, not only to experience everything Istanbul has to offer,
but also to build strong relationships personally, as well as at the university and national level. As
technology brings us closer together than ever, these bonds are critical to mutual understanding
and rapid innovation.