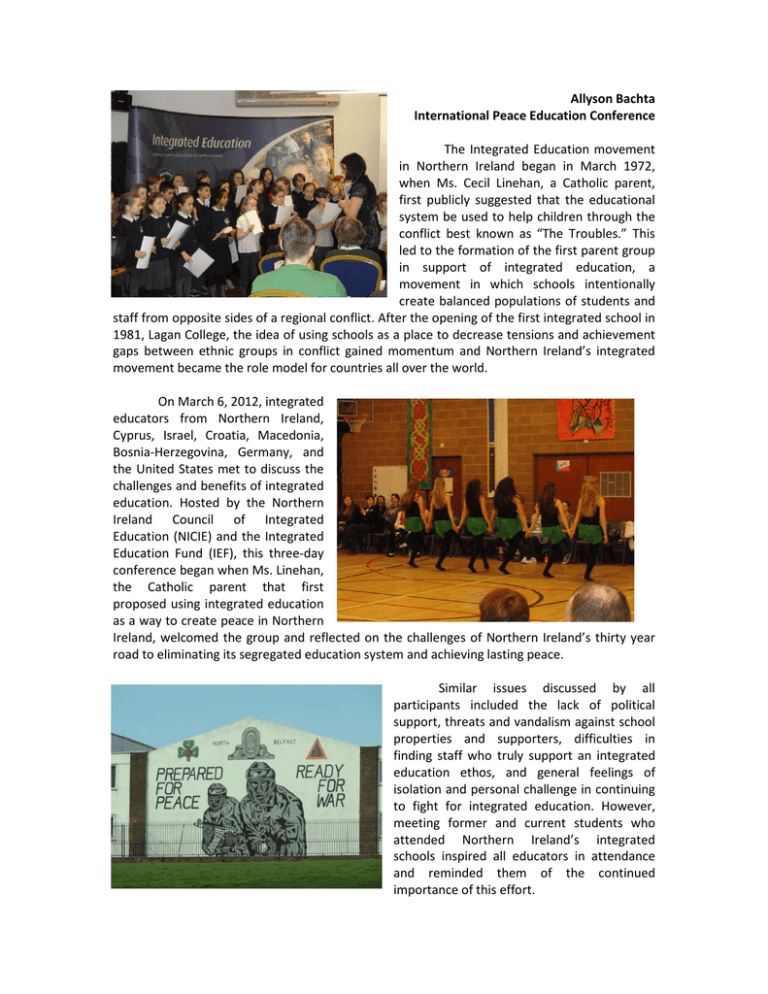 Allyson Bachta
International Peace Education Conference
The Integrated Education movement
in Northern Ireland began in March 1972,
when Ms. Cecil Linehan, a Catholic parent,
first publicly suggested that the educational
system be used to help children through the
conflict best known as "The Troubles." This
led to the formation of the first parent group
in support of integrated education, a
movement in which schools intentionally
create balanced populations of students and
staff from opposite sides of a regional conflict. After the opening of the first integrated school in
1981, Lagan College, the idea of using schools as a place to decrease tensions and achievement
gaps between ethnic groups in conflict gained momentum and Northern Ireland's integrated
movement became the role model for countries all over the world.
On March 6, 2012, integrated
educators from Northern Ireland,
Cyprus, Israel, Croatia, Macedonia,
Bosnia-Herzegovina, Germany, and
the United States met to discuss the
challenges and benefits of integrated
education. Hosted by the Northern
Ireland Council of Integrated
Education (NICIE) and the Integrated
Education Fund (IEF), this three-day
conference began when Ms. Linehan,
the Catholic parent that first
proposed using integrated education
as a way to create peace in Northern
Ireland, welcomed the group and reflected on the challenges of Northern Ireland's thirty year
road to eliminating its segregated education system and achieving lasting peace.
Similar issues discussed by all
participants included the lack of political
support, threats and vandalism against school
properties and supporters, difficulties in
finding staff who truly support an integrated
education ethos, and general feelings of
isolation and personal challenge in continuing
to fight for integrated education. However,
meeting former and current students who
attended Northern Ireland's integrated
schools inspired all educators in attendance
and reminded them of the continued
importance of this effort.
Study visits were conducted at Hazelwood
Integrated Primary School and Lagan College, two of
the first integrated schools in Northern Ireland. These
visits allowed educators to see this peace education
model in practice and discuss controversies that arise
within an integrated setting. Dr. Dominic Bryan, of the
Institute of Irish Studies at Queens University,
conducted tours through the conflict areas of Belfast
and participants were able to view the historical and
controversial murals dotted around the city. A highlight
of the week was the conference dinner at the Great
Hall at Queen's University hosted by Baroness May
Blood, a staunch supporter of integrated education in
Northern Ireland.