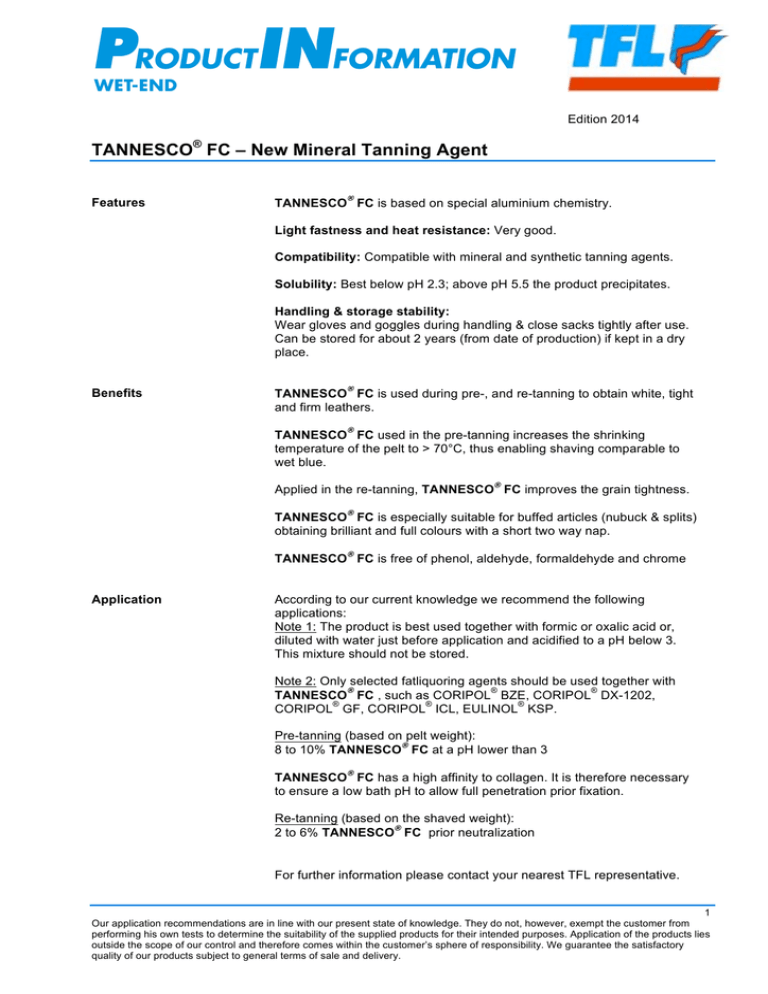 Edition 2014
TANNESCO® FC – New Mineral Tanning Agent
Features
®
TANNESCO FC is based on special aluminium chemistry.
Light fastness and heat resistance: Very good.
Compatibility: Compatible with mineral and synthetic tanning agents.
Solubility: Best below pH 2.3; above pH 5.5 the product precipitates.
Handling & storage stability:
Wear gloves and goggles during handling & close sacks tightly after use.
Can be stored for about 2 years (from date of production) if kept in a dry
place.
Benefits
®
TANNESCO FC is used during pre-, and re-tanning to obtain white, tight
and firm leathers.
®
TANNESCO FC used in the pre-tanning increases the shrinking
temperature of the pelt to > 70°C, thus enabling shaving comparable to
wet blue.
®
Applied in the re-tanning, TANNESCO FC improves the grain tightness.
®
TANNESCO FC is especially suitable for buffed articles (nubuck & splits)
obtaining brilliant and full colours with a short two way nap.
®
TANNESCO FC is free of phenol, aldehyde, formaldehyde and chrome
Application
According to our current knowledge we recommend the following
applications:
Note 1: The product is best used together with formic or oxalic acid or,
diluted with water just before application and acidified to a pH below 3.
This mixture should not be stored.
Note 2: Only selected fatliquoring agents should be used together with
®
®
®
TANNESCO FC , such as CORIPOL BZE, CORIPOL DX-1202,
®
®
®
CORIPOL GF, CORIPOL ICL, EULINOL KSP.
Pre-tanning (based on pelt weight):
®
8 to 10% TANNESCO FC at a pH lower than 3
®
TANNESCO FC has a high affinity to collagen. It is therefore necessary
to ensure a low bath pH to allow full penetration prior fixation.
Re-tanning (based on the shaved weight):
®
2 to 6% TANNESCO FC prior neutralization
For further information please contact your nearest TFL representative.
1
Our application recommendations are in line with our present state of knowledge. They do not, however, exempt the customer from
performing his own tests to determine the suitability of the supplied products for their intended purposes. Application of the products lies
outside the scope of our control and therefore comes within the customer's sphere of responsibility. We guarantee the satisfactory
quality of our products subject to general terms of sale and delivery.
Product INformation continued
Edition 2014
TANNESCO® FC – Product Characteristics
Trade form at 20°C
powder
Appearance at 20°C
white powder
Dry Content (%)
min. 90%
pH - Value (10%)
4.5 – 6.5
This information is for guidance only.
A Product Specification is available on request.
2
Regarding toxicological and ecological data see the safety data sheet of above product.
®
TANNESCO is a registered or filed trademark owned by or licensed to TFL in most countries.
Above data are based on the current state of knowledge. However, buyer is not released from his obligation to examine the material on
receipt. Seller makes no warranty of merchantability or fitness for practical use or application.