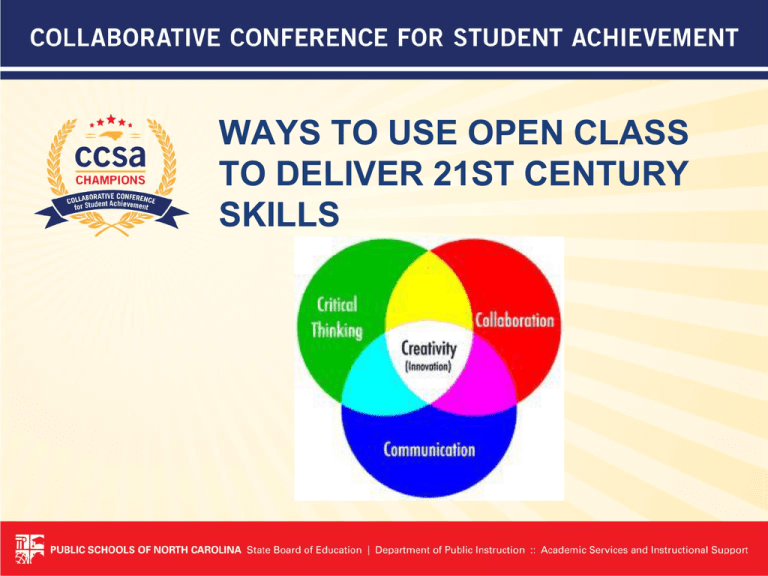 WAYS TO USE OPEN CLASS
TO DELIVER 21ST CENTURY
SKILLS
Learner Outcomes
• The Case for 21st Century Education
• Ways to foster The 4Cs – eLearning
Best Practices
• Understanding the Functionality of
Open Class
• Creating an Open Class Activities
Toolbox
st
21
Century Learning
Environment
21st Century Skills
• Information and Communications
Technology (ICT) Literacy.
• Flexibility and Preparation for Education
and Training.
• Problem Solving Skills and Time
Management
Enduring Understanding
Information & Communications
Technology
is shaping
the learning environments
Enduring Understanding
Social Learning happens
across
disciplines
Essential Question
How can we create opportunities
to integrate (ICT) without
sacrificing content &/or
curriculum standards?
Social Learning to Address
Understanding & Application
Open Class Overview
Open Class & The 4Cs
•
•
•
•
Creativity
Critical Thinking
Collaboration
Communication
• Flipped Classroom
• Social Media
Blending
• Project-Based
Learning
Performance Task from the
Field
Stanly County
Craven County
Developing an Open Class
Task Box
• Step 1: Using (2) content standards,
Develop an Enduring Understanding.
• Step 2: Create an Essential Question.
• Step 3: Create an Social Learning
Performance Task that is <45 minutes.