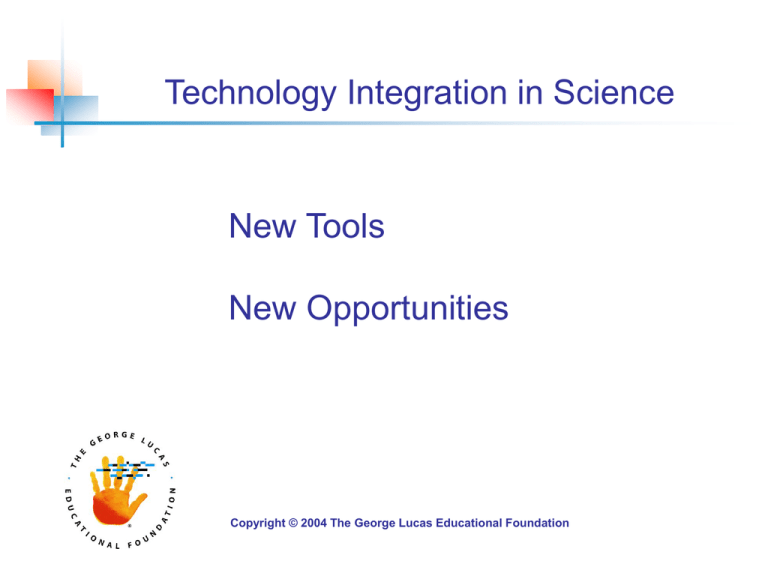 Technology Integration in Science
New Tools
New Opportunities
Copyright © 2004 The George Lucas Educational Foundation
Pressing Need
According to the latest TIMSS study,
American 8th-grade students score lower
than their counterparts in Japan, Canada,
England, and the Russian federation.
--Comparative Indicators of
Education in the United States
and Other G-8 Countries: 2002
Why Integrate
Science and Technology?

Technology tools enhance
science learning.

Science and technology
integration address 21st century
skills.

Science and technology
integration are powerful
partners in meeting standards.
The Future is Now
"Beyond the world of global finance,
mathematics and science will also supply the
core forms of knowledge that the next
generation of innovators, producers, and
workers in every country will need if they are to
solve the unforeseen problems and dream the
dream that will define America's future."
--Glenn Commission
21st Century Skills
"The definition of student achievement
must be broadened to include the 21st
century skills that will be required for
students to thrive in the future."
--CEO Forum on Education
and Technology (2001)
21st Century Skills

Personal and social responsibility

Planning, critical thinking, reasoning, and
creativity

Strong communication skills

Cross-cultural understanding

Visualization and decision-making

Knowing how and when to use technology
Generation YES (Youth and Educators
Succeeding
"We see K-12 students
as change agents,
infusing technology to
improve learning."
--GenYES
Teaching and Learning

Teachers need ongoing,
comprehensive professional
development.

Teachers need opportunities for sharing
best practices with peers worldwide.

Teachers need up-to-date tools and
time to understand how they fit into the
curriculum.
What is the Question?
"Questioning may be the
most powerful technology
we have ever invented and
can give to our students."
--Jamie McKenzie, Ed.D.
NSTA
"In the vision of science education portrayed
by the Standards, effective teachers of
science create an environment in which
they and students work together as active
learners."
--NSTA standards
What is Science and Technology
Integration?

Day-to-day instruction

Student competitions

Online challenges and
collaborations
Activities

Watch "Newsome Park"

Watch "West Hawaii Explorations Academy"

Read More Fun Than a Barrel of … Worms?!

Read Classrooms Without Boundaries

In these segments, how was science integrated
with technology?

What were some other ways science and
technology could have been integrated?
Activities

What evidence did you see or read that
standards were being addressed and met?

How would you adapt what you saw or read to
your own classroom?

What ways do you already integrate science
and technology?

What other ways would you like to integrate
science and technology? What will it take to
do so?