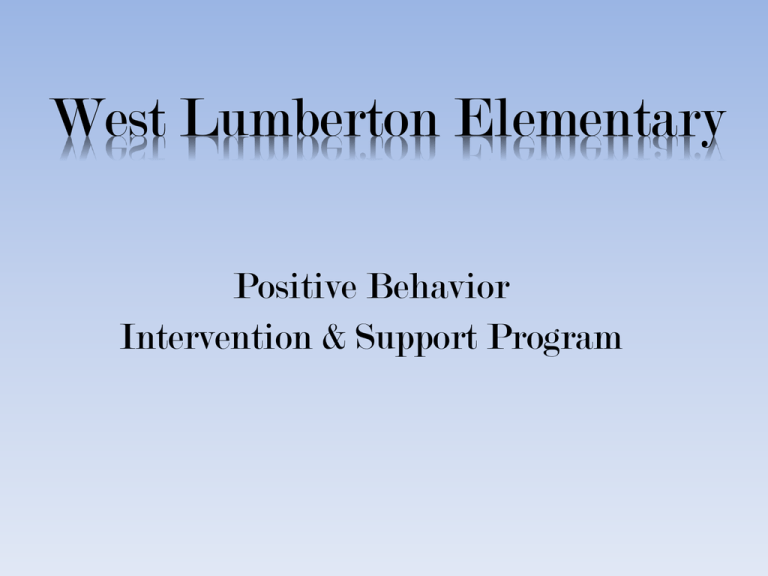 West Lumberton Elementary
Positive Behavior
Intervention & Support Program
West Lumberton is …
– Small city school
located in Robeson
County
– Population of 167
students
• 45% African
American
• 40% Native American
• 11% Caucasian
• 4% Hispanic and
Multi-race
– 94.44% receive free or
reduced lunch
Our Mission Statement
Why we started PBIS…
• Teachers were frustrated
• Existing school discipline
procedures were
ineffective:
– Punishment
– Exclusion
– Counseling
Training
• December of 2004
– In-School Coach was trained
on the modules
• Spring of 2005
– Buy-in activities for staff:
• Book study on How Full is Your
Bucket?
• In-school coach provided
overview of PBS
– Completed
• Matrix
• Behavior Levels and
Consequences
• Routines and Procedures
• PBIS Team received
– Module 1 training in the Fall
of 2005
West Lumberton Elementary Student Matrix
All Settings
Classroom
Hallways
Cafeteria
Bathroom
Playground
Bus
Be Kind
Include and help
others
Be a good friend
Use good
manners
Be a friend
Walk quietly
Use good
manners
Have Pleasant
conversation
Be helpful
Wait your turn
Respect
privacy of
others
Take turns and
share
Ask others to join
in
Accept skill
differences
Use good
manners
Use polite words
Be Safe
Report hazards or
problems
Ask permission to
leave any setting
Keep hands and
feet to myself
Follow directions
Walk at all times
Face the front
Keep hands and
feet to myself
Walk in a
straight line
Place trash in
trash can
Use water
properly
Use proper
hygiene
Use equipment
properly
Keep hands and
feet to yourself
Keep sand, rocks
and sticks on the
ground
Seat to seat, back
to back
Use quiet voices
Be Respectful
Treat others as you
want to be treated
Use polite words
Good listener
Accept each
other
Respect personal
space
Respect others
property
Eat only your
food
Talk quietly at
your table
Remain seated
Follow
directions
Use quiet
voices
Respect
privacy of
others
Use appropriate
language
Follow teacher
directions
Follow drivers
instructions
Obey bus safety
rules
Be Responsible
Follow directions
Treat all materials
and equipment
properly
Make good
choices
Ask questions
Demonstrate selfcontrol
Keep eating
area clean
Select healthy
choices
Eat promptly
Be
conservative
Clean up after
myself
Return to class
promptly
Treat equipment
properly
Follow game
rules
Solve problems
positively
Be on time
Keep belongings
in place
Keep bus clean
I will:
Kick-off Celebrations
Fall of 2005
• Awards Program
– Each student and staff
member received a lanyard
with a Super Dolphin tag
– Recognized the Teacher of
the Year and Teacher
Assistant of the Year
• PTO Program
– In-school coach presented
an overview of the
program to the parents
PBIS at our school…
Recognizes Good Behavior
• We recognize students and
staff during the morning
announcements.
• We have a star student
bulletin board for those
students that have been
recognized in the mornings.
• Each Friday these students
sit at the PBIS table with a
community volunteer.
Star Student Bulletin Board
PBIS Lunch Table
Lumberton Police Officer
PSRC Assistant Superintendent
Dr. Linda Emanuel
DOLPHIN Store
• Students receive
dolphins for good
behavior.
• Once a month students
are able to purchase
items from the West
Lumberton PBIS Store
with their dolphins.
Awards Program
• Each nine weeks
students are
awarded academic
and behavior tags to
wear on their
lanyards.
• All students and staff
wear their lanyards
on Fridays.
Support Systems
• LEA
– Start up cost
– Financial support
– Superintendent attended
kick-off celebration
• Administration
– Attends monthly meetings
– Provides support for staff
• PBIS Team
– Attends monthly meetings
held by in-school coach
– In-school coach reports to
staff at weekly meetings
– Monitors progress of PBIS
Training in 2005-2006
• PBIS Team received
– Module 2 & 3 training in
the Spring of 2006
• Re-teaching Activities
– Book study on
Johnathon
– Review the goals of PBIS
– Completed Staff Matrix
West Lumberton Elementary Staff Matrix
All Settings
Classroom
Hallways
Cafeteria
Bathroom
Playground
Bus
Be Kind
Use a positive tone
Talk in a
professional and
positive tone
Use a calming
voice
Greet, Smile; be
positive to
everyone
Talk
professionally
Use positive
tones and
words
Wait your turn
Respect
privacy of
others
Give positive
directions
Use positive
language
towards students
to and from the
bus
Be Safe
Monitor students at
all times
Be aware of
surroundings
Walk on the
right
pick up
hazardous debris
Move swiftly
Walk in a
straight line
Give others
enough time
to get their
food
Place trash in
trash can
Walk with
students to the
restroom
Watch for
water/paper
on the floor
Monitor students
at all times
Daily review of
video to ensure
positive behavior
Be Respectful
Be positive with
your words and
actions
Use the questions:
What are you
doing? What should
you be doing?
Show me how.
Correct behavior
positively and
respect students
needs
Use inside voices
Acknowledge
and stop for
pledge of
allegiance
Clean table
and area
Treat student
in a positive
manner
Make sure
students turn
off water,
flush
commode,
and pick up
paper towels
Encourage
students to
engage in
physical activity
within their
limits
Bus duty
attendants be
prompt and
prepared with
dolphins for
students
Be Responsible
Be on time and
complete all
assigned duties
Be prepared with
supplies, dress
professionally
Handle
discipline with
PBS strategies
Display rules &
work
Take pride in a
clean hallway
Correct and
reward hallway
behavior of all
students
Keep eating
area clean
Watch the
time
Use time
wisely
Clean
restrooms
everyday
Have students
participate in a
structured
activity and then
reward with free
play
Be on time
Accompany all
students to the
bus daily
I will:
What has PBIS done for our school?
• Increased teacher morale and retention
• Decreased the number of office referrals
which allows more instructional time
• Improved EOG test scores
• Improved community involvement
• Increased parent participation
Staff Retention
Total Office Referrals for the year 2005-2006
Total Office Referrals for the year 2006-2007
Total Office Referrals for the year 2007-2008
Total Office Referrals for the year 2008-2009
Total Office Referrals for the year 2009-2010
Total Office Referrals for the year 2010-2011
162
79
71
56
47
50
EOG Average Growth
Students with Disabilities
80
70
60
50
40
30
20
10
0
2004-2005
2005-2006
2006-2007
2007-2008
2008-2009
2009-2010
2010-2011
Treyvon- Individual Student Data
Community Involvement
• PBIS solely supported
financially by community
organizations, businesses,
and elected officials
• Attends monthly PBIS
meetings
• Has lunch with star
students each week
• Volunteers time reading
and listening to students
read
Parent Participation
• PBIS has implemented
Parent Summit Night
– Involves teachers
presenting a variety of
topics from technology
to helpful EOG tips
– Provides meal for
parents and students
– Students participate in
Fit Kids
– Door prizes
– Guest speakers
We are PROUD of our PBIS School!!