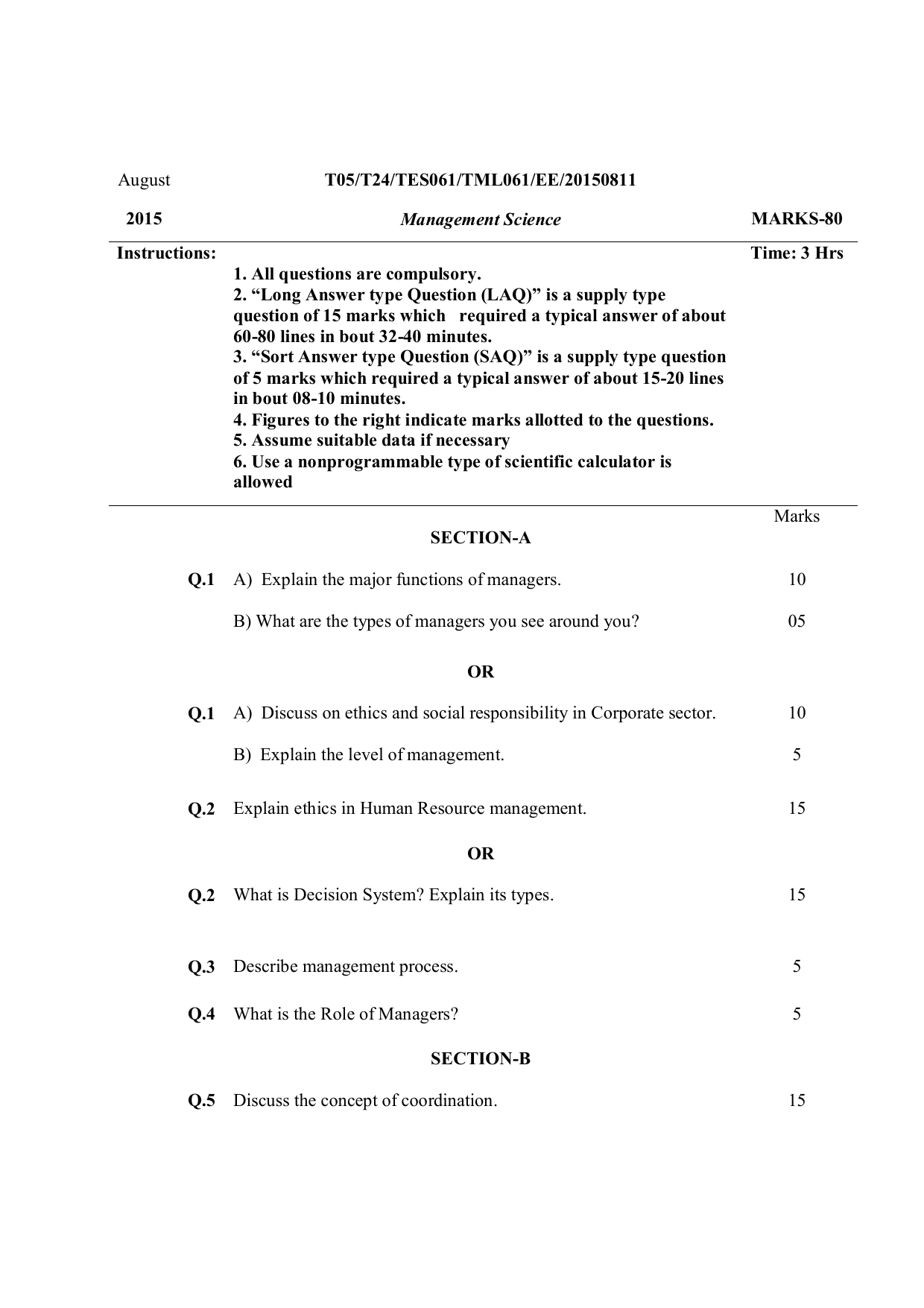 August
T05/T24/TES061/TML061/EE/20150811 2015
Management Science
Instructions: 1. All questions are compulsory. 2. "Long Answer type Question (LAQ)" is a supply type question of 15 marks which required a typical answer of about 60-80 lines in bout 32-40 minutes. 3. "Sort Answer type Question (SAQ)" is a supply type question of 5 marks which required a typical answer of about 15-20 lines in bout 08-10 minutes. 4. Figures to the right indicate marks allotted to the questions. 5. Assume suitable data if necessary 6. Use a nonprogrammable type of scientific calculator is allowed Q.1 SECTION-A
A) Explain the major functions of managers. B) What are the types of managers you see around you?
Q.1 OR
A) Discuss on ethics and social responsibility in Corporate sector. B) Explain the level of management.
Q.2 Q.2
Explain ethics in Human Resource management.
OR
What is Decision System? Explain its types.
MARKS-80 Time: 3 Hrs
Marks 10 05 10 5 15 15
Q.3
Describe management process.
Q.4
What is the Role of Managers?
Q.5 SECTION-B
Discuss the concept of coordination. 5 5 15
Q.5 Q.6 Q.6 Q.7 OR
What are the factors affecting motivation? Explain with suitable examples. What are the steps in effective control process?
OR
What is leadership? Its characteristics. Discuss different types of financial statements.
Q.8
Write a Note on work Motivation.
Computer Generated Random Question Paper dated: 17-07-2015 11:07:51
***BEST OF LUCK***
15 15 15 5 5