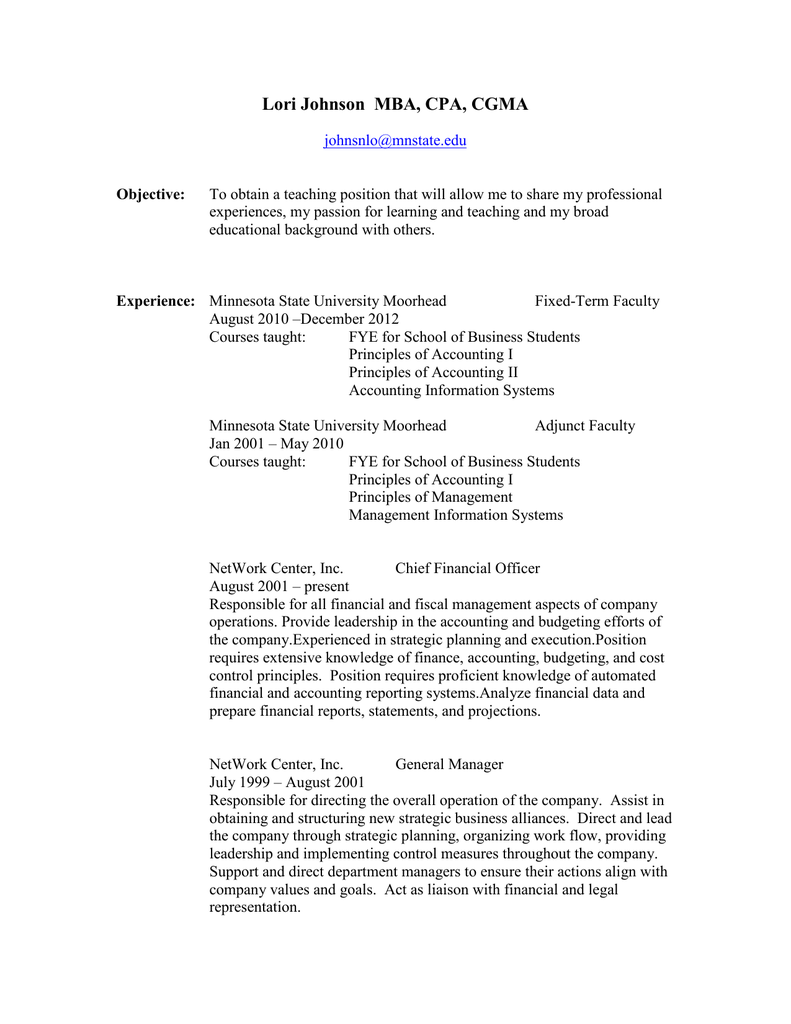 Lori Johnson MBA, CPA, CGMA
[email protected]
Objective:
To obtain a teaching position that will allow me to share my professional
experiences, my passion for learning and teaching and my broad
educational background with others.
Experience: Minnesota State University Moorhead
Fixed-Term Faculty
August 2010 –December 2012
Courses taught:
FYE for School of Business Students
Principles of Accounting I
Principles of Accounting II
Accounting Information Systems
Minnesota State University Moorhead
Adjunct Faculty
Jan 2001 – May 2010
Courses taught:
FYE for School of Business Students
Principles of Accounting I
Principles of Management
Management Information Systems
NetWork Center, Inc.
Chief Financial Officer
August 2001 – present
Responsible for all financial and fiscal management aspects of company
operations. Provide leadership in the accounting and budgeting efforts of
the company.Experienced in strategic planning and execution.Position
requires extensive knowledge of finance, accounting, budgeting, and cost
control principles. Position requires proficient knowledge of automated
financial and accounting reporting systems.Analyze financial data and
prepare financial reports, statements, and projections.
NetWork Center, Inc.
General Manager
July 1999 – August 2001
Responsible for directing the overall operation of the company. Assist in
obtaining and structuring new strategic business alliances. Direct and lead
the company through strategic planning, organizing work flow, providing
leadership and implementing control measures throughout the company.
Support and direct department managers to ensure their actions align with
company values and goals. Act as liaison with financial and legal
representation.
NetWork Center, Inc.
Controller
December 1995 – July 1999
Responsible for managing and safeguarding the financial and human
assets of two corporations.Involved in strategic planning, analyzing
mergers and acquisitions and developing new business ventures.
Racing Services, Inc.
Controller
January 1992 – December 1995
Responsible for all financial management, financial reporting and human
resource functions for several corporations. Extensive involvement in
forecasts and budgets for new simulcast sites.Worked with state and
regulatory agencies to assure compliance with laws and proper revenue
reporting.
Charles Bailly& Company Business Consultant
September 1986 – January 1992
Assisted clients with technology needs. Selected and installed hardware
and software, provided training and on-going support. Primary service
objective was to provide technology consulting expertise in the application
of microcomputer capabilities to solve business and organizational
problems.
Great Plains Software
National Training Representative
May 1985 – August 1986
Developed training material for several different Great Plains University
courses.Traveled throughout the United States conducting training classes
for resellers, accountants and consultants.Also conducted training classes
for Great Plains Software employees.
Education:
Completed the AACSB Professionally Qualified Bridge Program in June,
2013
Master of Business Administration (MBA)
MoorheadStateUniversity, May 1991
G.P.A. 4.00
Bachelor Science Degree in Accounting
MoorheadStateUniversity, May 1985
G.P.A 4.00
References:
Available upon request.