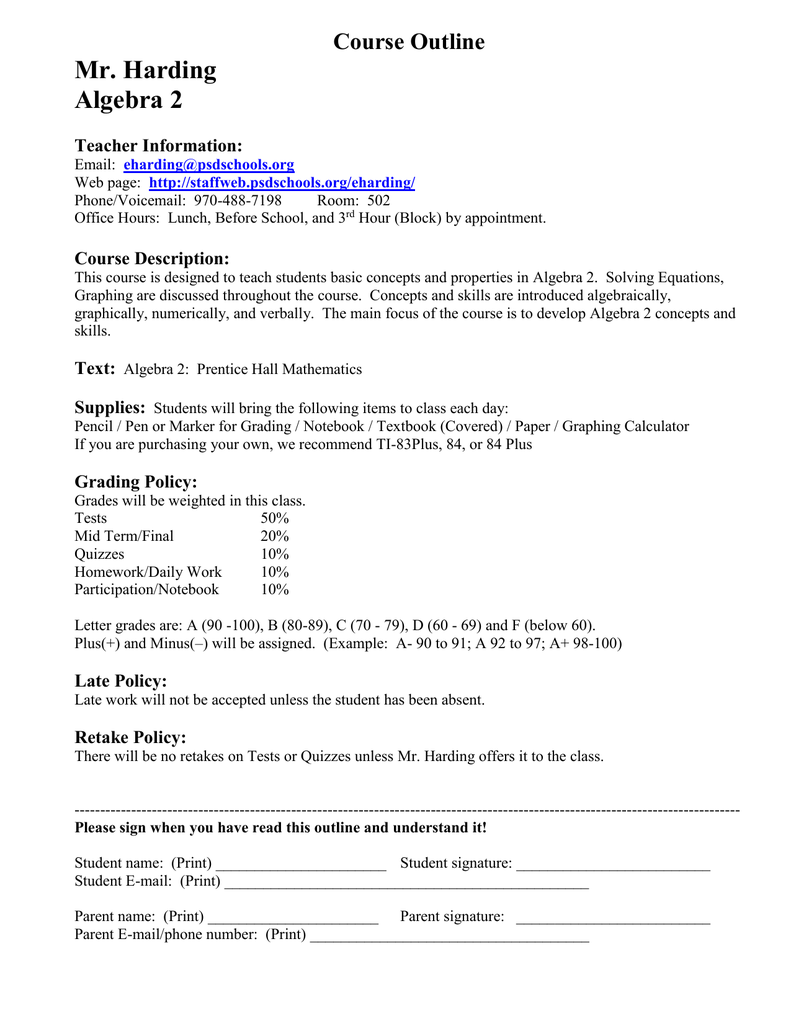 Course Outline
Mr. Harding
Algebra 2
Teacher Information:
Email: [email protected]
Web page: http://staffweb.psdschools.org/eharding/
Phone/Voicemail: 970-488-7198
Room: 502
Office Hours: Lunch, Before School, and 3rd Hour (Block) by appointment.
Course Description:
This course is designed to teach students basic concepts and properties in Algebra 2. Solving Equations,
Graphing are discussed throughout the course. Concepts and skills are introduced algebraically,
graphically, numerically, and verbally. The main focus of the course is to develop Algebra 2 concepts and
skills.
Text: Algebra 2: Prentice Hall Mathematics
Supplies: Students will bring the following items to class each day:
Pencil / Pen or Marker for Grading / Notebook / Textbook (Covered) / Paper / Graphing Calculator
If you are purchasing your own, we recommend TI-83Plus, 84, or 84 Plus
Grading Policy:
Grades will be weighted in this class.
Tests
50%
Mid Term/Final
20%
Quizzes
10%
Homework/Daily Work
10%
Participation/Notebook
10%
Letter grades are: A (90 -100), B (80-89), C (70 - 79), D (60 - 69) and F (below 60).
Plus(+) and Minus(–) will be assigned. (Example: A- 90 to 91; A 92 to 97; A+ 98-100)
Late Policy:
Late work will not be accepted unless the student has been absent.
Retake Policy:
There will be no retakes on Tests or Quizzes unless Mr. Harding offers it to the class.
--------------------------------------------------------------------------------------------------------------------------------Please sign when you have read this outline and understand it!
Student name: (Print) ______________________ Student signature: _________________________
Student E-mail: (Print) _______________________________________________
Parent name: (Print) ______________________ Parent signature: _________________________
Parent E-mail/phone number: (Print) ____________________________________
Course Outline
Evaluation:





Homework will be assigned/collected daily (Could be scored or completion grade)
Quizzes will be given frequently (Could be as often as daily)
Tests and MidTerm/Final Exam make up 70% of your grade.
MidTerm/Final Exams make up 20% of your grade.
Quizzes, Homework/Daily Work, and Participation/Notebook make up 30% of your grade.
Student Responsibilities:






Treat everyone with Respect.
Be in Class Everyday.
Be on Time.
Stay in your seat. (Do not move around the room without permission.)
Have your Supplies with you.
Take good notes. (They will help you prepare for the tests.)
Make Up Work:



Get notes from classmates when absent.
Assignments will be posted on Mr. Harding's website.
Turn in Make up work the day after being absent.
1. (Missed work is due the day after you return.)
2. (Already assigned work is due the day you return.)
Cheating/Plagiarism:


Any student who is caught cheating/plagiarizing will be given a zero.
Students will be disciplined as outlined in the Student Code of Conduct.
Classroom Rules:



No Food or Drink. (Except Water)
Raise your hand when you have a question.
Mr. Harding will give permission for bathroom or water breaks when appropriate.
Electronic Devices:



No Cell Phones should be seen or heard during class.
No Music Devices should be seen or heard during class.
They will be turned over to the office and you are responsible for getting them back.
***This class will move very fast. You are responsible for your grade. I will be available for help when
you need it. It will be very difficult to recover if you fall behind in this course. Stay on top of your
assignments and you will do well. Good Luck!!!