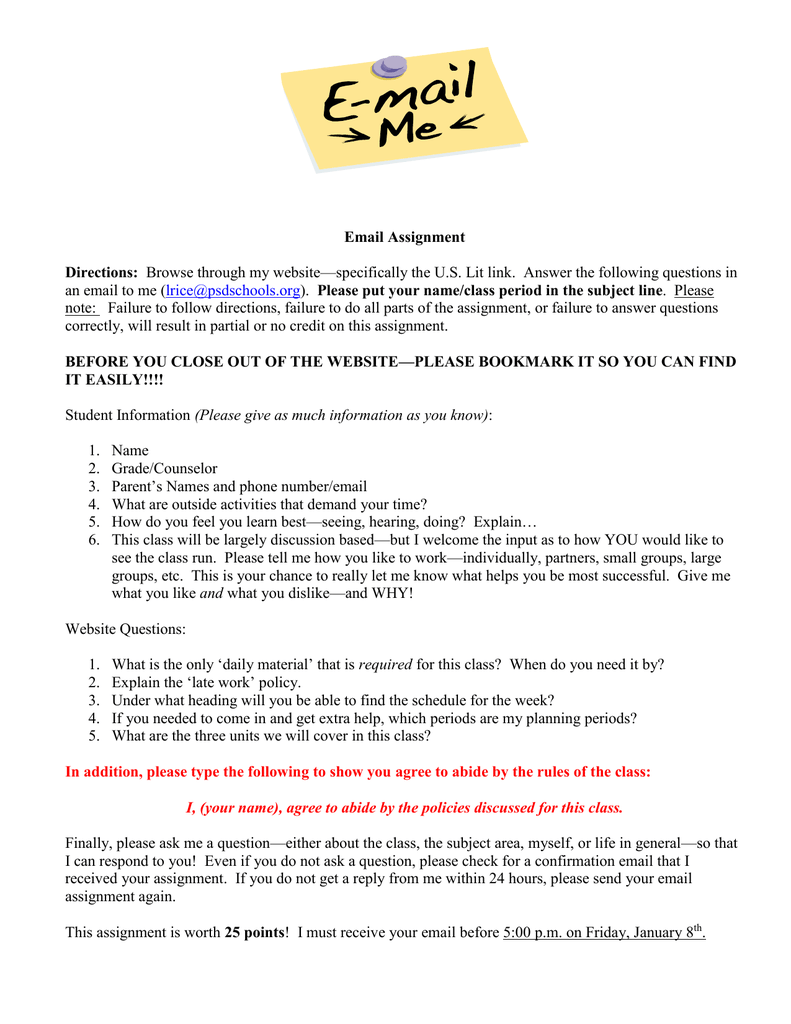 Email Assignment
Directions: Browse through my website—specifically the U.S. Lit link. Answer the following questions in
an email to me ([email protected]). Please put your name/class period in the subject line. Please
note: Failure to follow directions, failure to do all parts of the assignment, or failure to answer questions
correctly, will result in partial or no credit on this assignment.
BEFORE YOU CLOSE OUT OF THE WEBSITE—PLEASE BOOKMARK IT SO YOU CAN FIND
IT EASILY!!!!
Student Information (Please give as much information as you know):
1.
2.
3.
4.
5.
6.
Name
Grade/Counselor
Parent's Names and phone number/email
What are outside activities that demand your time?
How do you feel you learn best—seeing, hearing, doing? Explain…
This class will be largely discussion based—but I welcome the input as to how YOU would like to
see the class run. Please tell me how you like to work—individually, partners, small groups, large
groups, etc. This is your chance to really let me know what helps you be most successful. Give me
what you like and what you dislike—and WHY!
Website Questions:
1.
2.
3.
4.
5.
What is the only 'daily material' that is required for this class? When do you need it by?
Explain the 'late work' policy.
Under what heading will you be able to find the schedule for the week?
If you needed to come in and get extra help, which periods are my planning periods?
What are the three units we will cover in this class?
In addition, please type the following to show you agree to abide by the rules of the class:
I, (your name), agree to abide by the policies discussed for this class.
Finally, please ask me a question—either about the class, the subject area, myself, or life in general—so that
I can respond to you! Even if you do not ask a question, please check for a confirmation email that I
received your assignment. If you do not get a reply from me within 24 hours, please send your email
assignment again.
This assignment is worth 25 points! I must receive your email before 5:00 p.m. on Friday, January 8th.