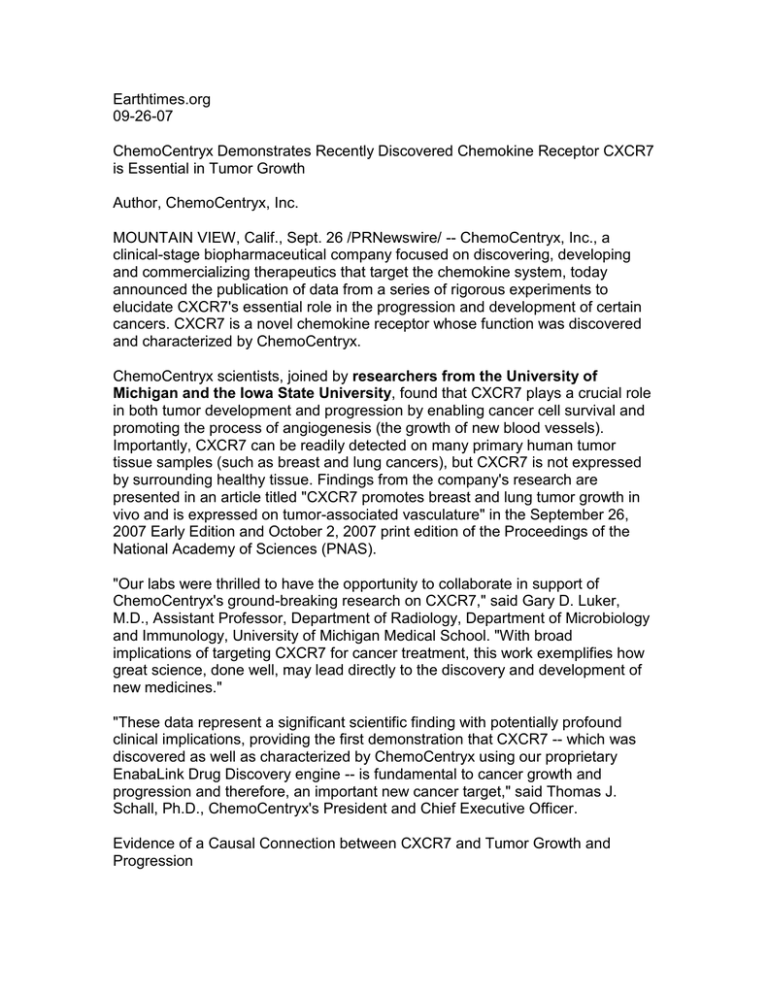 Earthtimes.org
09-26-07
ChemoCentryx Demonstrates Recently Discovered Chemokine Receptor CXCR7
is Essential in Tumor Growth
Author, ChemoCentryx, Inc.
MOUNTAIN VIEW, Calif., Sept. 26 /PRNewswire/ -- ChemoCentryx, Inc., a
clinical-stage biopharmaceutical company focused on discovering, developing
and commercializing therapeutics that target the chemokine system, today
announced the publication of data from a series of rigorous experiments to
elucidate CXCR7's essential role in the progression and development of certain
cancers. CXCR7 is a novel chemokine receptor whose function was discovered
and characterized by ChemoCentryx.
ChemoCentryx scientists, joined by researchers from the University of
Michigan and the Iowa State University, found that CXCR7 plays a crucial role
in both tumor development and progression by enabling cancer cell survival and
promoting the process of angiogenesis (the growth of new blood vessels).
Importantly, CXCR7 can be readily detected on many primary human tumor
tissue samples (such as breast and lung cancers), but CXCR7 is not expressed
by surrounding healthy tissue. Findings from the company's research are
presented in an article titled "CXCR7 promotes breast and lung tumor growth in
vivo and is expressed on tumor-associated vasculature" in the September 26,
2007 Early Edition and October 2, 2007 print edition of the Proceedings of the
National Academy of Sciences (PNAS).
"Our labs were thrilled to have the opportunity to collaborate in support of
ChemoCentryx's ground-breaking research on CXCR7," said Gary D. Luker,
M.D., Assistant Professor, Department of Radiology, Department of Microbiology
and Immunology, University of Michigan Medical School. "With broad
implications of targeting CXCR7 for cancer treatment, this work exemplifies how
great science, done well, may lead directly to the discovery and development of
new medicines."
"These data represent a significant scientific finding with potentially profound
clinical implications, providing the first demonstration that CXCR7 -- which was
discovered as well as characterized by ChemoCentryx using our proprietary
EnabaLink Drug Discovery engine -- is fundamental to cancer growth and
progression and therefore, an important new cancer target," said Thomas J.
Schall, Ph.D., ChemoCentryx's President and Chief Executive Officer.
Evidence of a Causal Connection between CXCR7 and Tumor Growth and
Progression
In a series of carefully controlled experiments, a causal connection was identified
between the presence and expression of the CXCR7 gene and tumor
progression in breast and lung cancer models. In these experiments,
ChemoCentryx scientists were able to clearly demonstrate the effect in vivo of
up- and down-regulation of CXCR7, and how that controlled tumor growth.
Isolating the CXCR7 receptor from potential interference by other chemokine
receptors (such as the related receptor known as CXCR4), researchers
demonstrated that CXCR7 cells formed significantly larger tumors in breast and
lung cancer models. These findings extend research previously reported in the
September 4, 2006 edition of The Journal of Experimental Medicine, showing
that the introduction of CXCR7 into cell lines resulted in the avoidance of
apoptosis, or programmed cell death, a hallmark of the uncontrolled cell
proliferation associated with cancer. Further, in knockout experiments in which
the CXCR7 gene was down-regulated, tumor growth was significantly impaired,
thus showing that CXCR7 was required for the ability of tumors to grow well in
vivo. CXCR7 expression was also observed to enhance the ability of breast
cancer cells to seed and proliferate to lung tissue (metastasize) in another cancer
model.
These findings appear to be clinically relevant for human cancer. The study also
showed a comprehensive evaluation of over a hundred primary human breast
tumor and lung tumor tissue samples removed by surgery where the presence of
CXCR7 was assessed by antibodies that react specifically with CXCR7. The
analyses of the human tumors verified that CXCR7 is highly expressed by both
the malignant tumor cells and by the tumor-associated blood vessels in the tumor
mass, but not found on healthy cells or normal vasculature outside of the tumor
mass. These findings were further extended to multiple tumor types, and
researchers believe that CXCR7's activity in cancer may be important in a broad
range of malignancies. Observations around CXCR7's role in tumor vasculature
formation were further evidenced in knockout experiments in a zebrafish model,
strongly suggesting that CXCR7 is central to the formation of new blood vessels
during development (a process known to resemble aspects of new blood vessel
formation in tumors). Taken together, these observations show that CXCR7 may
be central to the rapid formation of new blood vessels, a process known as
angiogenesis, necessary for tumor growth.
"Drugs targeting tumor angiogenesis represent an important mode of therapy in
modern cancer treatment regimens," said Dr. Schall. "Our work shows that
CXCR7 may provide an entirely new and powerful target in the approach to
future oncology therapy."
EnabaLink Identifies Potent Classes of Chemokine-Based Therapeutics
The data published today result from ChemoCentryx's extensive chemokine drug
discovery capabilities and insights into chemokine system biology. CXCR7 is a
chemokine receptor that was 'deorphanized' (a function was discovered for the
protein encoded by a gene of previously unknown function) at ChemoCentryx
through the company's proprietary EnabaLink Drug Discovery(R) engine.
Leveraging the EnabaLink suite of technologies, ChemoCentryx is uniquely able
to identify highly specific product candidates including orally-active small
molecules that bind with high affinity to a specific chemokine receptor.
ChemoCentryx has leveraged its EnabaLink Drug Discovery engine for the
identification and optimization of each of its clinical and preclinical product
candidates. The company is currently evaluating promising inhibitors of CXCR7
in preclinical studies.
About ChemoCentryx
ChemoCentryx, Inc. is a clinical-stage biopharmaceutical company focused on
discovering, developing and commercializing orally-administered therapeutics
that target the chemokine and chemoattractant systems in order to treat
autoimmune diseases, inflammatory disorders and cancer. The chemokine
system is a complex network of chemokine molecules, or ligands, and receptors
that regulates inflammation. Based on their proprietary drug discovery and drug
development platform, ChemoCentryx has internally generated several clinical
and preclinical-stage programs, each targeting distinct chemokine and
chemoattractant receptors with different small molecule compounds.
ChemoCentryx's lead compound, Traficet-EN(R), a specific CCR9 antagonist, is
currently in a multi-national clinical trial, called PROTECT-1, in patients with
moderate-to-severe Crohn's disease. ChemoCentryx is privately held. For more
information, please refer to http://www.chemocentryx.com/.
Any statements in this press release about ChemoCentryx's expectations,
beliefs, plans, objectives, assumptions or future events or performance are not
historical facts and are forward-looking statements. These statements are often,
but not always, made through the use of words or phrases such as believe, will,
expect, anticipate, estimate, intend, plan and would. Forward-looking statements
are not guarantees of performance. They involve known and unknown risks,
uncertainties and assumptions that may cause actual results, levels of activity,
performance or achievements to differ materially from any results, levels of
activity, performance or achievements expressed or implied by any forwardlooking statement. Some of the risks, uncertainties and assumptions that could
cause actual results to differ materially from estimates or projections contained in
the forward-looking statements include but are not limited to (i) the timing,
success and cost of preclinical research and clinical studies, (ii) the timing,
acceptability and review periods for regulatory filings, (iii) the availability of
corporate partners, (iv) uncertainties relating to patent protection and intellectual
property rights of third parties, (v) the impact of competitive products and
technological changes, (vi) the availability of capital and the cost of capital, (vii)
other vagaries in the biotechnology industry and (viii) other risks. ChemoCentryx
undertakes no obligation to update or revise any forward-looking statements.
ChemoCentryx, Inc.