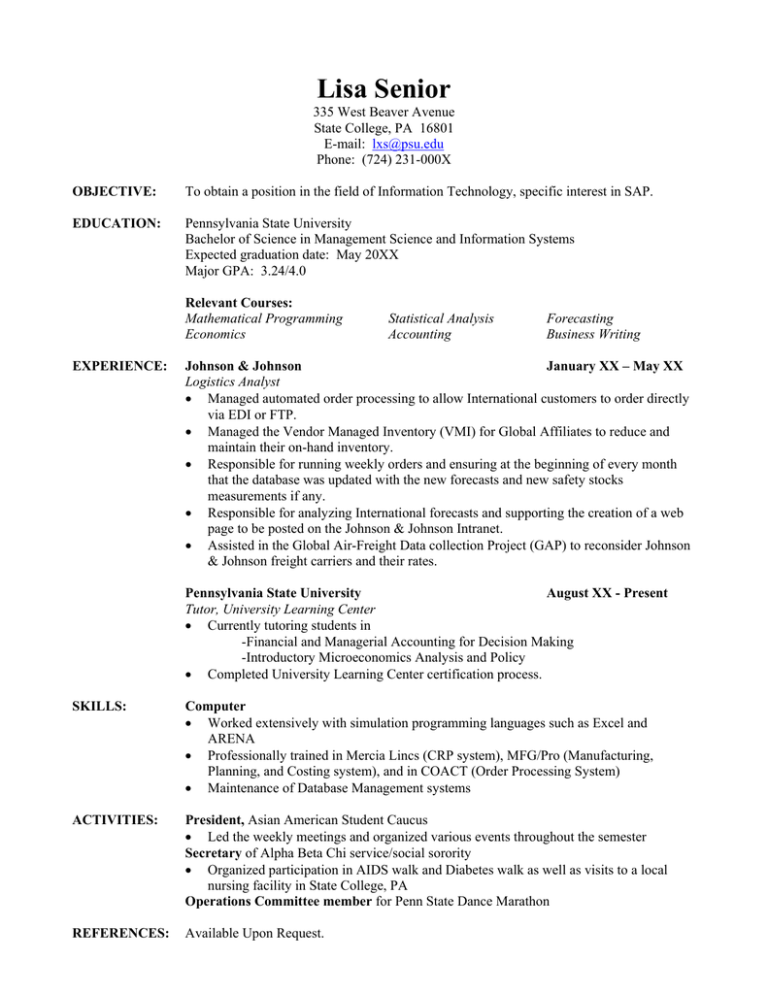 Lisa Senior
335 West Beaver Avenue
State College, PA 16801
E-mail: lxs@psu.edu
Phone: (724) 231-000X
OBJECTIVE:
To obtain a position in the field of Information Technology, specific interest in SAP.
EDUCATION:
Pennsylvania State University
Bachelor of Science in Management Science and Information Systems
Expected graduation date: May 20XX
Major GPA: 3.24/4.0
Relevant Courses:
Mathematical Programming
Economics
EXPERIENCE:
Statistical Analysis
Accounting
Forecasting
Business Writing
Johnson & Johnson
January XX – May XX
Logistics Analyst
• Managed automated order processing to allow International customers to order directly
via EDI or FTP.
• Managed the Vendor Managed Inventory (VMI) for Global Affiliates to reduce and
maintain their on-hand inventory.
• Responsible for running weekly orders and ensuring at the beginning of every month
that the database was updated with the new forecasts and new safety stocks
measurements if any.
• Responsible for analyzing International forecasts and supporting the creation of a web
page to be posted on the Johnson & Johnson Intranet.
• Assisted in the Global Air-Freight Data collection Project (GAP) to reconsider Johnson
& Johnson freight carriers and their rates.
Pennsylvania State University
August XX - Present
Tutor, University Learning Center
• Currently tutoring students in
-Financial and Managerial Accounting for Decision Making
-Introductory Microeconomics Analysis and Policy
• Completed University Learning Center certification process.
SKILLS:
Computer
• Worked extensively with simulation programming languages such as Excel and
ARENA
• Professionally trained in Mercia Lincs (CRP system), MFG/Pro (Manufacturing,
Planning, and Costing system), and in COACT (Order Processing System)
• Maintenance of Database Management systems
ACTIVITIES:
President, Asian American Student Caucus
• Led the weekly meetings and organized various events throughout the semester
Secretary of Alpha Beta Chi service/social sorority
• Organized participation in AIDS walk and Diabetes walk as well as visits to a local
nursing facility in State College, PA
Operations Committee member for Penn State Dance Marathon
REFERENCES:
Available Upon Request.