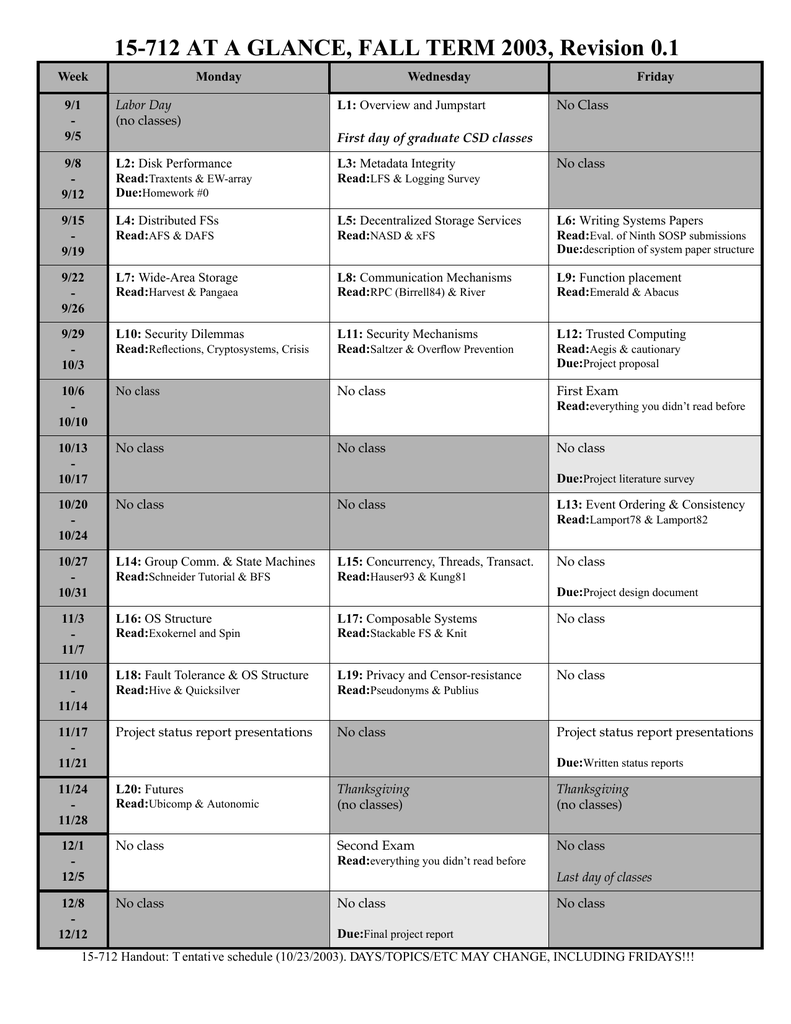 15-712 AT A GLANCE, FALL TERM 2003, Revision 0.1
Week
Monday
Wednesday
Friday
No Class
9/1
9/5
Labor Day
(no classes)
9/8
9/12
L2: Disk Performance
Read:Traxtents & EW-array
Due:Homework #0
L3: Metadata Integrity
Read:LFS & Logging Survey
No class
9/15
9/19
L4: Distributed FSs
Read:AFS & DAFS
L5: Decentralized Storage Services
Read:NASD & xFS
L6: Writing Systems Papers
Read:Eval. of Ninth SOSP submissions
Due:description of system paper structure
9/22
9/26
L7: Wide-Area Storage
Read:Harvest & Pangaea
L8: Communication Mechanisms
Read:RPC (Birrell84) & River
L9: Function placement
Read:Emerald & Abacus
9/29
10/3
L10: Security Dilemmas
Read:Reflections, Cryptosystems, Crisis
L11: Security Mechanisms
Read:Saltzer & Overflow Prevention
L12: Trusted Computing
Read:Aegis & cautionary
Due:Project proposal
10/6
10/10
No class
No class
First Exam
Read:everything you didn't read before
10/13
10/17
No class
No class
No class
10/20
10/24
No class
No class
L13: Event Ordering & Consistency
Read:Lamport78 & Lamport82
10/27
10/31
L14: Group Comm. & State Machines
Read:Schneider Tutorial & BFS
L15: Concurrency, Threads, Transact.
Read:Hauser93 & Kung81
No class
11/3
11/7
L16: OS Structure
Read:Exokernel and Spin
L17: Composable Systems
Read:Stackable FS & Knit
No class
11/10
11/14
L18: Fault Tolerance & OS Structure
Read:Hive & Quicksilver
L19: Privacy and Censor-resistance
Read:Pseudonyms & Publius
No class
11/17
11/21
Project status report presentations
No class
Project status report presentations
11/24
11/28
L20: Futures
Read:Ubicomp & Autonomic
Thanksgiving
(no classes)
Thanksgiving
(no classes)
12/1
12/5
No class
Second Exam
Read:everything you didn't read before
No class
12/8
12/12
No class
L1: Overview and Jumpstart
First day of graduate CSD classes
Due:Project literature survey
Due:Project design document
Due:Written status reports
Last day of classes
No class
No class
Due:Final project report
15-712 Handout: T entative schedule (10/23/2003). DAYS/TOPICS/ETC MAY CHANGE, INCLUDING FRIDAYS!!!