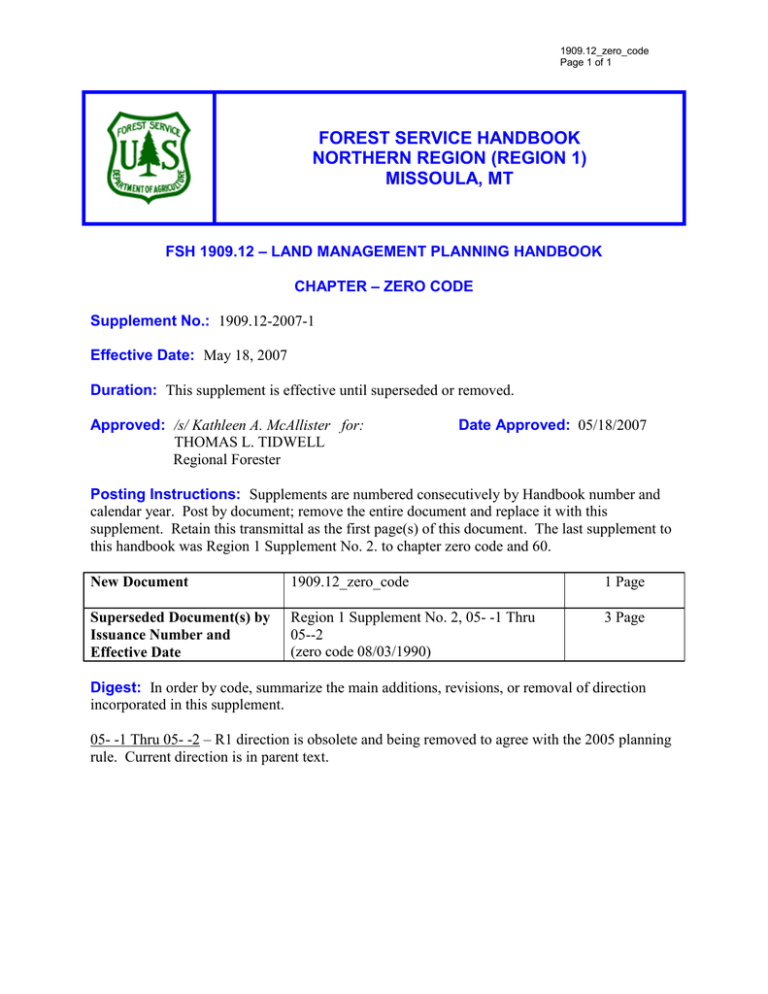 1909.12_zero_code
Page 1 of 1
FOREST SERVICE HANDBOOK
NORTHERN REGION (REGION 1)
MISSOULA, MT
FSH 1909.12 – LAND MANAGEMENT PLANNING HANDBOOK
CHAPTER – ZERO CODE
Supplement No.: 1909.12-2007-1
Effective Date: May 18, 2007
Duration: This supplement is effective until superseded or removed.
Approved: /s/ Kathleen A. McAllister for:
THOMAS L. TIDWELL
Regional Forester
Date Approved: 05/18/2007
Posting Instructions: Supplements are numbered consecutively by Handbook number and
calendar year. Post by document; remove the entire document and replace it with this
supplement. Retain this transmittal as the first page(s) of this document. The last supplement to
this handbook was Region 1 Supplement No. 2. to chapter zero code and 60.
New Document
1909.12_zero_code
1 Page
Superseded Document(s) by
Issuance Number and
Effective Date
Region 1 Supplement No. 2, 05- -1 Thru
05--2
(zero code 08/03/1990)
3 Page
Digest: In order by code, summarize the main additions, revisions, or removal of direction
incorporated in this supplement.
05- -1 Thru 05- -2 – R1 direction is obsolete and being removed to agree with the 2005 planning
rule. Current direction is in parent text.