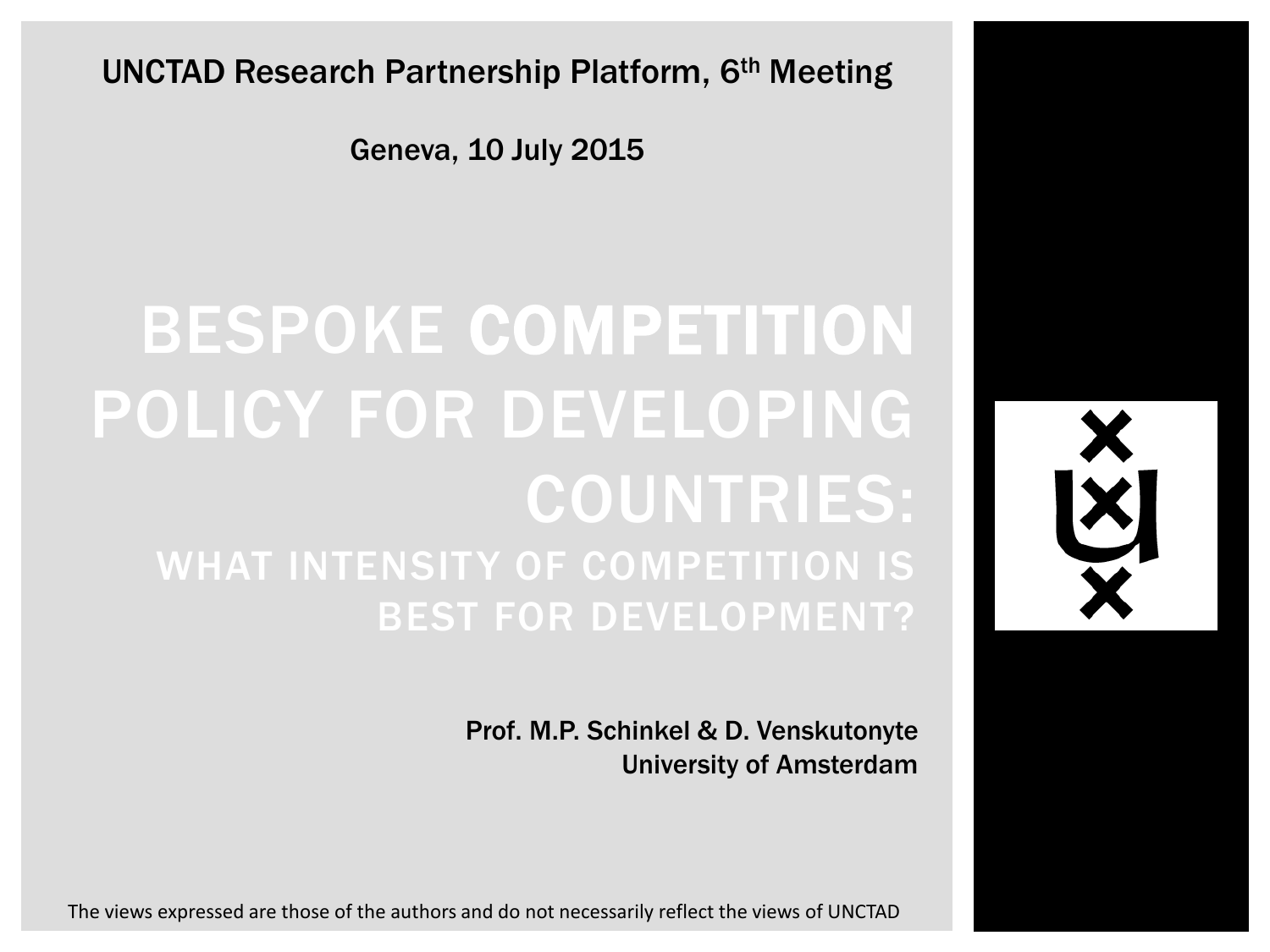 UNCTAD Research Partnership Platform, 6th Meeting
Geneva, 10 July 2015
BESPOKE COMPETITION
POLICY FOR DEVELOPING
COUNTRIES:
WHAT INTENSIT Y OF COMPETITION IS
BEST FOR DEVELOPMENT?
Prof. M.P. Schinkel & D. Venskutonyte
University of Amsterdam
The views expressed are those of the authors and do not necessarily reflect the views of UNCTAD
AIM OF RESEARCH
 It is clear that market competition dynamics have
large effect on countries' development.
 Developing countries are substantially different than
developed countries with respect to their economic
environments.
 Developing countries themselves are a very
heterogeneous group.
 It is not clear what kind of competition would best
suit developing countries.
 It is also unclear what kind of policy tools would be
optimal for different stages of economic
development.
AIM OF RESEARCH
 In order to develop competition policy in developing
countries, we must first consider the optimal level of
competition needed in particular groups of countries.
 The goal of this research is to identify a transmission
mechanism:
Competition Policy Competition  Development
BACKGROUND
 Competition benefits consumers:
 Consumer surplus
 Efficient allocation of resources
 Employment
 Damages of anticompetitive behavior are often
exacerbated in developing countries
 Competitions long term effects are ambiguous:
 Effect on innovation
 Effect on investment
 Effect on other developmental objectives
BACKGROUND
 There is consensus that innovation is one of the most
important determinants of economic growth and its
benefits to society outweigh its benefits to firms.
 Competition incentivizes firms to make product
improvements that are closely related to price.
 There is no consensus on whether competition improves
or hampers innovation: the Arrow v Schumpeter debate.
 Empirical evidence is not conclusive and can show
negative effects of competition on innovation in
developing countries.
 Similar principles apply to investment as well.
EMPIRICAL STUDIES OF POLICY EFFECTS
DEVELOPING COUNTRY CLASSIFICATION
 Considering competition policy a "one fits all approach" is
unlikely to be successful.
 A "tailor made" approach is unlikely to be ef ficient.
 Current classifications are not appropriate to study
competition ef fects in developing countries.
 Factors that influence competition:
Output
composition
Cultural attitudes
and corruption
Trade openness
!
!
!
!
Spending
composition
Human Resources
Entry barriers
Infrastructure
Type of industry
Gender equality
Capital Markets
Import
competition
Informal economy
RESEARCH
Stage 1:Identify stages of development, development objectives
and a measurement of competition policy.
 Developmental objectives for dif ferent stages:
 There are many problems that developing countries need to solve,
however competition policy is not the best tool to achieve all of them.
 Objectives can depend on the stage of development with respect to
poverty levels, industry type, savings rate and others .
 What is a scale of sophistication and complexity for
competition policy laws and tools?
 It is unclear what policy tools are needed and can be implemented in
developing countries.
 We will develop a neutral scale of complexity for competition policy.
RESEARCH
Stage 2: Explain how competition dynamics af fect
developmental objectives at dif ferent stages of development.
 Describe each stage
 Apply existing economic theory to identify the competitive
dynamics with respect to the features of each stage.
 Identify tradeoffs of the ef fects of competition in each stage.
 Identify the optimal level of competition.
RESEARCH
Stage 3: Developing a framework for competition policy
ef fectiveness
 Describe each stage with respect to institutional capabilities.
 Identify the appropriate policy assuming ideal institutional
conditions.
 Identify the optimal level of policy tools for each stage.
 Develop a framework for measuring the ef fectiveness of
competition policy relative to other factors af fecting
competition.
CONCLUSION
 Competition intensity has tradeoffs for different
stages of development.
 Competition dynamics are different in developing
countries.
 The plethora of factors that influence competition
and those that competition influences make it
difficult to see what policy is needed.
 This research aims at identifying the most relevant
factors, tradeoffs of their relationship with
competition and the policy needed to achieve
optimal outcomes.