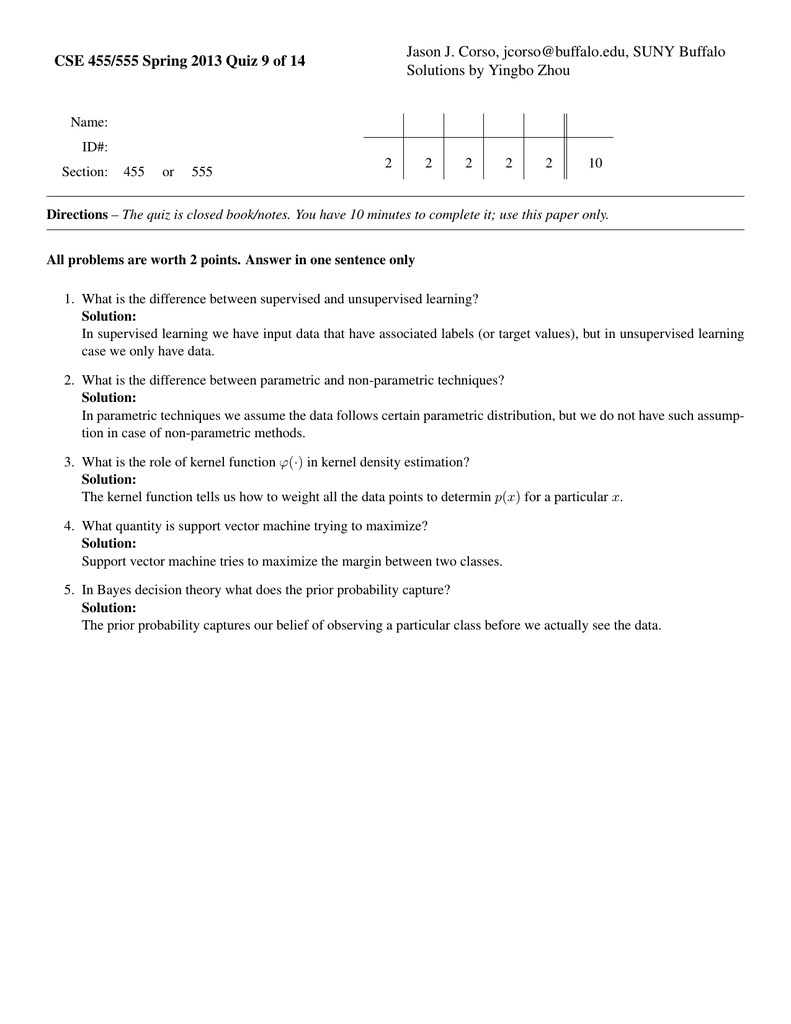 Jason J. Corso, [email protected], SUNY Buffalo
Solutions by Yingbo Zhou
CSE 455/555 Spring 2013 Quiz 9 of 14
Name:
ID#:
Section:
455
or
555
2
2
2
2
2
10
Directions – The quiz is closed book/notes. You have 10 minutes to complete it; use this paper only.
All problems are worth 2 points. Answer in one sentence only
1. What is the difference between supervised and unsupervised learning?
Solution:
In supervised learning we have input data that have associated labels (or target values), but in unsupervised learning
case we only have data.
2. What is the difference between parametric and non-parametric techniques?
Solution:
In parametric techniques we assume the data follows certain parametric distribution, but we do not have such assumption in case of non-parametric methods.
3. What is the role of kernel function ϕ(·) in kernel density estimation?
Solution:
The kernel function tells us how to weight all the data points to determin p(x) for a particular x.
4. What quantity is support vector machine trying to maximize?
Solution:
Support vector machine tries to maximize the margin between two classes.
5. In Bayes decision theory what does the prior probability capture?
Solution:
The prior probability captures our belief of observing a particular class before we actually see the data.