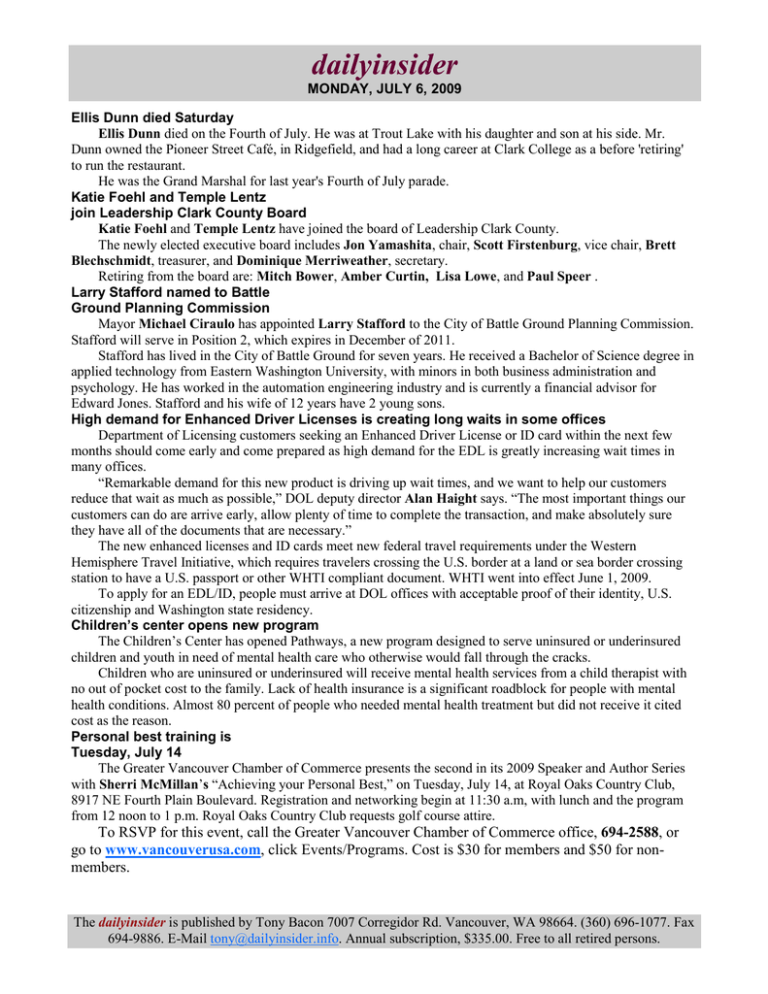 dailyinsider
MONDAY, JULY 6, 2009
Ellis Dunn died Saturday
Ellis Dunn died on the Fourth of July. He was at Trout Lake with his daughter and son at his side. Mr.
Dunn owned the Pioneer Street Café, in Ridgefield, and had a long career at Clark College as a before 'retiring'
to run the restaurant.
He was the Grand Marshal for last year's Fourth of July parade.
Katie Foehl and Temple Lentz
join Leadership Clark County Board
Katie Foehl and Temple Lentz have joined the board of Leadership Clark County.
The newly elected executive board includes Jon Yamashita, chair, Scott Firstenburg, vice chair, Brett
Blechschmidt, treasurer, and Dominique Merriweather, secretary.
Retiring from the board are: Mitch Bower, Amber Curtin, Lisa Lowe, and Paul Speer .
Larry Stafford named to Battle
Ground Planning Commission
Mayor Michael Ciraulo has appointed Larry Stafford to the City of Battle Ground Planning Commission.
Stafford will serve in Position 2, which expires in December of 2011.
Stafford has lived in the City of Battle Ground for seven years. He received a Bachelor of Science degree in
applied technology from Eastern Washington University, with minors in both business administration and
psychology. He has worked in the automation engineering industry and is currently a financial advisor for
Edward Jones. Stafford and his wife of 12 years have 2 young sons.
High demand for Enhanced Driver Licenses is creating long waits in some offices
Department of Licensing customers seeking an Enhanced Driver License or ID card within the next few
months should come early and come prepared as high demand for the EDL is greatly increasing wait times in
many offices.
"Remarkable demand for this new product is driving up wait times, and we want to help our customers
reduce that wait as much as possible," DOL deputy director Alan Haight says. "The most important things our
customers can do are arrive early, allow plenty of time to complete the transaction, and make absolutely sure
they have all of the documents that are necessary."
The new enhanced licenses and ID cards meet new federal travel requirements under the Western
Hemisphere Travel Initiative, which requires travelers crossing the U.S. border at a land or sea border crossing
station to have a U.S. passport or other WHTI compliant document. WHTI went into effect June 1, 2009.
To apply for an EDL/ID, people must arrive at DOL offices with acceptable proof of their identity, U.S.
citizenship and Washington state residency.
Children's center opens new program
The Children's Center has opened Pathways, a new program designed to serve uninsured or underinsured
children and youth in need of mental health care who otherwise would fall through the cracks.
Children who are uninsured or underinsured will receive mental health services from a child therapist with
no out of pocket cost to the family. Lack of health insurance is a significant roadblock for people with mental
health conditions. Almost 80 percent of people who needed mental health treatment but did not receive it cited
cost as the reason.
Personal best training is
Tuesday, July 14
The Greater Vancouver Chamber of Commerce presents the second in its 2009 Speaker and Author Series
with Sherri McMillan's "Achieving your Personal Best," on Tuesday, July 14, at Royal Oaks Country Club,
8917 NE Fourth Plain Boulevard. Registration and networking begin at 11:30 a.m, with lunch and the program
from 12 noon to 1 p.m. Royal Oaks Country Club requests golf course attire.
To RSVP for this event, call the Greater Vancouver Chamber of Commerce office, 694-2588, or
go to www.vancouverusa.com, click Events/Programs. Cost is $30 for members and $50 for nonmembers.
The dailyinsider is published by Tony Bacon 7007 Corregidor Rd. Vancouver, WA 98664. (360) 696-1077. Fax
694-9886. E-Mail [email protected] Annual subscription, $335.00. Free to all retired persons.
dailyinsider
Monday, July 6, 2009
Page 2
Calendar
Vancouver City Council Workshop—Columbia River Crossing Project Update. Specific updates on the
development of freeway and interchange access designs. 4:00 p.m.
Vancouver City Council—Council meeting 7:00 p.m.
Monday on the air
Seattle Mariners at New York (live)—7:10 p.m. ESPN, FSN-SAP
Portland Beavers at Colorado Springs (live)—6 p.m. KKAD
Vancouver City Council Live—7 p.m. CVTV 23
Town Tabloids and the Weather
Jobe Clan descends upon the estate with picks and shovels. Locates ancient golf club. <>
Tom Hunt with all the right ideas. <> Tauf Charneski taking pleasure from the tinkling of ivory.
<> Ms. Charneski serving copious amounts of flying pies. <> Bob Burns bringing in the
sheets. <> Monday, clouds over sun, 56-68. Tuesday, sun first clouds last, 56-68.
Wednesday, clouds carrying water 55-65.
The daily insider is published by Tony Bacon 7007 Corregidor Rd. Vancouver, WA 98664. (360) 696-1077. Fax
694-9886. E-mail [email protected] Annual subscription, $335.00. Free to all retired persons.