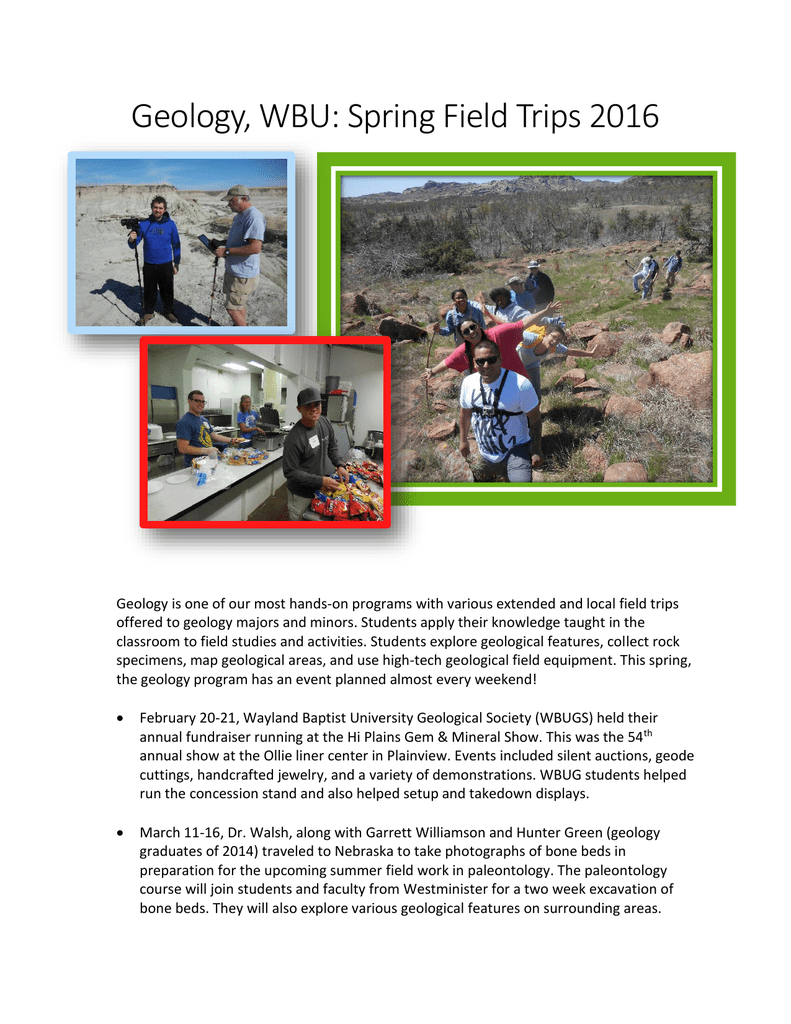 Geology, WBU: Spring Field Trips 2016
Geology is one of our most hands-on programs with various extended and local field trips
offered to geology majors and minors. Students apply their knowledge taught in the
classroom to field studies and activities. Students explore geological features, collect rock
specimens, map geological areas, and use high-tech geological field equipment. This spring,
the geology program has an event planned almost every weekend!

February 20-21, Wayland Baptist University Geological Society (WBUGS) held their
annual fundraiser running at the Hi Plains Gem & Mineral Show. This was the 54 th
annual show at the Ollie liner center in Plainview. Events included silent auctions, geode
cuttings, handcrafted jewelry, and a variety of demonstrations. WBUG students helped
run the concession stand and also helped setup and takedown displays.

March 11-16, Dr. Walsh, along with Garrett Williamson and Hunter Green (geology
graduates of 2014) traveled to Nebraska to take photographs of bone beds in
preparation for the upcoming summer field work in paleontology. The paleontology
course will join students and faculty from Westminister for a two week excavation of
bone beds. They will also explore various geological features on surrounding areas.

March 30-April 3, Drs. Walsh and Parker took petrology and sedimentation &
stratigraphy students on an extended study trip to south western and south central
Oklahoma, including the Wichita and Arbuckle Mountains. The trip included several
stops at multiple quarries and outcrops. Students collected rock specimens and
examined structural deformations.

April 11-12, geology traveled to the Southwest Section of the American Association of
the Petroleum Geologists conference in Abilene, TX. They attended technical sessions, a
short course on "Fluvial Stratigraphy", and presentations.

April 15-17, Geology will be taking sedimentation & stratigraphy students to Cloudcroft,
NM. Students will stay at the Math & Science Bowers-Thompson research station while
mapping the Coyote Creek area near Tularosa.

April 23, physical and historical geology classes will go on a day field trip to Caprock
Canyons where they will be examining various geological features.