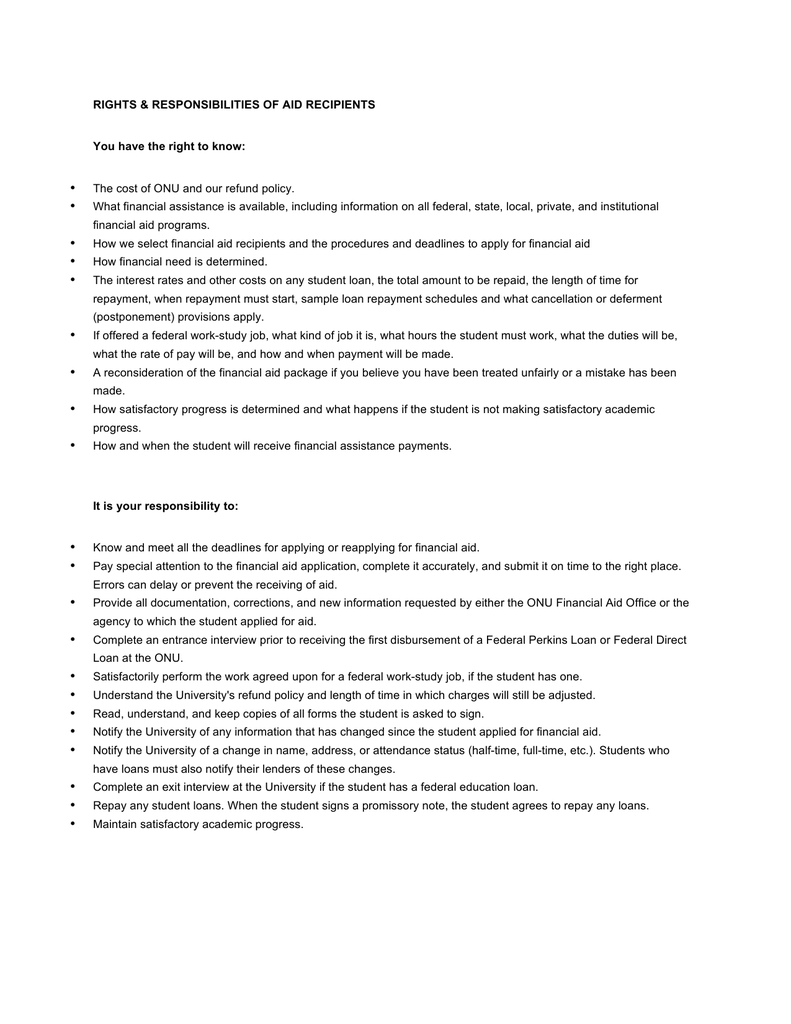 RIGHTS & RESPONSIBILITIES OF AID RECIPIENTS
You have the right to know:
•
•
The cost of ONU and our refund policy.
What financial assistance is available, including information on all federal, state, local, private, and institutional
financial aid programs.
•
•
•
How we select financial aid recipients and the procedures and deadlines to apply for financial aid
How financial need is determined.
The interest rates and other costs on any student loan, the total amount to be repaid, the length of time for
repayment, when repayment must start, sample loan repayment schedules and what cancellation or deferment
(postponement) provisions apply.
•
If offered a federal work-study job, what kind of job it is, what hours the student must work, what the duties will be,
what the rate of pay will be, and how and when payment will be made.
•
A reconsideration of the financial aid package if you believe you have been treated unfairly or a mistake has been
made.
•
How satisfactory progress is determined and what happens if the student is not making satisfactory academic
progress.
•
How and when the student will receive financial assistance payments.
It is your responsibility to:
•
•
Know and meet all the deadlines for applying or reapplying for financial aid.
Pay special attention to the financial aid application, complete it accurately, and submit it on time to the right place.
Errors can delay or prevent the receiving of aid.
•
Provide all documentation, corrections, and new information requested by either the ONU Financial Aid Office or the
agency to which the student applied for aid.
•
Complete an entrance interview prior to receiving the first disbursement of a Federal Perkins Loan or Federal Direct
Loan at the ONU.
•
•
•
•
•
Satisfactorily perform the work agreed upon for a federal work-study job, if the student has one.
Understand the University's refund policy and length of time in which charges will still be adjusted.
Read, understand, and keep copies of all forms the student is asked to sign.
Notify the University of any information that has changed since the student applied for financial aid.
Notify the University of a change in name, address, or attendance status (half-time, full-time, etc.). Students who
have loans must also notify their lenders of these changes.
•
•
•
Complete an exit interview at the University if the student has a federal education loan.
Repay any student loans. When the student signs a promissory note, the student agrees to repay any loans.
Maintain satisfactory academic progress.