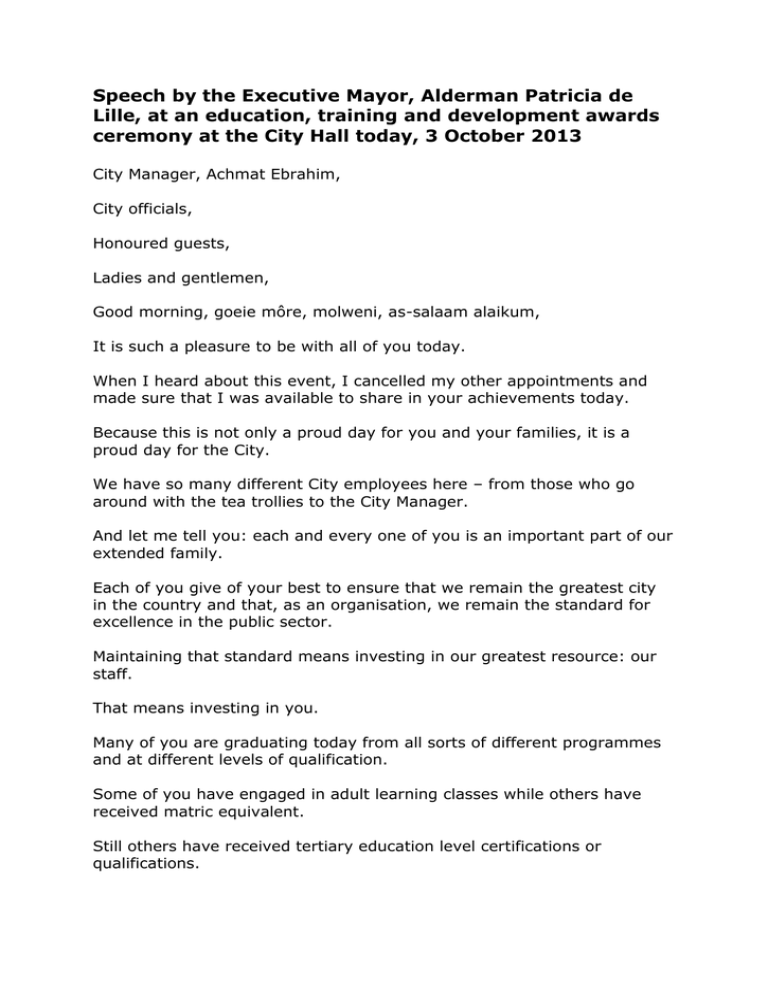 Speech by the Executive Mayor, Alderman Patricia de
Lille, at an education, training and development awards
ceremony at the City Hall today, 3 October 2013
City Manager, Achmat Ebrahim,
City officials,
Honoured guests,
Ladies and gentlemen,
Good morning, goeie môre, molweni, as-salaam alaikum,
It is such a pleasure to be with all of you today.
When I heard about this event, I cancelled my other appointments and
made sure that I was available to share in your achievements today.
Because this is not only a proud day for you and your families, it is a
proud day for the City.
We have so many different City employees here – from those who go
around with the tea trollies to the City Manager.
And let me tell you: each and every one of you is an important part of our
extended family.
Each of you give of your best to ensure that we remain the greatest city
in the country and that, as an organisation, we remain the standard for
excellence in the public sector.
Maintaining that standard means investing in our greatest resource: our
staff.
That means investing in you.
Many of you are graduating today from all sorts of different programmes
and at different levels of qualification.
Some of you have engaged in adult learning classes while others have
received matric equivalent.
Still others have received tertiary education level certifications or
qualifications.
At whatever level you have graduated, you have all accomplished a great
deal.
I am a very strong believer in self-improvement.
Some of us did not have all of the life opportunities that we deserved
available to us.
Thanks to a highly discriminatory society, many of us did not have the
luxury of an education – or at least not to a very advanced level.
Many of us were not able to finish high school or go to university because
we simply had to go out and work to support our families.
And many of us may have come from homes where the priority was to get
a steady job instead of studying further.
The fact that you went out to work but never lost faith that you would
complete or add to your education is an inspiration for us all.
It tells us that nothing is ever too late in life.
Some people here did have the opportunity to get an education and have
chosen to add to that with further training and studies.
I applaud you as well.
There is something wrong if people think that they have learned all they
have to learn as a younger person.
The truth is that we need to refresh ourselves and grow at different
stages of our lives.
And when we come back to education, after having been a young student
and as an older professional, we bring a different appreciation of
education.
We see and understand things from an entirely new perspective.
That is the benefit of learning as an adult.
As part of our drive to be an Opportunity City and a Caring City, we have
tried to understand the organisation as a massive source of skills
development in Cape Town.
Given the fact that we employ over 25 000 people, our contribution to the
knowledge economy is in giving new job entrants skills and also
developing those who already work for the City.
Sometimes people move on to different careers, especially our new job
recruits.
We accept that as our contribution to the needs of the private sector.
But as far as you as graduates are concerned, we believe that we have
made an investment in the future of our organisation and for the City of
Cape Town by either paying for your studies or providing you with paid
study leave.
As an employer, we provide a great many range of options for selfimprovement, more than most others in both the private and public
sectors.
With your new abilities, you will be able to bring new resources to your
jobs and in so doing, will add tremendous value to all your undertakings.
In conclusion, let me say that I am sorry that I cannot be here the whole
day to see each of you graduate.
But let me congratulate each and every one of you again.
You have taken your own life and sought to improve it – leading to both
mental and personal growth.
And by growing as individuals, you add to the overall performance of the
organisation.
Well done on your achievement and thank you for your service.
Thank you, baie dankie, enkosi.