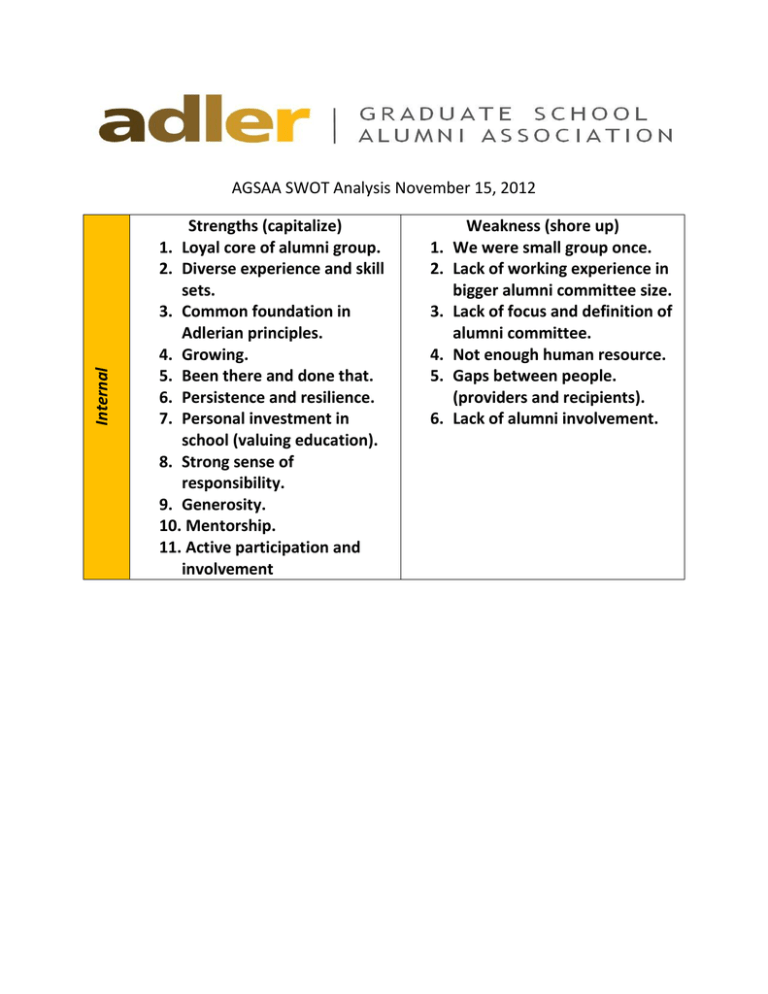 Internal
AGSAA SWOT Analysis November 15, 2012
Strengths (capitalize)
1. Loyal core of alumni group.
2. Diverse experience and skill
sets.
3. Common foundation in
Adlerian principles.
4. Growing.
5. Been there and done that.
6. Persistence and resilience.
7. Personal investment in
school (valuing education).
8. Strong sense of
responsibility.
9. Generosity.
10. Mentorship.
11. Active participation and
involvement
1.
2.
3.
4.
5.
6.
Weakness (shore up)
We were small group once.
Lack of working experience in
bigger alumni committee size.
Lack of focus and definition of
alumni committee.
Not enough human resource.
Gaps between people.
(providers and recipients).
Lack of alumni involvement.
1.
2.
3.
External
4.
5.
Opportunities (invest)
Free workshops.
Graduating class.
Fund raising (book
exchange).
Establishing AGS athletic
team.
Fun social events and
activities (homecoming).
1.
2.
3.
4.
5.
Threats (identify)
Traffic.
Busy individual schedules.
Lack of resources.
Lack of visibility.
Keeping the momentum
going.