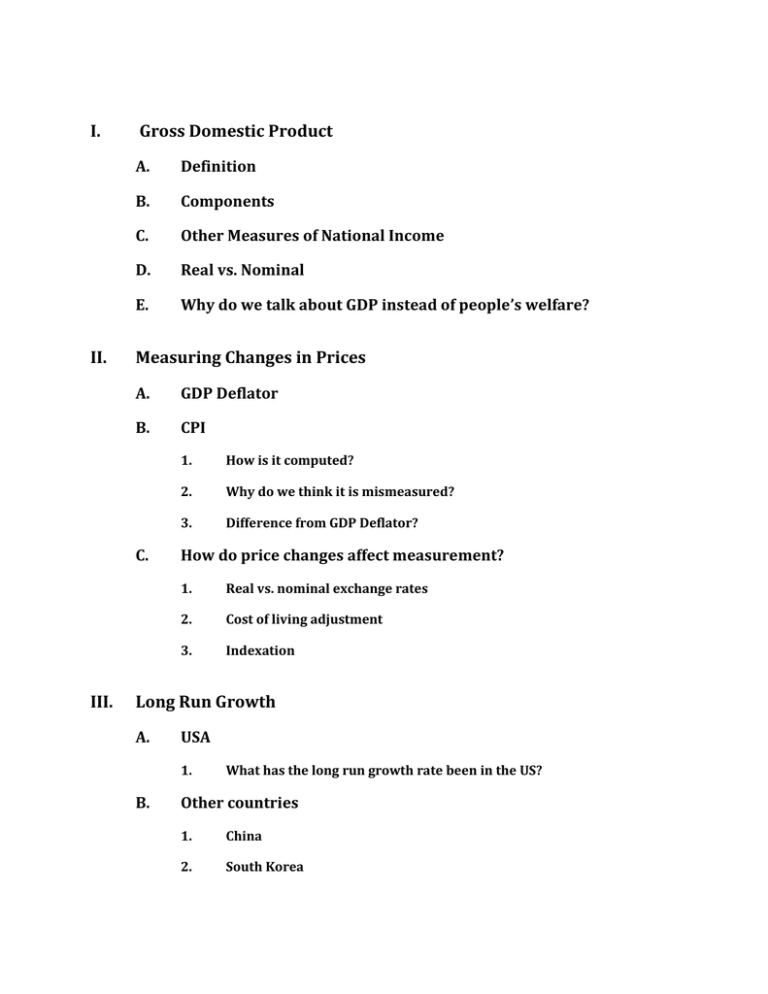 I.
II.
Gross Domestic Product
A.
Definition
B.
Components
C.
Other Measures of National Income
D.
Real vs. Nominal
E.
Why do we talk about GDP instead of people's welfare?
Measuring Changes in Prices
A.
GDP Deflator
B.
CPI
C.
III.
1.
How is it computed?
2.
Why do we think it is mismeasured?
3.
Difference from GDP Deflator?
How do price changes affect measurement?
1.
Real vs. nominal exchange rates
2.
Cost of living adjustment
3.
Indexation
Long Run Growth
A.
USA
1.
B.
What has the long run growth rate been in the US?
Other countries
1.
China
2.
South Korea
IV.
3.
Argentina
4.
What were the differences in the policies these countries pursued?
5.
Is the growth of China unusual? Important? Why?
Exchange Rates
A.
Nominal Exchange Rate
B.
Real Exchange Rate
1.
V.
How is it computed?
C.
Purchasing Power Parity
D.
Law of One Price
E.
Big Mac Index
International Institutions
A.
B.
World Bank & IMF
1.
Structural Adjustment Programs
2.
Criticisms
World Trade Organization
C.
How does what they do now differ from what they were founded
to do?