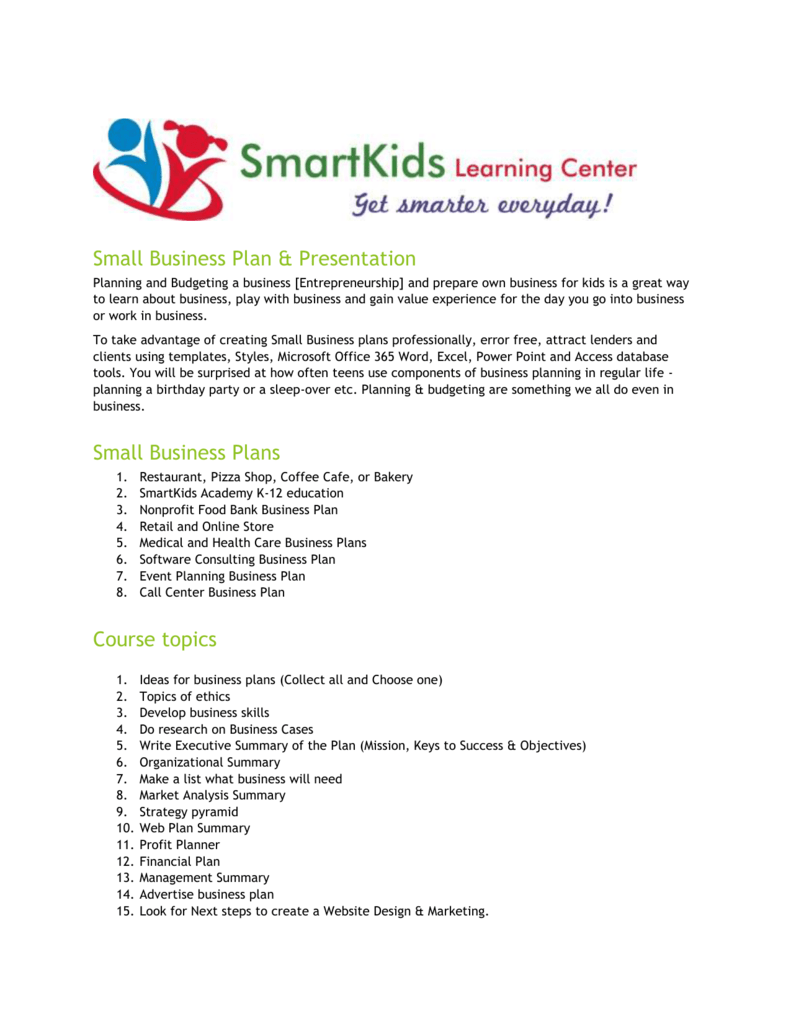 Small Business Plan & Presentation
Planning and Budgeting a business [Entrepreneurship] and prepare own business for kids is a great way
to learn about business, play with business and gain value experience for the day you go into business
or work in business.
To take advantage of creating Small Business plans professionally, error free, attract lenders and
clients using templates, Styles, Microsoft Office 365 Word, Excel, Power Point and Access database
tools. You will be surprised at how often teens use components of business planning in regular life planning a birthday party or a sleep-over etc. Planning & budgeting are something we all do even in
business.
Small Business Plans
1.
2.
3.
4.
5.
6.
7.
8.
Restaurant, Pizza Shop, Coffee Cafe, or Bakery
SmartKids Academy K-12 education
Nonprofit Food Bank Business Plan
Retail and Online Store
Medical and Health Care Business Plans
Software Consulting Business Plan
Event Planning Business Plan
Call Center Business Plan
Course topics
1.
2.
3.
4.
5.
6.
7.
8.
9.
10.
11.
12.
13.
14.
15.
Ideas for business plans (Collect all and Choose one)
Topics of ethics
Develop business skills
Do research on Business Cases
Write Executive Summary of the Plan (Mission, Keys to Success & Objectives)
Organizational Summary
Make a list what business will need
Market Analysis Summary
Strategy pyramid
Web Plan Summary
Profit Planner
Financial Plan
Management Summary
Advertise business plan
Look for Next steps to create a Website Design & Marketing.