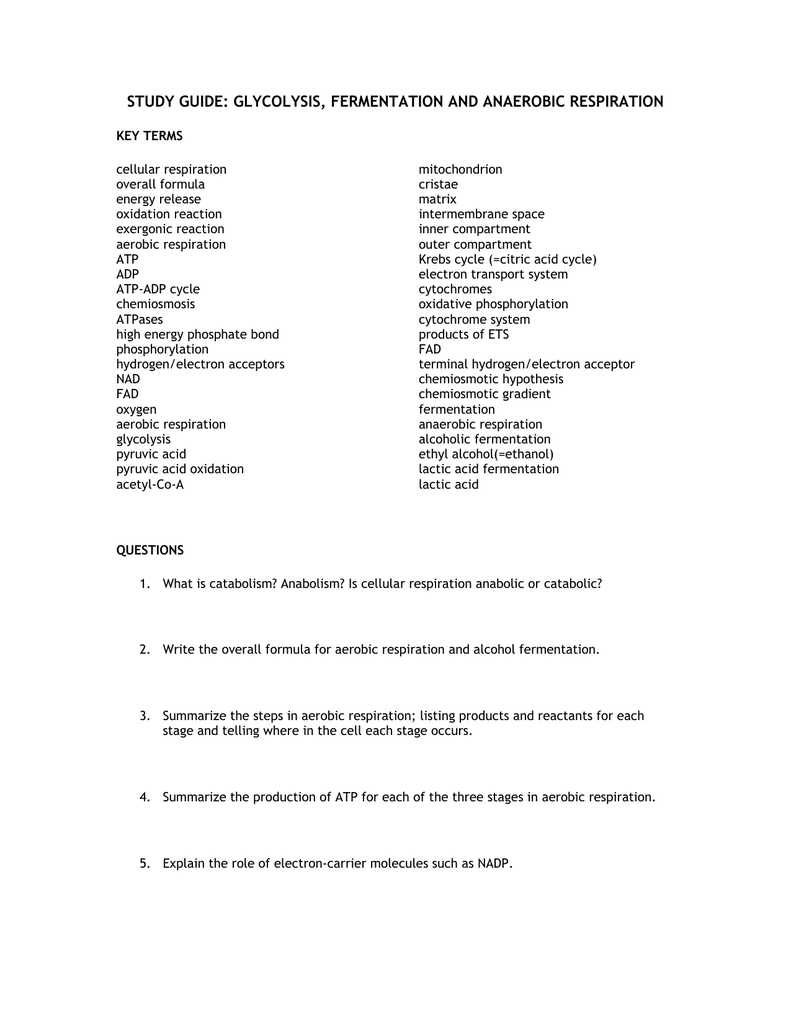 STUDY GUIDE: GLYCOLYSIS, FERMENTATION AND ANAEROBIC RESPIRATION
KEY TERMS
cellular respiration
overall formula
energy release
oxidation reaction
exergonic reaction
aerobic respiration
ATP
ADP
ATP-ADP cycle
chemiosmosis
ATPases
high energy phosphate bond
phosphorylation
hydrogen/electron acceptors
NAD
FAD
oxygen
aerobic respiration
glycolysis
pyruvic acid
pyruvic acid oxidation
acetyl-Co-A
mitochondrion
cristae
matrix
intermembrane space
inner compartment
outer compartment
Krebs cycle (=citric acid cycle)
electron transport system
cytochromes
oxidative phosphorylation
cytochrome system
products of ETS
FAD
terminal hydrogen/electron acceptor
chemiosmotic hypothesis
chemiosmotic gradient
fermentation
anaerobic respiration
alcoholic fermentation
ethyl alcohol(=ethanol)
lactic acid fermentation
lactic acid
QUESTIONS
1. What is catabolism? Anabolism? Is cellular respiration anabolic or catabolic?
2. Write the overall formula for aerobic respiration and alcohol fermentation.
3. Summarize the steps in aerobic respiration; listing products and reactants for each
stage and telling where in the cell each stage occurs.
4. Summarize the production of ATP for each of the three stages in aerobic respiration.
5. Explain the role of electron-carrier molecules such as NADP.
6. Explain how the production of ATP(oxidative phosphorylation) occurs according to the
chemiosmotic hypothesis. Use a diagram of a mitochondrion in your explanation.
7. Explain the process of fermentation.
8. Diagram a mitochondrion, show where the Krebs cycle and ETS are found.
9. Outline Mitchell's chemiosmotic hypothesis.
10. What arguments would you use to justify calling the mitochondria the "powerhouse" of
the cell?
11. What is the specific role of oxygen in an aerobic cell?
12. When and where does anaerobic respiration occur in humans? What is the end product
of this anaerobic respiration?