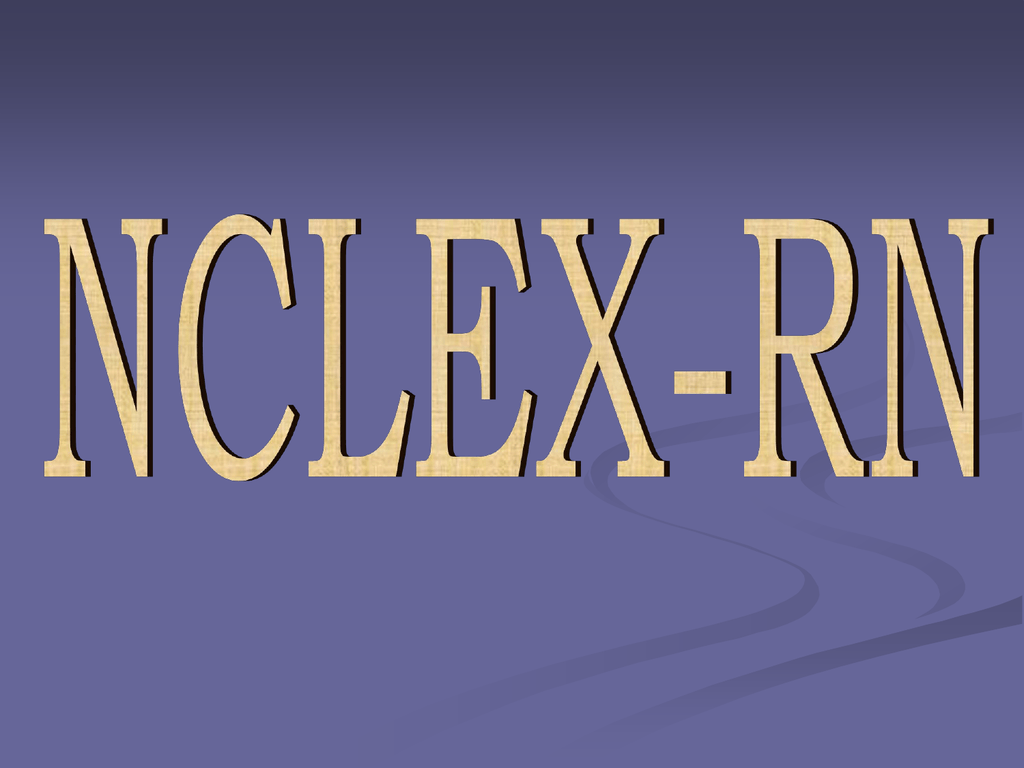 The National Council Licensure Examination is a
standardized exam that each state board of nursing
uses to determine whether or not a candidate is
prepared for entry-level nursing practice.
What do you need to become eligible to take the
NCLEX examination?
• Nursing degree diploma
• Commission on Graduates of Foreign
Nursing Schools (CGFNS) certificate
Some states require a CGFNS Certificate from
nurses educated abroad before they can take the
NCLEX-RN examination.
• Passed TOEFL or IELTS exam
What results do you need?
IELTS (International English Language Testing
System) with total score 6.5, spoken English – 7
Or
TOEFL and TSE (Test of English as a Foreign
Language and Test of Spoken English) :
TOEFL with computer control result of 213 or
on paper - 550; + TSE score of 50
So, you've got all the documents collected and translated.
What's next?
In order to take the NCLEX examination, you must
apply for nursing license from a state board of nursing.
That board will determine whether or not you meet its
criteria for NCLEX examination eligibility.
How do I register to take the NCLEX
examination?
Once your state board of nursing has verified
your eligibility to take the NCLEX
examination, you will receive an Authorization
to Take the Test (ATT), along with a list of
testing centers and instructions for how to
schedule an appointment to take the
examination.
What is the examination fee?
As of January 2003, the fee is $200.
What kind of test is NCLEX-RN exam?
The NCLEX uses an interactive system called
Computerized Adaptive Testing (CAT)
The questions are being selected DURING the test,
basing on your level of competence.
It's not possible to skip the question and to return to
it later because of CAT.
What kind of test is NCLEX-RN exam?
There are 2 types of nurses' licensing exams:
NCLEX-RN and NCLEX.
With NCLEX-RN passed you become a Registered Nurse,
with NCLEX you become a Licensed Vocational Nurse.
Basically, questions are similar, but if you fail at NCLEX-RN
the results may be accepted as for NCLEX if you have applied
for both.
Types of questions:
The minimum number of questions that you will
need to answer in order to meet adequate testing
in each area of test plan is 75. Of these 75
questions, 60 will be real (scored) questions and
15 will be try-out (unscored questions). The tryout questions are questions that may be presented
as scored questions on future NCLEX-RN
examination.
How can you get ready for the exam?
1. Study hard
www.nclex-rn.net
http://www.kaplan.com/
http://www.learningext.com/
http://nursing.mcphu.edu/excel/
http://www.rnexpress.com/
http://www.internetexam.com/
How can you have a success?
1. Study hard
2. Think
3. Be VERY attentive
4. Be lucky
The nurse is caring for a client with a T5 spinal cord
injury. The client complains of a severe headache
and is feeling anxious. The nurse notes the client
is sweating and is bradycardic and hypertensive.
Which nursing intervention is most appropriate
initially?
1. Check for bladder distention
2. Notify the physician
3. Medicate the client with an analgesic
4. Discuss the client's feeling of anxiety
If you fail the test:
If you fail the test, your state board of nursing will mail you a
diagnostic profile that will outline both the areas of
knowledge in which your performance was satisfactory and
the areas in which it was not.
20,4
32
27,4
90
Is it possible to retake the test?
Yes, you may retake the test as many times as
you need to. The National Council's policy
dictates that you wait at least 91 days before
retaking the test. Individual state boards may
impose other, stricter requirements.