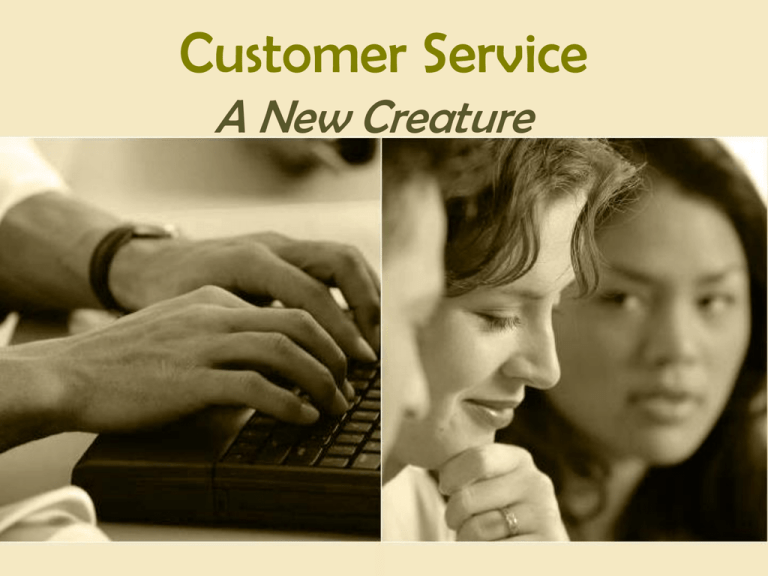 Customer Service
A New Creature
WHAT CUSTOMER SERVICE TRULY IS …
●LIVING ●SHARING
●GIVING ●GROWING
●PRODUCING
"One of the deep secrets of life is that all that is really worth doing
is what we do for others.
- LEWIS CAROL -
DEFINING CUSTOMER SERVICE
"Quality of service delivery set by you or your
department."
▬
"Customer care activities that support the delivery
of the product or core service."
▬
"The way in which the brand meets its customers'
needs via its various different channels."
WHO ARE YOUR CUSTOMERS?
 Family Members
 Children
 Friends
 Co-Workers
 Applicants
 Students
 Los Rios Employees
 Vendors
 Neighbors
 Church/Organizations
Members
 Pets
 Automobile Drivers
 Etc., Etc., Etc…
Have You Heard It All Before?
• Smile! Smiles can be heard over the telephone
and are mimicked when face-to-face
▬
• Use your customer's name at different points in
the conversation
▬
• Diffuse anger by saying "I'm sorry" and also
lower your voice and speak softly and they will
do the same
Have You Heard It All Before?
• Listen attentively! There is nothing worse than
asking an irate or troubled customer to
REPEAT what they have just said
▬
• Go the extra step by following up on your
solution (close the loop!)
▬
• Ask if there is anything else that you can do
for your customer
Things You MUST Remember
•
Moods are contagious (Are you "infecting"
others with good or bad moods?)
▬
•
Don't solve the problem right away. (Instead
let the customer vent, express themselves
and be HEARD)
Things You MUST Remember
• Make certain that your tone of voice is in sync
with your words. Remember, your tone of
voice can completely contradict your message
▬
• Offer alternatives (At least 2 options in order
for them to have choices)
Uncomfortable Situations
• Misunderstanding Accents (the customers
and/or yours)
• Pronouncing Names (make notes of how it
sounds to help you say it correctly)
• Handling Errors (acknowledge errors,
apologize, move forward to solve problems)
• Saying the Wrong Thing (apologize
immediately)
WHAT DO I DO IF…
• Someone Is Crying?
• "Are you okay? How
can I help?"
• Someone Is Screaming
At Me?
• "I would really like to
help you and I need
you to calm down in
order for me to do
that."
WHAT DO I DO IF…
• Someone says they
can't understand me?
• Speak slowly, repeat
yourself and do your
best to pronounce your
words clearly.
• Someone is in the office
and becomes upset
• Ask what the problem
is and do your best to
explain things to them.
FACE-TO-FACE 101
 Promptly Greet and Welcome Guests
▬
 Be Professional
▬
Pay Attention
▬
 Always Say Thank You
▬
Smile, Smile, Smile
L-I-S-T-E-N-I-N-G 101
L = Let Others Speak
I = Intend to 'Hear" Them
S = Speak When It Is Your Turn
T = Talk With Them, Not At Them
E = Enthusiastically Respond
N = Never Speak When Others Are Talking
Customer Service At Its Best!
• Southwest Airlines
(shining in the worse
conditions)
• Nordstrom (a culture
of customer service)
• Blue Nile (low prices
and high-end service)
• CarMax (driving the
extra 12-hour mile)
**Case Studies quoted **
The Rules…
"Always give people
more than what they expect to get."
- NELSON BOSWELL ▬
"Treat others how you wish to be treated"
- The Golden Rule -
Question?
"Isn't it really 'customer helping' rather than
customer service? And wouldn't you deliver
better service if you thought of it that way?"
- JEFFREY GITOMER -
Any Questions?
Thank You!