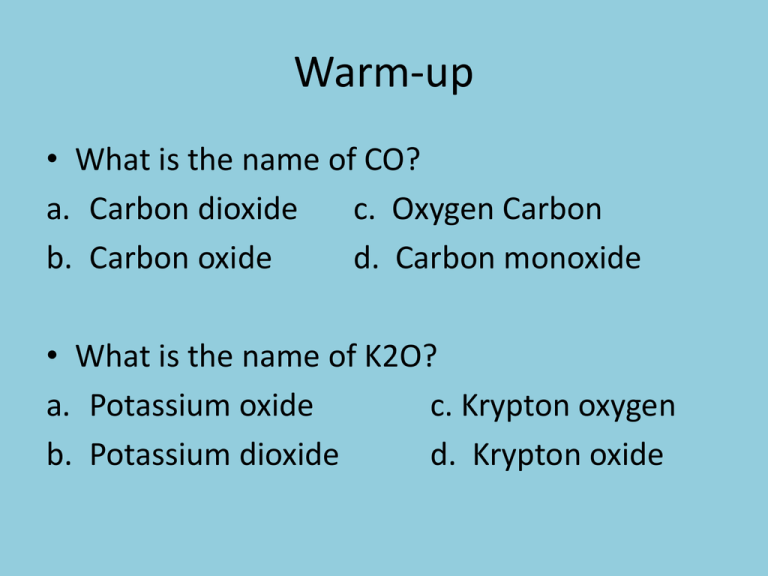 Warm-up
• What is the name of CO?
a. Carbon dioxide
c. Oxygen Carbon
b. Carbon oxide
d. Carbon monoxide
• What is the name of K2O?
a. Potassium oxide
c. Krypton oxygen
b. Potassium dioxide
d. Krypton oxide
•
•
•
•
What are isotopes?
What are alpha particles?
What are beta particles?
What are gamma rays?
Naming Ionic or Covalent
Compounds
Naming Ionic and Covalent
compounds follow different rules
We will begin by learning the rules of
naming ionic compounds first.
Naming Ionic Compounds
1. Start with the name of the first atom in the molecule.
2. Take the next atom in the molecule and replace its
ending with an "ide" suffix.
3. Putting those two names together gives you the
compound's name.
That is why NaCl is called Sodium chloride.
It gets more complicated but for now stick
with the rules.
• The first atom of an ionic bond is the cation
(PAWsitively) and then follow with the anion.
• The anion will contain the first syllable of the
element name and end with the suffix -ide
Naming Covalent Compounds
You will be expected to have the following
memorized because you will need to know the
prefixes for naming covalent compounds.
Prefix
Meaning
Prefix
Meaning
mono
one
hexa
six
di
two
hepta
seven
tri
three
octa
eight
tetra
four
nona
nine
penta
five
deca
ten
These prefixes are inserted before each name in the compound
to indicate how many of each type of atom are the molecule.
However if the prefix used on the first atom is "mono", we drop it.
Example of naming a covalent
compound
CO2 has the name carbon dioxide.
Since there is only one carbon in the molecule we should
use the name mono before carbon. But we drop mono
and just say carbon.
However we have to put a "di" prefix in front of oxygen
because we have 2 oxygen atoms present.
Just like naming the ionic compounds, we change the last
atom's name to an "ide" ending.
Dihydrogen Monoxide
• BAN DIHYDROGEN MONOXIDE - THE INVISIBLE KILLER!
• Dihydrogen monoxide is colorless, odorless, tasteless, and kills uncounted
thousands of people every year.
• What are the dangers of Dihydrogen Monoxide?
• Most of these deaths are caused by accidental inhalation of DHMO, but
the dangers of dihydrogen monoxide do not end there. Prolonged
exposure to its solid form causes severe tissue damage. Symptoms of
DHMO ingestion can include excessive sweating and urination, and
possibly a bloated feeling, nausea, vomiting and body electrolyte
imbalance. For those who have become dependent, DHMO withdrawal
means certain death.
• What is your solution to this dangerous problem?
Example
Name the compound whose chemical formula is
AL2O3
This is not a covalent bond because AL lies on
the left of the zigzag line it is a metal.
Thus this is a ionic bond.
We simply name it aluminum oxide.
Example
What is the name of the molecule PH3
Since P and H are both non metals this is a covalent bond.
The prefix for phosphorus (P) is "mono" but since it is the
first atom we drop the mono.
The prefix for hydrogen is tri and don't forget to add the
ide to the end of hydrogen.
So we name this phosphorus trihydride.
Quick Check
Name the following compounds
1. SF6
2. K3N
3. P2O3
4. CaCl2
Give the chemical formulas for the following
covalent compounds.
5. Oxygen dichloride
6. dicarbon dihydride
Quick Check
answers
Name the following compounds
1. SF6
sulfur hexafluoride
2. K3N
potassium nitride
3. P2O3
diphosphorus trioxide
4. CaCl2 calcium chloride
Give the chemical formulas for the following covalent
compounds.
5. Oxygen dichloride
6. dicarbon dihydride
OCl2
C2H2
Warm-up: Table of Half-lives
Element
Phosphorous
Polonium
Radium
Sodium
Uranium
24
215
226
24
238
Half-life
14.3 days
0.0018 seconds
1600 years
15 hours
4.5 billion years
If 1 g of sodium-24 has decayed from a sample that was originally 2 g, how old
is the sample?
Number of 0
years
after of
• Table
formation
1600
3200
6400
12800
50%
25%
12.5%
6.25%
Remaining Radium
Percent of 100%
radium-226
remaining
A scientist has a 2.5 g sample of
radium-226. How many grams of the
sample will decay in 800 years?
• How is the periodic table organized?
• What are isotopes?
• What is the difference between nuclear fission
and fusion?