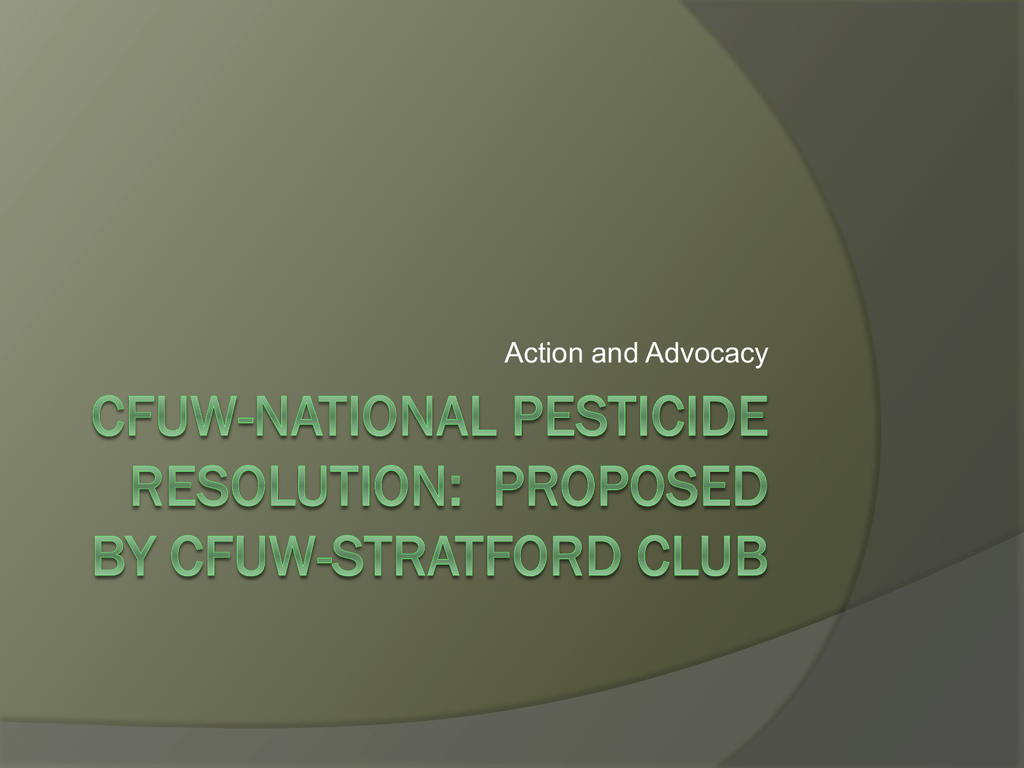 Action and Advocacy
Groundswell and the Dandelion
Festival
Looking Back: CFUW-Stratford
Archives
It all started with a conversation..
November 28, 2000- Ladies' Parlour: Knox Church
Close-Up! CFUW-Stratford
Executive 2000-2001
Research, Write, Edit, Repeat..
Resolution committee members Sheila Clarke, Nora Walden and
Stacey Wilson
Non-essential (Cosmetic) Pesticides:
Registration and Education
August 2002

Resolved , that the Canadian Federation
of University Women urge the
government of Canada to address the
following issues of concern re: nonessential (cosmetic) pesticides,
particularly parkland, lawn and garden
pesticides:
1. Implement independent laboratory reevaluation of all pesticides currently on
the market, applying the principles of
scientific objectivity now recognized by
leading medical journals.
2. Require pesticide registration evaluation
criteria to include extended
environmental processes: persistence
and spread, bioconcentration,
biomagnification and interaction.
3. Integrate ecosystem impact into approval
of pesticides, refusing registration to those
pesticides harmful to non-target organisms
which function as integral components of
our ecosystems and which sustain healthy
ecosystems through biodiversity.
4. Encourage methods of lawn care that
identify ecosystem health and biodiversity
as specific goals, and develop public
education initiatives in ecosystem theory.
5. Utilize the precautionary principle in
pesticide registration, refusing registration
to products until all data compilation is
complete, including data on inert
substances, and all areas of potential harm
assessed.
CFUW-National AGM 2002:
Richmond B.C.
Presentation to the Standing Committee on
Social Affairs Science and Technology:
November 2002
Close-Up: Stacey Wilson, Sheila Clarke and Nora Walden
strike a serious pose.
From Policy to Action:
Green Garden Remedies
Handbook
Arguments against a ban on
Pesticides:






Stratford is a tourist town. We need beautiful,
weed-free gardens for the tourists.
These chemicals are so safe, you could drink
them!
Salt can also kill you if you have too much!
Someone will get hurt tripping on a dandelion
or a thistle!
People in the pesticide industry will lose their
jobs.
Most of my customers are Doctors! (Quote
from gentleman in lawn care industry)
Public Meetings
Pesticide Free Education
Committee
Sheila's House!
Pesticide Free, Naturally
When one tugs at a single thing in
nature, he finds it attached to the rest
of the world. -John Muir
Support from Many Sources-Pesticide Free, Naturally
and the Dandelion Festival

















Groundswell : Eric Coates, Bonnie Henderson, Stacey Wilson, Deb
Northmore, Val Muller, Sergio and Anne Marie Lappano, Jane Eligh-Feryn,
Liz Mountain, Margaret Reid, Derek Togerson
The Gentle Rain
Anything Grows
Harry Jongerdon –Head Gardener, Stratford Festival
City Waste Reduction Dept. Kris Longston, City of Stratford
Breadworks Bakery
Pizzos
Perth County Greenworks
Canadian Auto Workers- Bonnie Henderson
CFUW-Stratford
Canadian Association of Physicians for the Environment-Dr. Sergio Lappano
P'Lovers
Heidi Holdsworth Designs
Lee Valley London
Canada Trust
Civic Beautification and Environmental Awareness
Nature Roots- Meadow Rue
Pesticide-Free Alternatives
Accepting
Weeding
Change at All levels of
Government
The City of Stratford By-law prohibiting
the use of cosmetic pesticides came into
effect March 1, 2009
 Ontario Law- April 22, 2009



NATIONAL-BILL C-8: AN ACT TO PROTECT
HUMAN HEALTH AND SAFETY AND THE
ENVIRONMENT BY REGULATING PRODUCTS
USED FOR THE CONTROL OF PESTS
December 2002
Pest Control Products Act December 2002

"Nothing is more
powerful than an idea
whose time has come."
Victor Hugo
A Happy Ending, but...