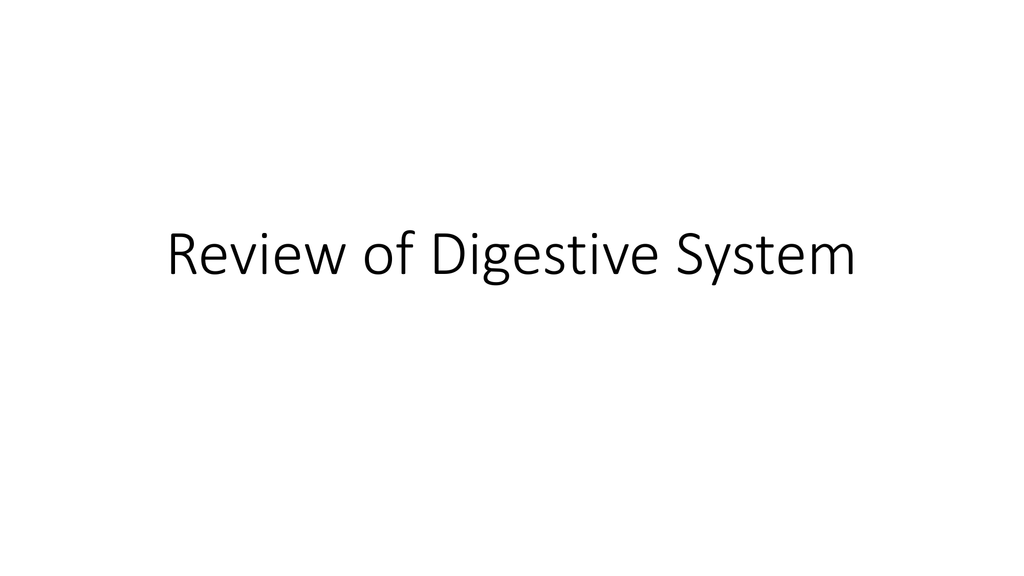 Review of Digestive System
Do Now—On Monday's box
Josie is a 32 year old female who weighs 145 pounds
and is 5 feet and 6 inches tall. What is her BMR?
• Men: 66 + (6.23 x weight) + (12.7 X height in inches) – (6.8 x age) = BMR
• Women: 655 + (4.35 x weight) + (4.7 X height in inches) – (4.7 x age) = BMR
Digestive system summary
Gastrointestinal
tract
Mouth
Saliva
lubricates
Amylase
starts starch
digestion
Chewing
breaks
down food
Pharnyx
Epiglottis
keeps food
from
airways
Esophagus
Peristalsis
starts
Stomach
Food
storage
Acid kills
bacteria,
unfolds
proteins,
activates
pepsin
Produces
chyme
Small
intestines
Most digestion
& absorption
Pancreatic
enzymes digest
food &
bicarbonate
neutralizes acid
Bile breaks up
fat
Large
intestines
Absorb
water
Bacteria
digest
fiber,
make
vitamins
Rectum
Stores
feces
Metabolism
• Combination of all the chemical reactions in your body's cells
Catabolic reactions
Anabolic reactions
• release energy
• Break down large molecules to
simple molecules
• Protein  amino acids
• Fat  fatty acids
• Carbohydrates  glucose,
fructose, galactose
• absorb energy
• Convert simple molecules to
larger molecules
• Glucose → Glycogen
• Amino acids → Proteins
• Fatty acids and glycerol →
Triglycerides
11/30 DOL
• List all the major parts of the digestive system from beginning to end.
You should include 5 main organs, 3 accessory organs, and 4
sphincters. The accessory organs do not need to be in order.
• Briefly explain what metabolism is.