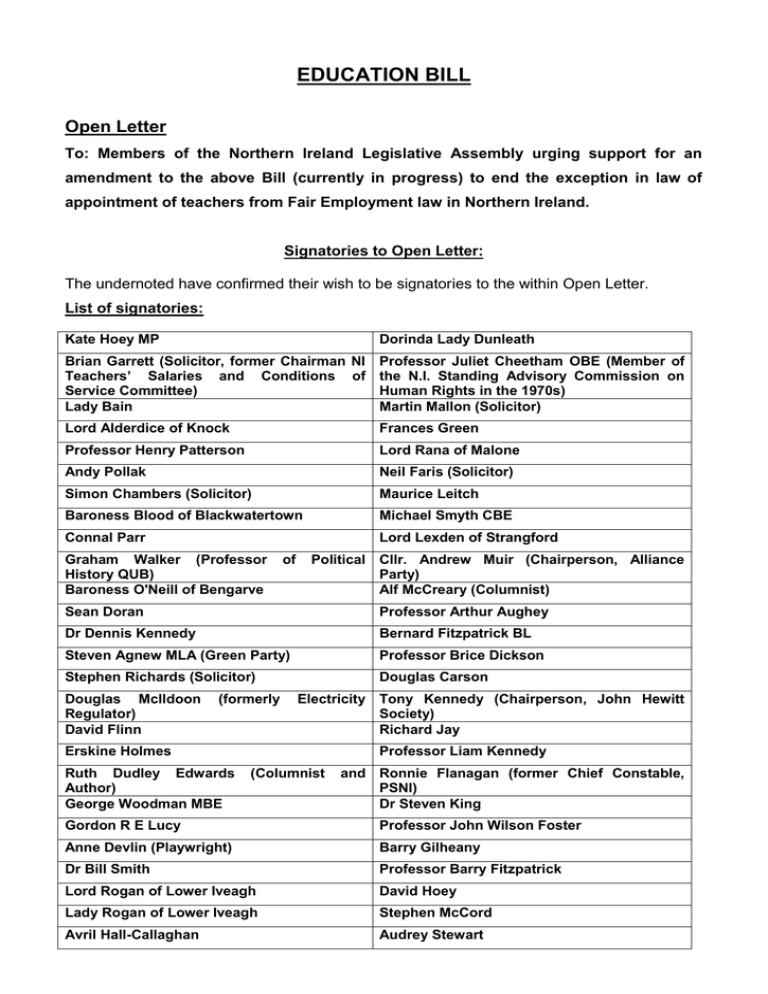 EDUCATION BILL
Open Letter
To: Members of the Northern Ireland Legislative Assembly urging support for an
amendment to the above Bill (currently in progress) to end the exception in law of
appointment of teachers from Fair Employment law in Northern Ireland.
Signatories to Open Letter:
The undernoted have confirmed their wish to be signatories to the within Open Letter.
List of signatories:
Kate Hoey MP
Dorinda Lady Dunleath
Brian Garrett (Solicitor, former Chairman NI Professor Juliet Cheetham OBE (Member of
Teachers' Salaries and Conditions of the N.I. Standing Advisory Commission on
Service Committee)
Human Rights in the 1970s)
Lady Bain
Martin Mallon (Solicitor)
Lord Alderdice of Knock
Frances Green
Professor Henry Patterson
Lord Rana of Malone
Andy Pollak
Neil Faris (Solicitor)
Simon Chambers (Solicitor)
Maurice Leitch
Baroness Blood of Blackwatertown
Michael Smyth CBE
Connal Parr
Lord Lexden of Strangford
Graham Walker (Professor
History QUB)
Baroness O'Neill of Bengarve
of
Political Cllr. Andrew Muir (Chairperson, Alliance
Party)
Alf McCreary (Columnist)
Sean Doran
Professor Arthur Aughey
Dr Dennis Kennedy
Bernard Fitzpatrick BL
Steven Agnew MLA (Green Party)
Professor Brice Dickson
Stephen Richards (Solicitor)
Douglas Carson
Douglas McIldoon
Regulator)
David Flinn
(formerly
Electricity Tony Kennedy (Chairperson, John Hewitt
Society)
Richard Jay
Erskine Holmes
Ruth Dudley Edwards
Author)
George Woodman MBE
Professor Liam Kennedy
(Columnist
and Ronnie Flanagan (former Chief Constable,
PSNI)
Dr Steven King
Gordon R E Lucy
Professor John Wilson Foster
Anne Devlin (Playwright)
Barry Gilheany
Dr Bill Smith
Professor Barry Fitzpatrick
Lord Rogan of Lower Iveagh
David Hoey
Lady Rogan of Lower Iveagh
Stephen McCord
Avril Hall-Callaghan
Audrey Stewart
Jeffrey Dudgeon MBE
Dr Austen Morgan BL
Ulster Teachers' Union
May 2013
Open Letter to the Members of the Northern Ireland Assembly
Parliament Buildings, Stormont, Belfast
We, the listed signatories, hereby request members of the Northern Ireland Assembly
(MLAs) to remove the exception in fair employment law on the appointment of school
teachers in Northern Ireland by an amendment to the Education Bill ('the Bill') currently being
debated at Stormont. The Bill will replace both the Education and Library Boards and the
Council for Catholic Maintained Schools with a single Education and Skills Authority.
Since 1976, when the Fair Employment Act was passed, teaching appointments have been
excluded from anti-discrimination law. Candidates for teaching posts can be discriminated
against on grounds of religion and have been without any legal protection in this area. This is
a denial of the principle of equal opportunity for 20,000 teachers in Northern Ireland.
The Northern Ireland teacher exception was carried forward into EU law in Council Directive
2000/78/EC which otherwise established a general framework for equal treatment in
employment and occupation (that 2000 Directive outlawed discrimination based on religion
and other factors).
No other part of Europe has been granted a derogation or opt-out for school teachers or
other categories of employee. Every other EU country, including Ireland, felt able to rely on
Article 4 of the new Directive to protect the interests of denominational schools. It permits "a
difference of treatment" so that those teaching religion can be appointed "with regard to the
organisation's ethos." There has been no successful challenge to it or Article 4.
The 1998 England & Wales Schools Standards and Framework Act allows up to 20% of
teaching appointments in a school with a religious ethos or character to be given, if required,
to those fit and competent to provide religious education and we feel this would be a suitable
model to follow.
We do not take up any position here on the wider issue of integrated education, except to
say an integrated teaching force is surely essential for any shared schooling arrangements.
The Equality Commission has reviewed this matter several times and has favoured the
exception's removal. The change proposed does not involve any change of status/control of
schools in Northern Ireland (be they controlled, maintained or integrated).
The current legal situation is anomalous particularly in light of the 15 years since the Good
Friday Agreement was signed, and the reduction of barriers between the communities.
Which is not to say, however, that community relations are still not fraught with difficulty. We
believe this reform would play a beneficial role between communities which are significantly
out of contact with each other, with young people able to meet those of a differing faith
teaching in their classroom.
The reasons for making this change are as true now as they were when sought in 1976.
Time however has proved this unique exception from anti-discrimination legislation
increasingly redundant, not least, because of the arrival in Northern Ireland of significant
numbers of children from ethnic minorities. Diversity is now evident.
This issue is ultimately about fairness. It is time to revisit the law and change it. Parents,
pupils and teachers are doing so already with their feet, choosing at times schools for
reasons other than denomination. Allowing the best teacher to be appointed in our schools,
regardless of religion, is in the interests of everyone and threatens no-one.